About twice a year I find myself smack dab in the middle of the habit of purging. Since I find myself in the overwhelm of this task, I thought there might be some of you doing the same – and feeling the overwhelm too? The habits I'm sharing today from the archives not only help with clutter busting, they are the basic housekeeping ones for our Hodgepodge. The ones that rescue me when I'm surrounded. The ones that even bless children. (A five-minute room rescue sounds better to a child than 'go pick up your room').
These are the habits – with rewards – we turn to daily. Yes, we've tried other housekeeping, picking up and cleaning up strategies. But these are the ones that stick for us. What is expected by everyone. So here are links to what has worked for years:
1. Flylady- Tools Not Rules:

Are YOU living in CHAOS? (Can't Have Anyone Over Syndrome) Do you feel overwhelmed, overextended, and overdrawn? Hopeless and you don't know where to start? Don't worry friend, we've been there, too. ~ Flylady

You knew it was coming. How could a blog be devoted to happy habits without a post on Flylady? Her tools are a chief resource on habit formation. Read more….
2. Jurisdictions:

"Time to pick up jurisdictions," I call.
There is honestly no way I could possibly follow behind five children and keep our home straight. And homeschool. Since we are all part of a family, all should contribute. Carving the big job into smaller parts makes it easier for everyone. Read more…
3. Toss Your Laundry
I've really wanted a laundry chute too. With each child added to the family, the desire grew. Read more..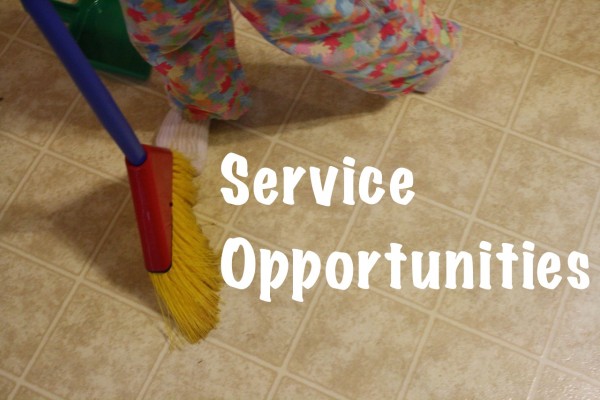 4. Chores or Service Opportunities:
Which sounds better to you – a household task or a chance to help? When I think of chore I think of Eeyore, hanging his head down because he has to rebuild his house of sticks, again.
However, in service, we can choose to find freedom. The Bible urges us to serve one another in Galatians 5:13. Read more…
5. The Habit of Rewarding Service by Hodgepodgedad:


As parents, we want our children to have wisdom, faithfulness, and diligence. They need to be able to handle money wisely. They also need to learn how to work.
We combine these two goals; we pay our children for a portion of their work around the house. The bible clearly links work with material gain. It also links work to our very sustenance (2 Thes. 3:10-12). Read more…
6. And one more reward – The privilege of computer time