I realized a few weeks ago that the royal wedding is a perfect opportunity to celebrate. To fix a big breakfast and all gather 'round and watch the festivities. But I also realized what a learning opportunity it is. It's a mini homeschool unit! We shall have a royal wedding breakfast tea.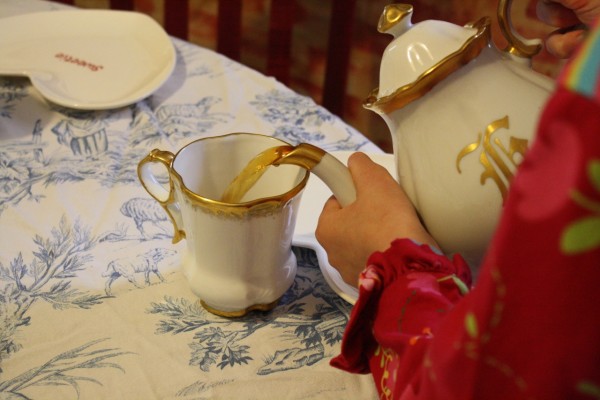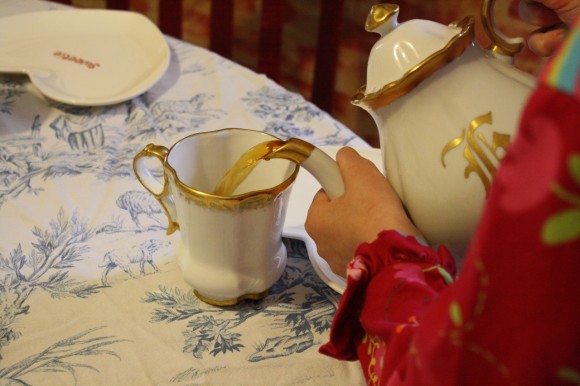 Oh all the questions I've already been fielding from the children. So who is the king now? When will Catherine be the queen? And her name changes on wedding day? If he's not a king then what is the Duke's name – the monarch married to Queen Elizabeth?
A Royal Wedding Breakfast Tea
So, in addition to planning an early morning tea, we'll also be searching out the answers to all these questions. See, it fits perfectly with our Tapestry of Grace history studies of the 20th century.
A Royal Wedding Breakfast Tea
Etiquette – we'll use the hand-painted tea set and cups and set the table up like above. We will serve each other and practice our manners. Royal protocol!
Cooking fun! we'll enjoy Christy's Butter Rolls or Southern Living's Best Ever Scones, some slow cooker grits and fruit (more a Southern meal than British but I'm practical).
coffee for mom and dad to start with.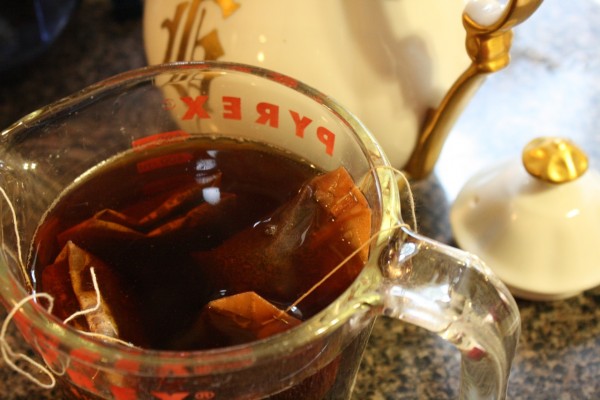 the meal will include nice, strong tea (Mama Ann's Microwave recipe). And we'll enjoy it with a spot of milk like they do over the pond.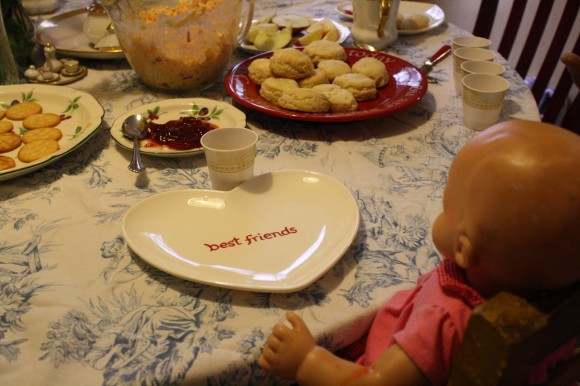 and, yes, baby dolls and stuffed animals received an invitation
Geography
we'll look at the globe, browse the atlas for Great Britain.
History
Dress up!
Bible
Since we'll be watching the prince, the older children and I will look at the leadership character trait in the Plants Grown Up and Polished Cornerstones books from Doorposts.
We'll also take a look at King David in the Bible and talk of other Biblical kings.
Math
Well, it may be too early for math in my book but we will be measuring when making the recipes. And we could see how many are on the official guest list and how many are estimated watching via TV and internet. The little ones could count the number of horses we see on the royal carriage.
See what I mean? When I really started to think about it, the royal wedding offers so many learning opportunities. We may not do all of these that I have listed. But we do plan to have fun and make memories.
*Need more inspiration? Stop by and visit Mrs. White at The Legacy of Home: The Royal Wedding.
Royal Wedding Art Lesson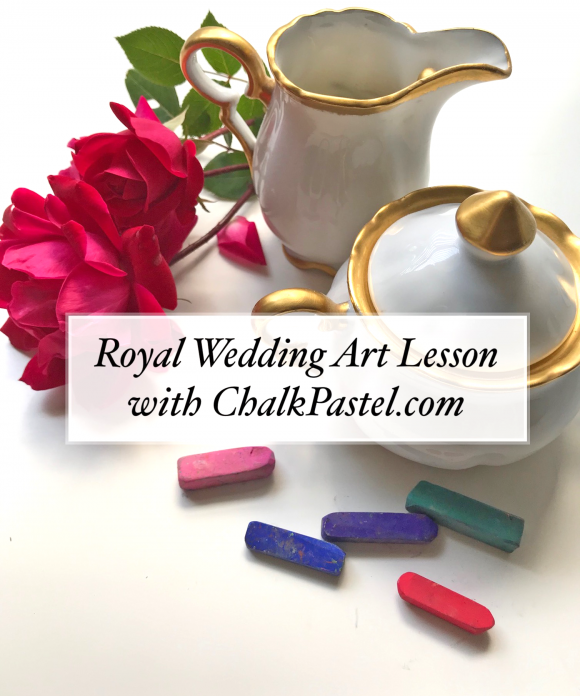 Join us for a Royal Wedding Art Lesson on the ChalkPastel.com Facebook page on 5/16/18 at noon ET.
How many of you remember getting up early to watch Princess Diana and Prince Charles wed?
-originally published 2011