I am a firm believer that each of us can paint – especially children, who possess an innate ability to create art. This tutorial is such a fun way to paint! I hope you enjoy this acrylic fall trees tutorial.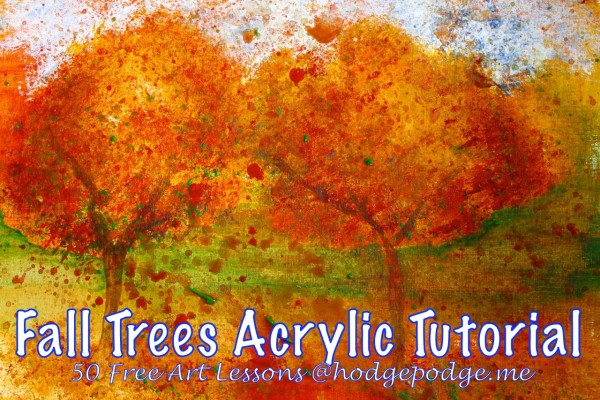 The hardest lesson is this: you cannot paint exactly like someone else. Embrace the freedom to please yourself!!
Acrylic Fall Trees Tutorial
This painting is one my students and I so enjoyed! The trees here in Georgia are about at their peak of beauty, and we could not pass up the opportunity to get a likeness of Mother Nature's art down on canvas. This lesson is called "Trees at Kennesaw Mountain" art (with a twist!) and the painting pictured above is one I painted in my art class.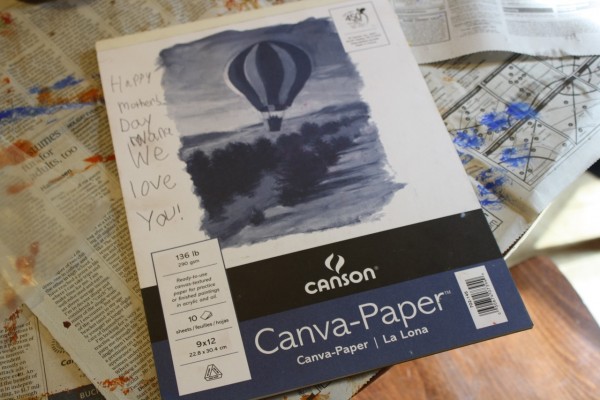 This post contains affiliate links to art supplies we love. Please see our disclosure policy.
Acrylic Fall Trees Tutorial Art Supplies
Kitchen paper towels
Assortment of paintbrushes
Cup of water

Prep Your Paper/Canvas
To start the painting, we "toned" our canvas with a mixture of yellow and a touch of red to make a good orange color and covered the entire canvas with this vibrant orange. Then working quickly before the paint dried, we moistened a kitchen paper towel, wadded up just slightly, and dabbed away an area in the middle of the toned canvas for the two or three trees.
We just readjusted the paper towel to a cleaner side (still slightly wadded up, and moist with water) dipped the paper towel into the bright yellow acrylic and dabbed or pounced on the yellow paint. The idea is to create texture and to experience painting without a brush!

Create Acrylic Fall Trees with Paper Towels
Next is a paper towel (moistened) dipped into the red acrylic paint and dabbed around the yellow on your tree; do not cover up all the yellow, the idea is to show the light yellow is sunshine on the top of the trees. Next, try some green (very lightly on the bottom of the tree mass) this will show some shadow under the trees. Now it is on to the sky…you can create a sky all the way across the top of the painting using your paper towel wadded up, dipped in a combination of blue and white.
Be a bit light-handed with this color, you only want a bit of sky showing, the trees are the "stars" of your painting! *Create brilliant, light yellow leaves for your trees by mixing in white with your yellow. This makes it look just like the sunshine highlighting your fall tree.

Paint Brush for Tree Trunks
Then take your smallest and narrowest brush and dip it into a combination of green and red to make a brownish red color. This will be your trunk color for your trees. Decide how tall you want your trunks to be…and then…put your loaded brush (with the brownish-red paint on it) down on the canvas and paint UP to the tree leaves. This will make a nice, narrow trunk, and if you use enough water you can then make light and skinny limbs also.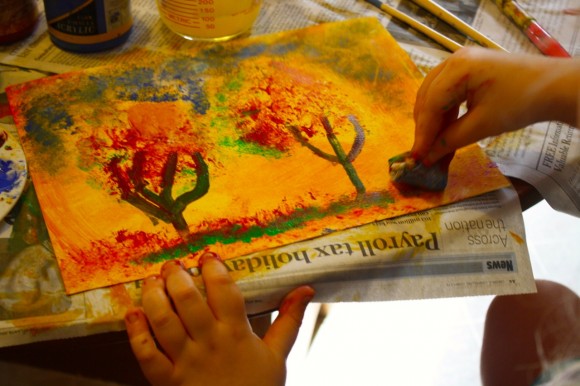 You have to "ground" or put your trees on to something, so dip a towel into the green and dab a nice green lawn under the trees, right up to where the tree leaves start. A pile of leaves at the bottom of the trees can be achieved with your wadded towel and some of your red, green and yellow paint.
The light is coming from the right side of the painting…so you can take some of the reddish-green and put a shadow behind and to the left of the trees. This is your painting! Please add what you would like to see in the finished picture…you can add a wandering path behind the trees, go back and add some more yellow or red leaves…whatever YOU like.
We thought that paper towels made wonderful brushes!

Spatter Falling Leaves
Next we took our paintings outside. We choose several of our colors to spatter onto our painting. The spattering looks falling leaves! Nana showed us how to hold two paint brushes like rhythm sticks. A smaller one on bottom (with your left hand) and a larger one on top (with your right hand). Then, just tap, tap, tap, gently (tapping too hard will create big splotches! We want gentle, falling leaves).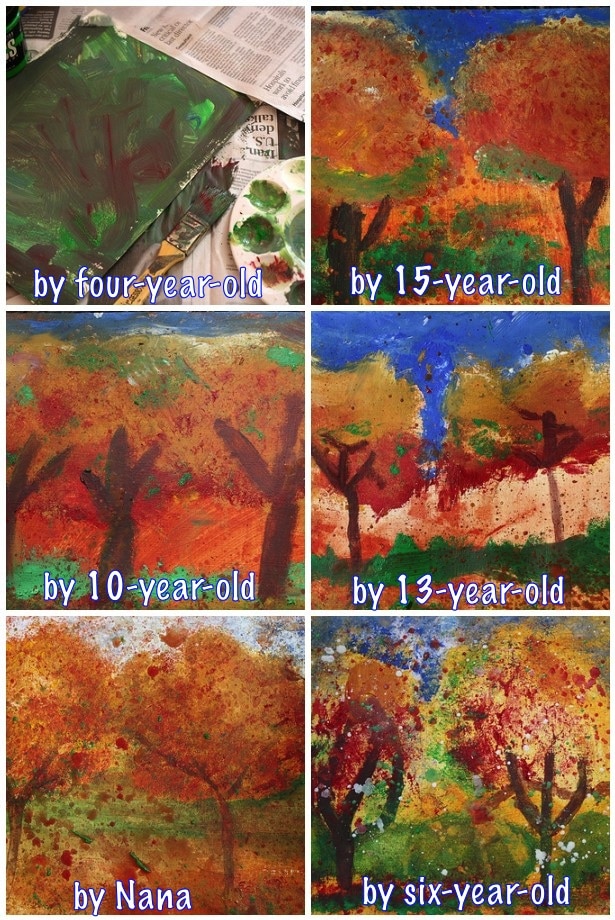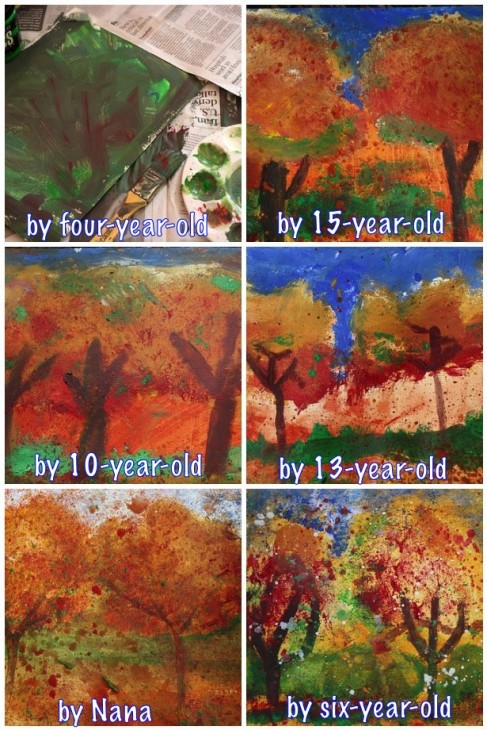 Spattering was such fun! Our completed acrylic fall trees.
Enjoy!
A note on acrylics: Just like pastels, acrylics will wash off your hands easily. But if the paint gets on any fabric – it is permanent! We wear a smock and cover our painting surface.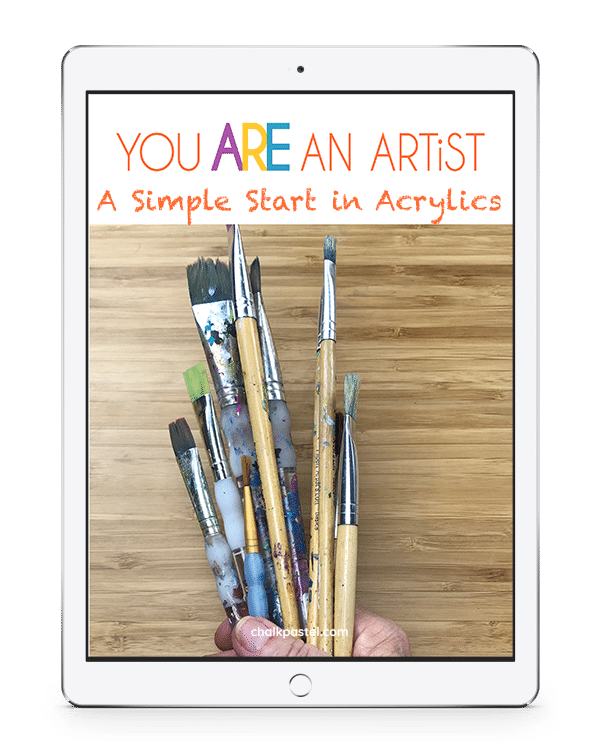 Looking for video art lessons for all ages? Nana has over 600 in the You ARE an Artist Clubhouse! You will enjoy our Fall video art lessons! (or access ALL of Nana's video art lessons with her You ARE an Artist Clubhouse membership.)
Featuring You! You ARE an Artist!
So, paint your Acrylic Fall Trees Tutorial and be sure to share with us! Simply tag @chalkpastelart on Instagram, use the #YouAREanArtist hashtag, or upload a photo to the ChalkPastel.com Facebook page!
~I invite you to subscribe to Hodgepodge (it's free!) Don't miss any art lessons!
Would you have thought that fall leaves could be made so beautifully with wadded up paper towels? Click to comment…

-originally published October 2012
Save
Save
Save