Warning
: Trying to access array offset on value of type null in
/home/n0c986d/public_html/hodgepodge/wp-content/plugins/amazon-associates-link-builder/vendor/mustache/mustache/src/Mustache/Parser.php
on line
278
Today I'm sharing a peek inside my fridge. Fingerprints from small people and all. The favorites that are always on the Evernote grocery list. Would you like a bite to eat? How about some…
SunButter  – Yum! and lots of it (yes, that is 10 lbs tucked in the fridge door for easy access! We truly love it. I have a whole section on Hodgepodge devoted to it, plus a round up of favorite recipes. See, whatever recipe we would use peanut butter for – we just wholesale replace with SunButter. Because it's safe for ours with peanut, tree nut and egg allergies. Plus, it's also gluten free!
**Update – Heather asked where we get the large 5 lb. tubs and the answer is Amazon! Sometime they are out but just keep checking! If you purchase through my affiliate link we get a small commission to help pay for more SunButter for the Hodgepodge!
What else do we have?
Turkey – bacon to pair with a main course for breakfast or supper. Turkey sandwich meat for lunches. Ground turkey – four pounds every two weeks to mix into recipes and use in tacos. (Cook it in the slow cooker as soon as it comes in from the store.)
Tuna salad – for scooping or sandwiching. Egg and mayo free for our crowd!
Yogurt – plain Greek yogurt for topping salad and mixing with fruit, occasionally some Gogurts for handiness and slow cooker yogurt in mason jars.
"Mama can I have a cheese stick?"
Cheese – pimento cheese and a giant cheese block for slicing. Plus bags of the shredded variety for most everything. And cottage cheese for lunches and our favorite Italian Stuffed Shells.
Milk – jugs a plenty for growing children and late-night cereal snacks. Plus half & half for afternoon PG Tips tea.
Avocado – always or as often as possible.
Greens – especially spinach for my mama lunch. But also anything from broccoli to our favorite sugar snap peas. But also okra when its in season. You simply must try Nana's Fried Okra recipe.
Chocolate – syrup for topping ice cream and making chocolate milk plus frequently there is fudge (3 ingredient, microwave version).
…and with your fudge may I serve you some sweet tea? My grandmother, Mama Ann, taught me her no-fail, microwave version. Perfect every time!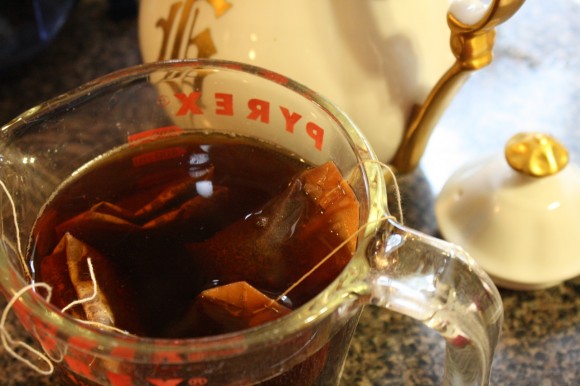 Sweet tea – for suppers and to accompany Fast Food for Slow Sundays!
Would you like a few more recipes and tips?
It's ten weeks of top ten lists with iHomeschool Network and Top Ten Tuesday with Angie at Many Little Blessings! Click over to see the 10 week schedule and visit all the other homeschool participants.
Your turn! Are some of our staples in your fridge? Or what are we missing out on?