We have been learning so much about our solar system from Apologia's Exploring Creation with Astronomy elementary textbook. So, it is time to incorporate some space art! An astronomy chalk pastel art tutorial in the style of the cover of the book.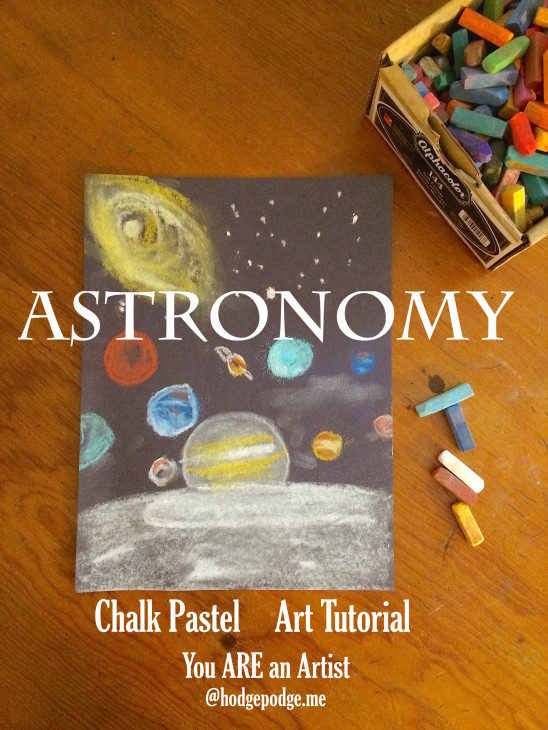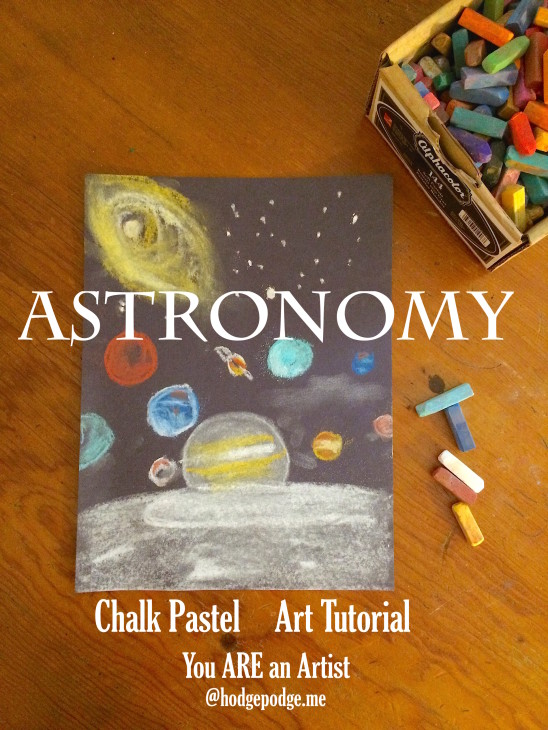 Begin with either a black or dark blue piece of construction paper. We made ours vertical like the textbook but you can decide to do your astronomy chalk art horizontally. We hope this will inspire many astronomy art afternoons!
Astronomy Chalk Pastel Art Tutorial
For this painting you will need these chalk pastel colors: white, light blue, dark blue and/or turquoise, yellow, brown and orange.
Nana advised us to be sure to 'ground' the whole painting with the surface of the moon. So begin with your white chalk pastel at the bottom of the paper. Turn your white on its side and skumble the surface of the moon. You might leave some areas black to show craters. Use your white and fill in the highlights.
There really is no order I can suggest for you to create your planets. Simply choose the ones you would like to start with first. Remember to keep the size of each planet and the perspective of the solar system.
You might want to outline each planet and place each in position in space as I did. That helped me! Then I went back and painted each planet, one by one.
I painted the earth first, using the dark blue. Fill in the swirls with your white. It sure is fun to make the earth!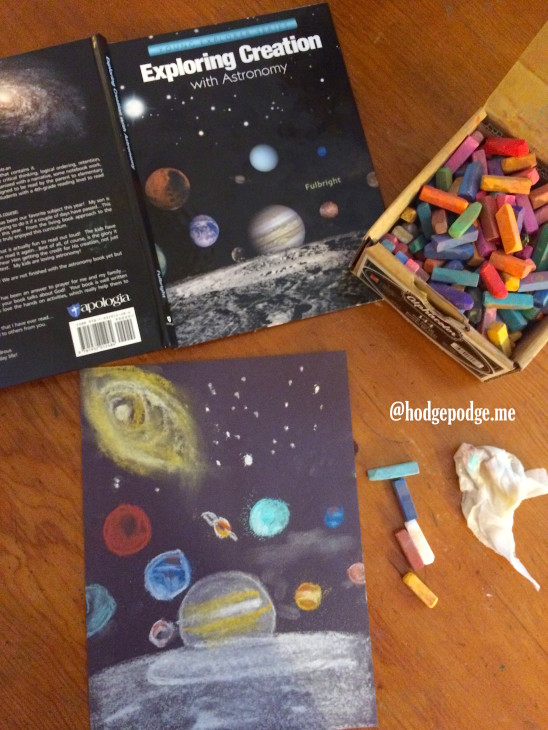 Just remember that only God can create a perfect planet. Yours is an artistic representation of His beautiful creation – because you ARE an Artist!
Find Apologia's Exploring Creation with Astronomy here. And my review of the Astronomy 2nd edition at The Curriculum Choice. Here is a list of our Favorite Astronomy Resources.
Looking for more astronomy art? I love what Phyllis and her artists at All Things Beautiful did with chalk pastels: Super Blood Moon Eclipse Art Project
FEATURING YOU! YOU ARE AN ARTIST!
So, paint your astronomy art and be sure to share with us! Simply tag @chalkpastelart on social media, use the #YouAREanArtist hashtag, or upload a photo to the ChalkPastel.com Facebook page!
A note on chalk pastels: Pastels are an easy, forgiving medium. Fun for children and adults alike! Details on the pastels and paper we use, how and where to purchase, and links to all of Nana's other pastel lessons are here: Our Favorite Chalk Pastels
The practical aspects of a mess: Pastels are blessedly messy. We always have baby wipes close by to wipe hands. We wear something we don't mind getting stained or don a smock.
Do you and your artists learn best with a video art tutorial? Find our Video Art Lessons at ChalkPastel.com!
Have you subscribed to Hodgepodge yet to get your exclusive, FREE, subscriber-only art tutorials?
-published October 2015