Lunch. Homeschool lunch. Is it that time already?? I am always needing inspiration. So I have been searching and browsing and I have found some really creative Pinterest boards for homeschool lunch! There's really no reason why we can't do an edible cell for lunch or a human skeleton made out of veggies. And many of these ideas go beyond the usual sandwich. Be creative and educational!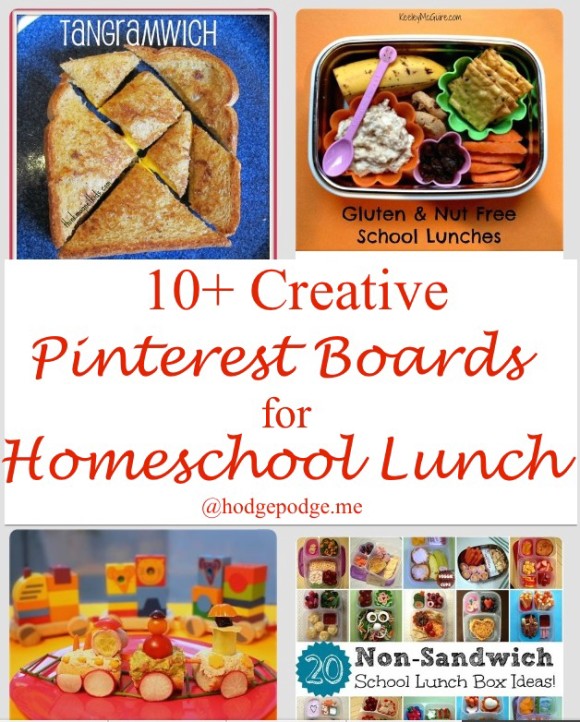 Pull up a chair, grab a menu planner, enjoy and have FUN with homeschool lunch!
Curriculum Choice's Homeschool Lunch board is packed full of of FUN to continue the learning!! That Veggie Skeleton, a Tangramwich, a Very Hungry Caterpillar and more!
Jasmine Lucero's Convenience Meals board is packed full of easy meals. Take a look!
Cooking with Kids board by Janine of True Aim Education – make a math lesson of it and mix it up in the kitchen.
Lunch AND Dinner by Angie of Real Life At Home – Now this is just smart. I often go ahead and toss things in the slow cooker at lunch time. Now you and I have a wonderful collection of recipes from Angie.
Kathy of Cornerstone Confessions has collected a fantastic Lunch Board – a pin for preparing your child's lunches for the whole week plus some yummy looking grilled cheese I want to eat right now!
Recipes for Busy Moms by Ticia Adventures in Mommydom (and aren't we all busy?) I love the practical and this is a fabulous collection.
Jen Dunlap has some definite Good to Eat Lunch – many healthy and delicious options here!
Jimmie Lanley has a delicious collaborative board filled with Edible Homeschool! This truly goes beyond the regular and includes science projects, math and more!
Kris Bales is a champion of the homeschool lunch and has a sandwich board for fresh ideas.
Sharla Kostelyk has a whole board for Muffin Tin Meals! hooray for the nibble tray! She says, "Muffin tin meals are a great way to get kids to try new foods, eat a more balanced diet and have fun!"
I have long loved Alea Milham's Fun Foods for Kids board – Alea has so many great boards on gluten free and frugal living too.
I couldn't help but feature this one from Curriculum Choice's Homeschool Lunch board – the Muppets' Beaker!
And I've always loved Ann Voskamp's lunch wrappers – free printables in her post Make the Best Lunches. They are fun to tuck in a lunch napkin at the table or in surprise places – like a math book!
Maybe finish it off with an Earth Structural Layer Cake?

These days I'm enjoying Trim Healthy Mama lunches! What are your favorite homeschool lunch Pinterest boards?