Frugal. Delicious. Will feed a crowd. But most of all – easy.
These muffins are so simple to make and have such wide appeal, they've easily become a go-to recipe in our home. You've likely seen the chocolate version.
But what about the spice cake version? I was surprised at how many my teenagers gobbled up!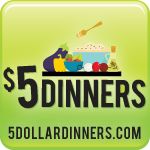 I'm sharing the recipe variations at $5 Dinners. Click over for the Easy Cake Mix Muffins recipe.