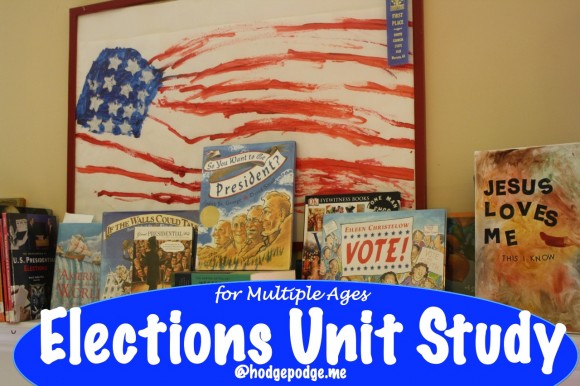 Picking up books at the library, the librarian is scanning all the selections I've reserved. She asks…
"so are you a teacher, a homeschooler or a dedicated parent?"
I answer to all of the above, don't you? And I love our wonderfully helpful librarians. They share our passion for learning.
Elections 2012 unit study by Amanda Bennett mixes and blends with our current Tapestry of Grace studies of colonial America. How? In the three weeks we've enjoyed it, we've studied the first five presidents, the constitution and the election process – a wonderful compliment to the era of history we were already entrenched in. While at the same time taking advantage of current events to learn all we can. Because come the next presidential election I'll have one that will be voting!
Elections Study for Preschool to High School
How are we doing it? Once again, while the children are still finishing up their lunch, I crack open the laptop. I scan ahead and print a few copies of coloring pages. These coloring pages are perfect for the littlest ones and help keep them at the table a little while longer. I click and we watch the suggested video – usually about three to four minutes long.
"Be sure you put your feet in the right place, then stand firm." ~ Abraham Lincoln
Elections 2012 is designed with sections for lower level and upper level, so you just enjoy what you need for your children. I tend to pick the video or supplement I believe would appeal most to our age range rather than try to do everything for both levels. Plus, many assignments naturally overlap.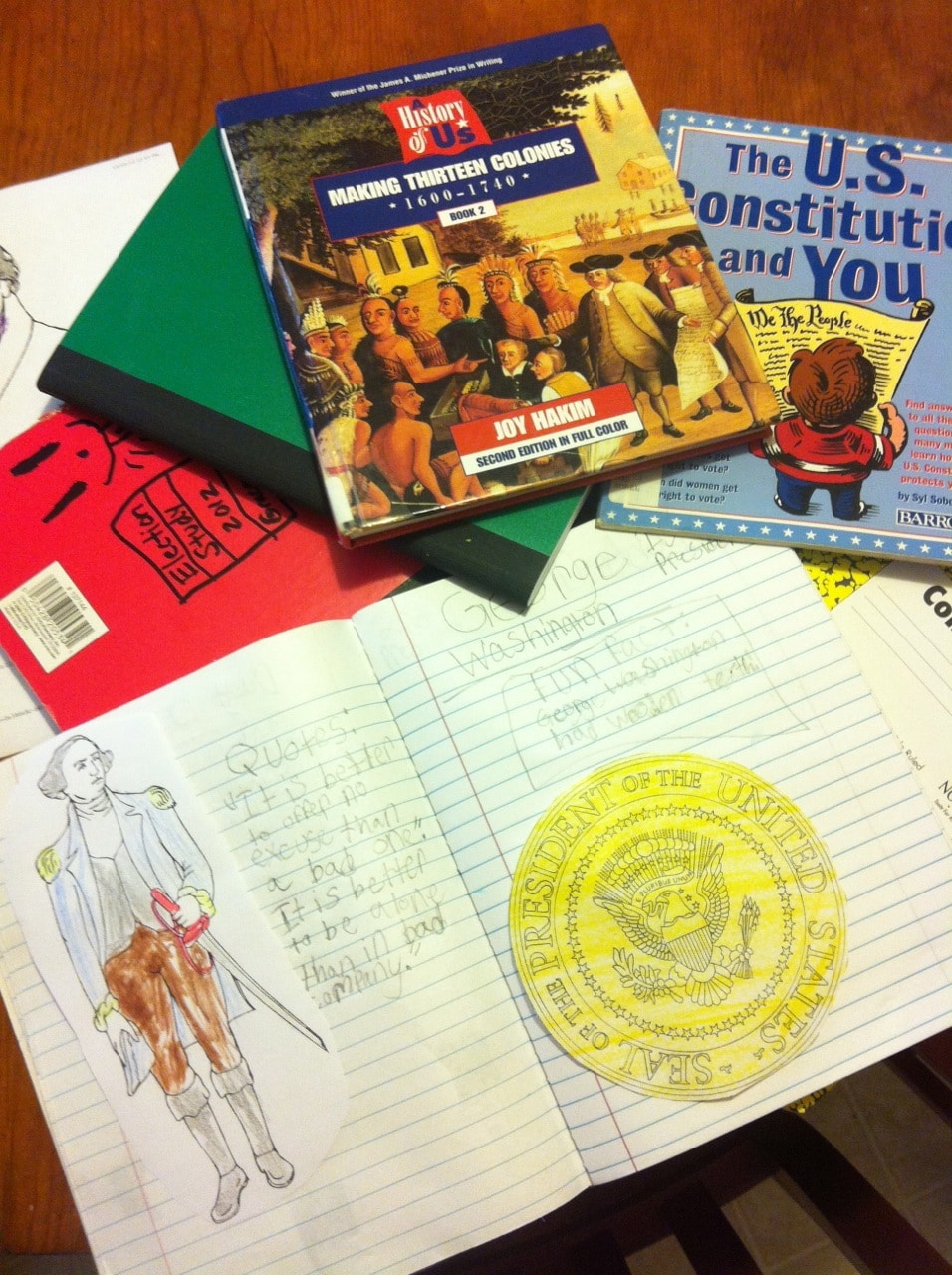 Elections Journals. Earlier that morning I've written the day's verse or quote on the chalkboard overhead for the older ones to write in their Elections journal. (We've recycled our journals from our Amanda Bennett Olympics study. We just flipped to the back of the journal and created a new cover.) We discuss the person of the day. What fun discussions we've had about presidents! We talk about the vocabulary words and their meanings. Then we move on to another one of our 'few more things after lunch' subjects and studies.
Election Study Highlights and Favorites
I wouldn't give you two cents for all your fancy rules if, behind them, they didn't have a little bit of plain, ordinary, everyday kindness and a little looking out for the other fella, too." ~Jefferson Smith, Mr. Smith Goes to Washington
Watching Mr. Smith Goes to Washington! (an all-time favorite)
Discussing political parties and the current elections and the candidates' views.
Adding to elections journals.
We've acted like homeschoolers this week. Had to be flexible with multiple doctor and orthodontic visits: 1. Mama's late afternoon coffee break following a full day of appointments | 2. Night school – 15-year-old scans her planner to be sure she's covered all her assignments. We have a weekly meeting on Sunday evenings to be sure everyone knows what we'll be doing. And even with our Elections study, we're still reading from our core Tapestry of Grace text. | 3. A favorite way for high schooler to complete her school assignments. Music in her ears, books spread at the school room table. | 4. We read our Five in a Row selection, Angus Lost whenever we pleased. After lunch, late afternoon or before bed.
Then, during afternoon quiet time I might open with a read aloud selection from the mantel (pictured at top). See, by having these books in plain sight, this might happen all on its own… put it in sight, they will read. Otherwise, I encourage each child to take at least one 'school' book for reading. Current favorites from each child are:
(15-year-old) Great Presidential Wit by Bob Dole
(13-year-old) The U.S. Constitution and You
(10-year-old and six-year-old) So You Want to Be President?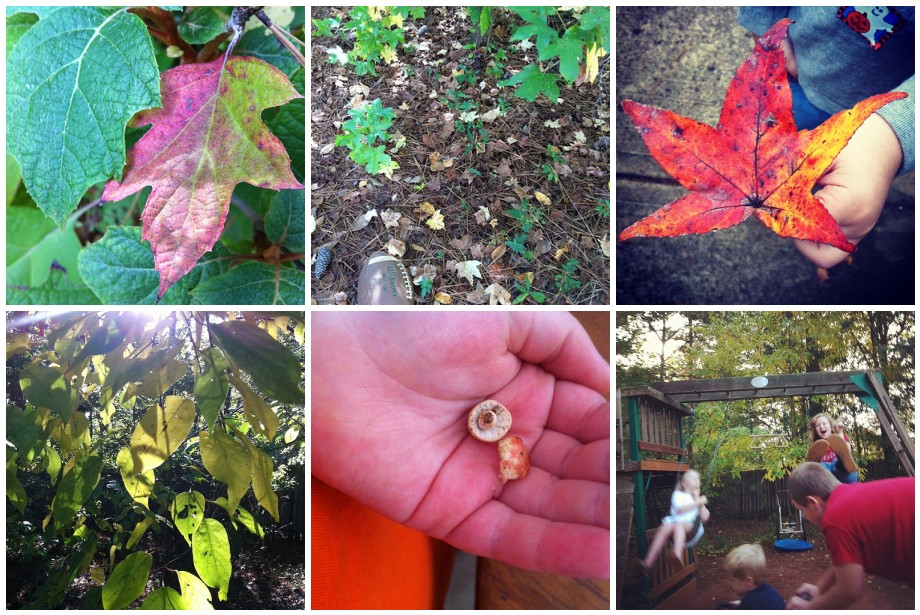 We've made sure to take nature study joy breaks! The fall colors are gorgeous! (How to Frame Your Days with Nature Study). All of the above photos are from the backyard except the gorgeous maple leaf that Lil' Buddy handed me as we were getting in the car. "A leaf for you!" Littlest Girl also discovered some miniature mushrooms growing in the backyard.
The rest of afternoon quiet time is spent on reading for pure pleasure whatever they'd like to read. Middle Girl is going through a bucket of classic books by Beverly Cleary and the Nancy Rue series (Eldest Girl read these when she was this age).
Everyone must submit himself to the governing authorities, for there is no authority except that which God has established. The authorities that exist have been established by God. Romans 13:1
Then some evenings we watched an Elections Study selection or the current presidential debate.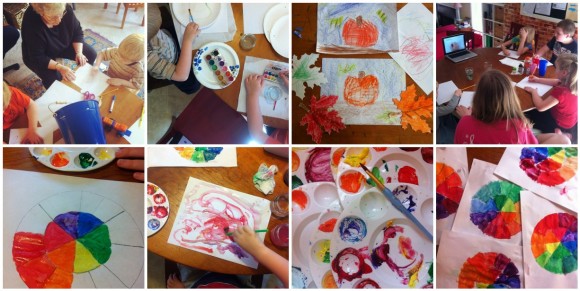 It was an art filled week for us as well! 1. We were blessed to have Nana spend part of a day with us. She helped the children make fall art decorations (pictured in number 3) | 2. Free paint with watercolors | 3. pumpkins and leaves with crayons | 4. A Mark Kistler art lesson around the kitchen table thanks to our Harmony Fine Arts Grade 7 plans we enjoy together every week! | 5. Making tertiary color wheels with our new Home Art Studio DVD – Grade 3 we are enjoying all together | 6. Free paint after our color wheels | 7. post color wheels | 8. Finished tertiary color wheels
Plus, today at The Curriculum Choice, Hodgepodgedad is sharing a confession. He no longer carries a Bible to church. See his review of the amazing Glo Bible App. We also have a collection of Elections resources on our Curriculum Choice Elections and Government Pinterest board.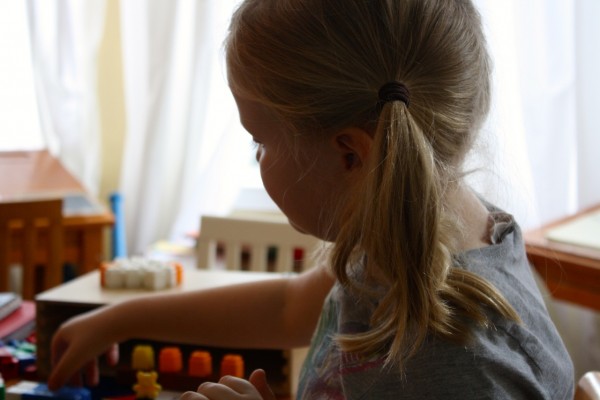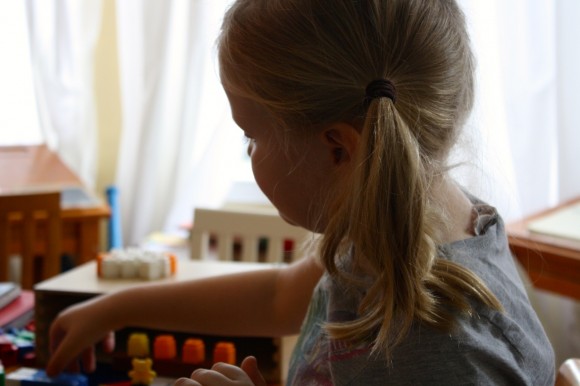 But the biggest news from this week is that Littlest Girl made a profession of faith and will be baptized soon! "…there is rejoicing in the presence of the angels of God over one sinner who repents." ~ Luke 15:10. That is what it is all about! And we are celebrating.
Many thanks to our Friday hostesses!
~ Thanks for visiting! Subscribe to Hodgepodge (it's free!) Don't miss a homeschool post.
Do you take a break from the regular to learn about current events? Have you been watching the presidential debates as part of your studies? Click to leave a comment…