Sometimes when I am in the thick of a homeschool day, I have to remind myself about finding the heart of homeschool. It can be busy and the needs of the age range are many. But during this homeschool week the Lord reminded me about relationships. And He reminded me to ask Him for wisdom. It went like this…
It hit me. The mess on the floor, the grumpy attitudes. Where is the love in all of this? We finished out that homeschool day, we cleaned up the mess and we leaned heavy into the weekend. We just needed a weekend of family time. No agenda. No commitments. No have tos. No school subjects.
And we did. We went on a long walk on a winding trail in the cool of the fall morning. We played with LEGO® building sets. It was good to have that time to focus on enjoying. But I have also made a purposeful change. I have been asking the Lord to bless us. Because He has shown me in many ways this week:
"…you do not have because you do not ask."

James 4:2
How To Find the Heart of Homeschool
I've asked him to bless our homeschool. To bless our family. To bless those we are praying for. And I have seen those blessings in abundance. In the small ways. In glimpses of success. In encouragement. In accomplishing much learning.
Monday morning we started new. I praised more. I patted backs. I made two ingredient pumpkin muffins for breakfast just for fun!
The Lord has promised good to me, His word my hope secures; He will my shield and portion be As long as life endures.
And that afternoon I attended the funeral of an extended family member. My cousins shared how her mother had brought coffee to both her and her sister when they were teenagers. Coffee, on a silver tray, first thing in the morning. They said that their mother would sit and talk over coffee as the day started. My eldest is a new coffee fan so I knew this would speak to her.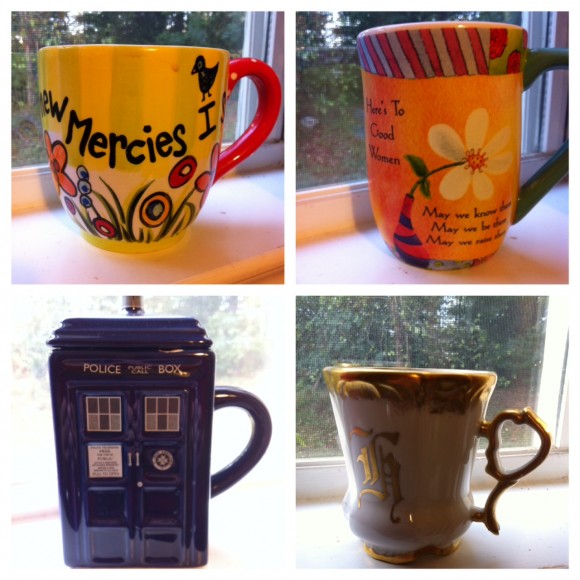 Starting Tuesday morning, I filled a nice, big cup of fresh coffee and I gently woke her. A few mornings, I had to attend to others. But she's told me that she really appreciates it. That extra bit of love in a mug. And we are using all the favorite cups.
And that's truly what the heart of homeschooling is. Loving these children, teaching them His ways and building relationships first. I've also made a point this week to 'catch them' loving each other. Noticing when a child is interested in what a sibling is doing, helping little brother read, helping sister at the piano. Praising them for working together. That is the heart of homeschool.
Practical Ways to Show Love During a Homeschool Day
Me saying I am so thankful we homeschool – saying it out loud where all can hear. (Reminds me of the quote from the movie Elf: "the best way to spread Christmas cheer is to sing loudly for all to hear).
Reading aloud during lunch.
Playing cards after supper.
Making someone's bed in the morning as a surprise.
Saying, "I'll do that!"
Hugs – more frequent and abundant.
Setting a subject aside when a child is struggling. Doing a favorite for a bit and then coming back and facing the problem together.
Saying thank you for all the help around the house.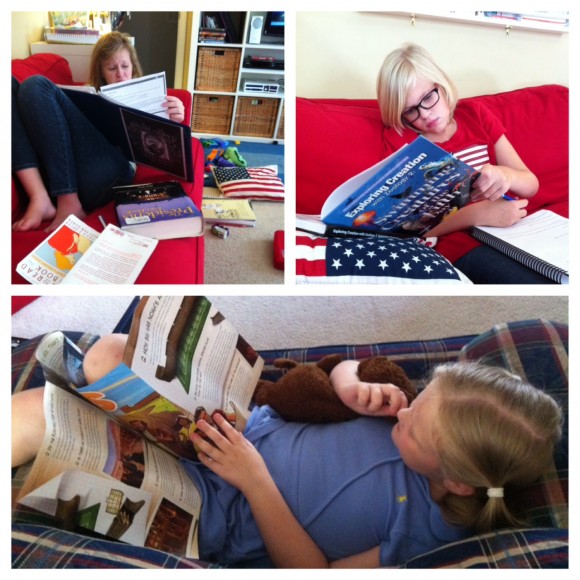 1. Tapestry of Grace learning about Thomas Jefferson | 2. Swimming Creatures of the 5th Day Marine Biology (she says, "I love this notebook and the copywork!") | 3. Reading Answers for Kids insert from Answers Magazine
Saying I am proud of you! (My brother says he tells his children daily, "you are so smart!")
During prayer time, telling the Lord we are thankful for our Great Hodges Family (showing how very important our family is)
Using the nice dishes at lunch time (why not?)
'Catching' a child doing something nice and telling him or her 'thank you!'
The incredible gift of the ordinary! Glory comes streaming from the table of daily life. ~ Macrina Wiederkehr
Even, at times, ignoring the mess – maybe even celebrating it because it means learning happened. Then pitching in together to clean it. This is the heart of homeschool.
And whatsoever ye do in word or deed, do all in the name of the Lord Jesus, giving thanks to God the Father by Him. Colossians 3:17
In what ways are you seeing the heart of homeschool in your home?
-first published October 2013