Don't miss the links to parenting resources at the end…

Oct 2010
I hear his little feet coming around the corner. It's busy, in-the-thick-of-it Sunday morning. I'm putting the ingredients in the crock pot for our lunch.
His Daddy has dressed him. He's ready to go. So he runs, pounding little shoes and slams full force. He hugs both my legs. Tight. "I wuv you, Mama." I turn, bend down and hug back.
Later, I'm spending a rare afternoon reading. My feet are up and I'm deep into my book. She comes. "Come watch me, Mama! Watch me swing!"
"Come on, Mama." She pulls my arm and I go. I sit in the chair and watch. She wears those red boots that were her older sister's. The red is dull now but they draw such attention to her new skill. She's been practicing.
She's pumping those legs. Legs pumping and she's swinging high. Littlest one climbs the steps to the slide. "Watch Mama!" He pauses at the top and looks up. "It's blue sky!"
Yes, brilliant October blue sky. And swinging and sliding children.
Glory days.
"Something deep in all of us yearns for God's beauty, and we can find it no matter where we are." ~Sue Monk Kidd
Fast forward to May 2012
School days done for the year, we all trek south and we park ourselves on the beach for a week. That littlest one isn't so little any more. Fearless, he heads straight for the waves. Jumping while gripping that intertube. Waves knock him and he loves it.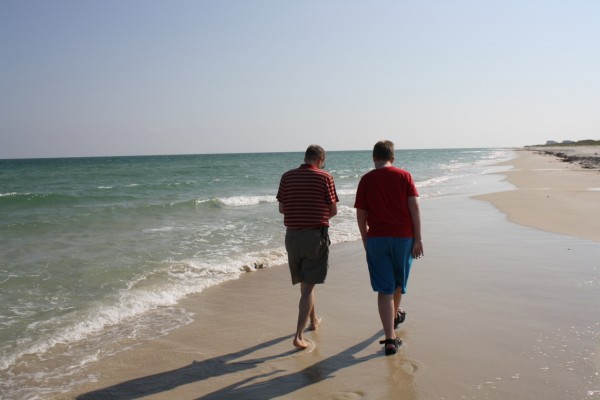 Our big boy has a big birthday at the beach. How did he get to be as tall as his Daddy? Littlest girl builds sandcastles by herself. She doesn't need much help with sunscreen anymore.
All these children are growing and changing in a blink. It's a different stage of parenting. And I can't help but think that these are the glory days. The glory days of parenthood. I know I paused to think that when my littlest gave me that leg hug too.
Aren't they all glory days? The early days, so hands on. They are glorious. These days, with teens, stretching my brain and strength. They are golden.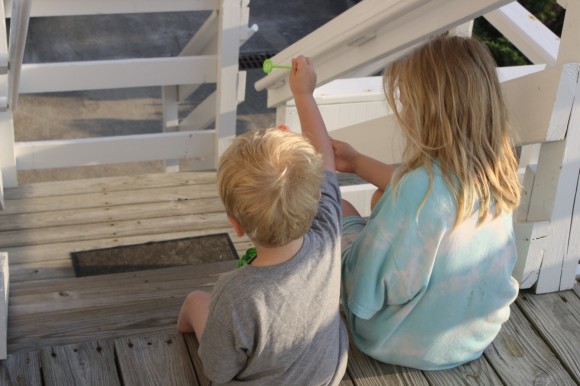 Soaking up. Thankful. So grateful.
new freckles on our noses, sunshine on our shoulders.
white ghost crab sweeping out his front door and daring us to come closer.
rest, renewal, relaxation.
early mornings with my youngest two children.
adirondack chairs on screened porch have a perfect prop for my morning coffee.
sunrise.
crashing waves, happy children.
porpoises flapping and jumping.
three shooting stars, so many stars – the heavens declare the glory of God.
a sea turtle nest.
exploring the lighthouse.
shrimp for supper.
magnolia trees.
Spanish moss.
church sign – "Children are a blessing from the Lord."
shrimp boat masts.
flapping flags.
Beauty puts a face on God. When we gaze at nature, at a loved one, at a work of art, our soul immediately recognizes and is drawn to the face of God. ~Margaret Brownley
old-timey post office.
ice-cold Dr. Pepper
coffee and chocolate.
early morning quiet time on the porch and I can barely see to write.
light on ocean, cricket chirps, pounding surf.
little boy train track winding around the deck.
friendly beach dogs.
drip castles and those formed with buckets.
edible sand to celebrate.
trip to ice cream shop.
sea oats, sandpipers, white morning glory.
sunscreen slathering routine.
sunset beach walks.
a friend with us.
40 Days with Jesus devotional.
watching Star Wars.
state park – wide open view.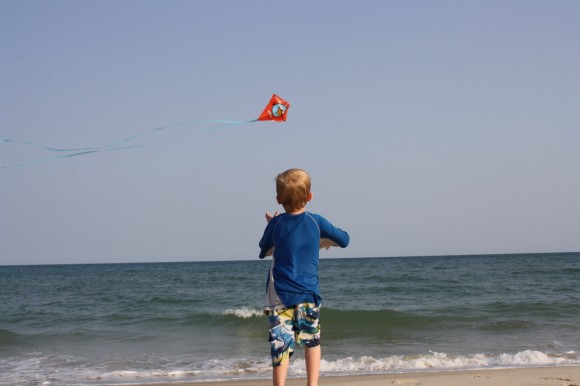 angry birds kites.
time putting together The Child Training Bible.
sandpiper pastel pictures.
bubble blowing.
Nana's biscuits and gravy.
memories made. moments savored.
Blessed.
For You. Some of our favorite parenting resources:
Tell me. How are your parenting days golden and glorious right now? Challenges and all?