You may have noticed that things have been quieter here at Hodgepodge. That's because we are focusing hard on finishing well this school year. We are also in the thick of preparations for end-of-the-year recitals, programs and more. The end of the homeschool year is so very close!
But I also wanted to share with you something on my heart – with the end in mind. And yes, a little Shel Silverstein is a great way to end the day…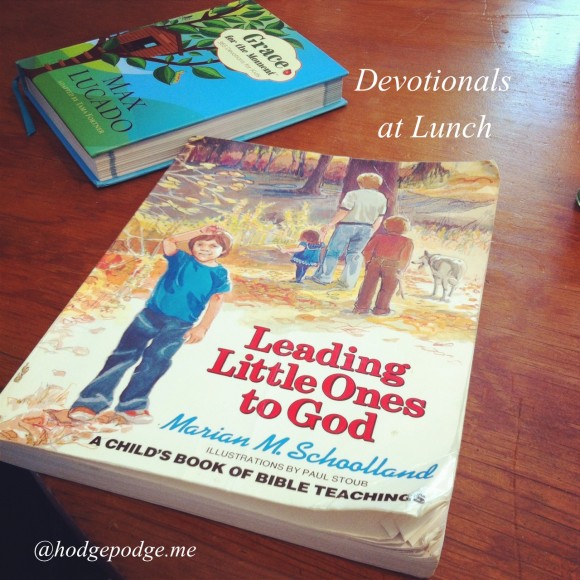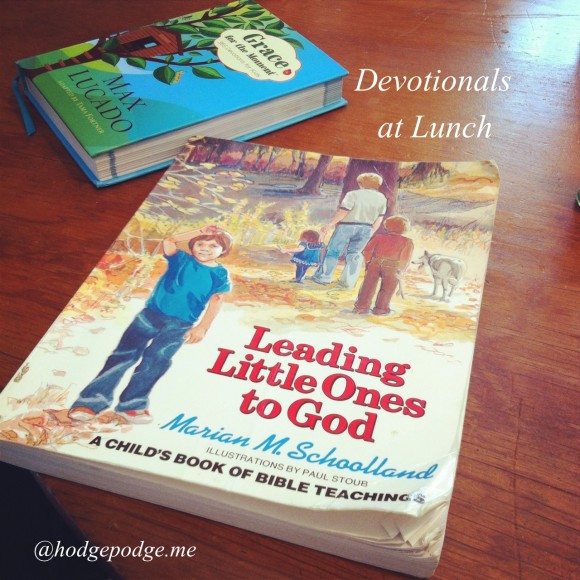 Lunch time reading of some favorites #homeschool #parenting (My review of Leading Little Ones to God.)
See, I've had some conversations this week. It seems to happen every year about this time. When testing is going on and mamas feel the crunch of finishing things up.
Testing was also happening in the local public schools this week. The same week we received the results of 6th and 9th graders' testing from a couple of weeks ago. I am pleased to share that overall my daughter and son tested two grades above where they are. We did celebrate with Dairy Queen blizzards!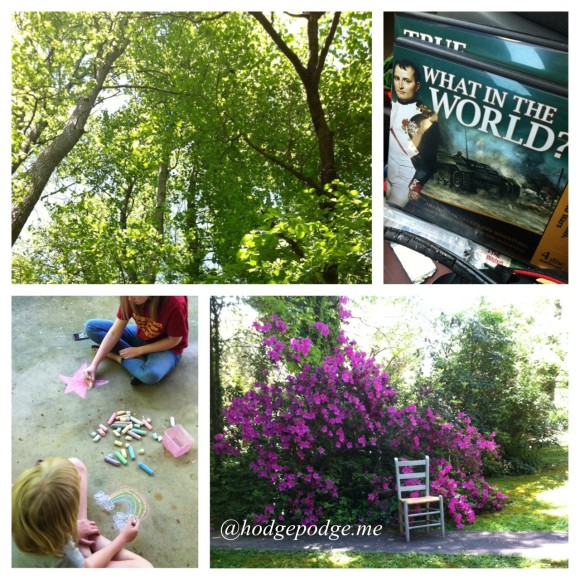 Sometimes we listen to history in the car and head over to enjoy a bit of time with great-grandmother. Azaleas, birds singing – gorgeous spring day!
Testing is a Tool
But I do have to say that we do not place great emphasis on testing and scoring.
A homeschooling friend of mine asked my opinion about testing her child with a test a grade ahead of her true grade. I answered from my heart because I love my friend. And because I feel strongly about keeping the end in mind with homeschooling and parenting. It is very, very easy to get caught up in the 'testing' and performance 'race' and lose sight of the end goal.
Of course, you have to determine what your end goal is. I told my friend that I would personally test on grade level. I know for sure that her child is brilliant and will do well no matter what. I think offering grade level gives a chance at proving even greater success. In the grand scheme of every day homeschooling and raising a God-fearing adult, this test is of little significance. The test is simply a tool to gauge what we might need to focus more on. And to confirm what we already know.
Sometimes on a Saturday @hodgepodgedad teaches how to build a computer. And explains what a motherboard is and a hard drive. And lets kindergartener slide in the disk drive. #lifeskills | 2. Reading CAT results received in the mail | 3. Brothers and books | 4. Strolling in *cough* less pollen. Love that we could get out to our favorite trail.
In Georgia we only have to administer a standardized test in 3rd, 6th, 9th and 12th and even then only keep it on file (I explained this in my Helpful Homeschool Habits for Standardized Testing). As my children's teacher, I know what my children know. We have discussions several times a day in multiple subjects. I also remember that I tested poorly on standardized and SAT tests – even though my regular work and grades proved otherwise. I remember feeling like a dummy. Tests were BIG when I was growing up. (We administered the CAT which is supposedly easy compared to other standardized tests. I was surprised at the trouble one of my children had in one section of math. This child gets 100s all the time. So, I know the poor test results were simply a result of nerves.)

1. Tapestry of Grace book stacks | 2. A Reason for Handwriting K (more on this later!) | 3. Weekly Homeschool Planning Meeting (the planners stayed on the kitchen counter this week so we could see them often!) | 4. We planted sunflowers and Lil' Buddy is ready for them to be 12 feet tall!
The End in Mind
I have the end in mind. Now that I have high schoolers, that picture of  'the end' is more clearly focused on what my desire is for them to be as adults. The most important thing is of course their relationship with The Lord. But, yes we also aim for academic excellence.
Whatever you do, work heartily, as for the Lord and not for men… Colossians 3:23
Signs of homeschool high school (love it!) Pictured above: How to Read a Book (Annie Kate's review), Tapestry of Grace literature and history selections, Rod and Staff 10th grade English, Apologia Marine Biology.
Are We Following a College Prep Course of Study?
Absolutely! We want our children to do well on tests and we also want our children to do the work that matches the expectations of their grade level. Do I know for sure that our children will all go to college? Of course not. But we are following a college preparatory course of study. My heart's desire is for my children  to follow the path the Lord has for them. I do like the idea of a gap year. Or taking courses close to home the first year. But I have also seen, first hand, the benefits of years of working and gaining experience – for both my husband and others.
Apologia High School Science – Yes, you can go back and do an experiment you didn't have supplies for earlier in the year. Why not? Exploring carbon fixation with Apologia Marine Biology – led by our high schoolers – with fascinated preschool and elementary audience.
Do I second guess what we are doing or have doubts?
Absolutely! When I hear of a certain record keeping system. When I read about a wonderful, new high school course. When I hear that another family has received four college acceptances. But truly, my heart is not troubled. It's a balance of planning and trusting. I know that the Lord has plans for each of my children. Ultimately…
I have no greater joy than to hear that my children are walking in the truth. 3 John 1:4
More in a future post on sticking with what you know what works. And speaking of sticking with what you know what works…
More Hodgepodge:
A Reason for Handwriting has been a mainstay over the majority of our homeschooling years. We have tried two other handwriting resources but have always come back to this one. Why?  Join me at The Curriculum Choice today for my full review.
Trim Healthy Mama favorites from this week: The Trim Healthy Mama Fat-Stripping Frappa is amazing! I used a touch of my PG Tips tea in the place of the water – heaven! And so easy to make. Last night we also had one of our favorites: Slow Cooker Cream Cheese Chicken. Just two ingredients – my kind of recipe!
Happy Easter friends! He is risen indeed!
Free Chalk Pastel Art tutorials for subscribers – classic baseball and bat and Monet's bridge spring tutorials back by popular demand!
Many thanks to our hostesses!
Do you use standardized tests as a tool? Are you at the point of having the end in mind?