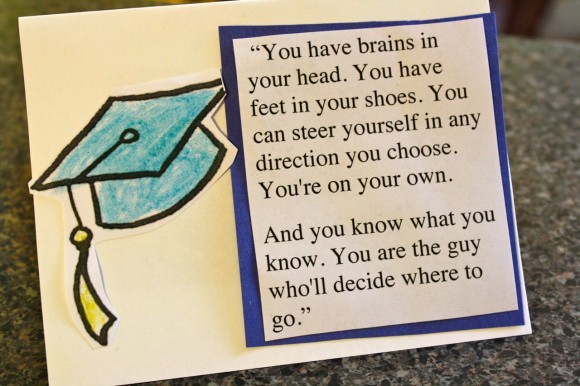 This is one of those fun little ideas I came up with after an internet search for quotes. I wanted something more than the typical store bought card. A cap and rolled up diploma, of course. An appropriate quote from Dr. Seuss, of course. We start out with Dr. Seuss don't we? Why not graduate with his rhymes as well?
"You have brains in your head. You have feet in your shoes. You can steer yourself in any direction you choose. You're on your own.

And you know what you know. You are the guy who'll decide where to go."
An encouraging piece of scripture. And a bit of money rolled up and placed in the diploma, of course.
Happy Graduation!
updated from the Homeschool Highlights archives
More gift ideas here on Hodgepodge and on my Gift Ideas Pinterest board.