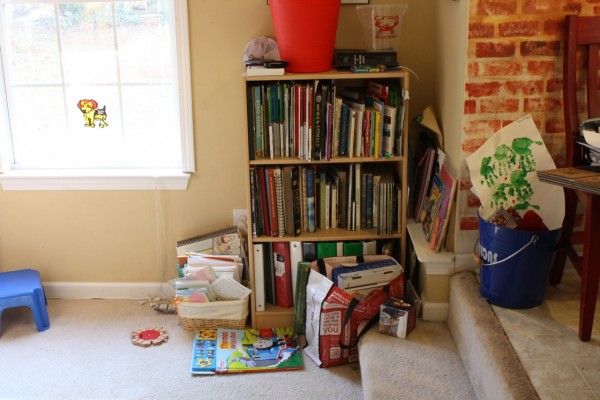 Former, wonderful, overflowing and overused bookcase in our most central location.
My husband and I have been blessed with hand-me-down furniture. There is just an abundance of pieces on my side of the family. And, in the almost seventeen years of our marriage, this furniture has served us well. However, never, in the past, has this furniture had to bear the abuse of five children – home most of the time, homeschooling 🙂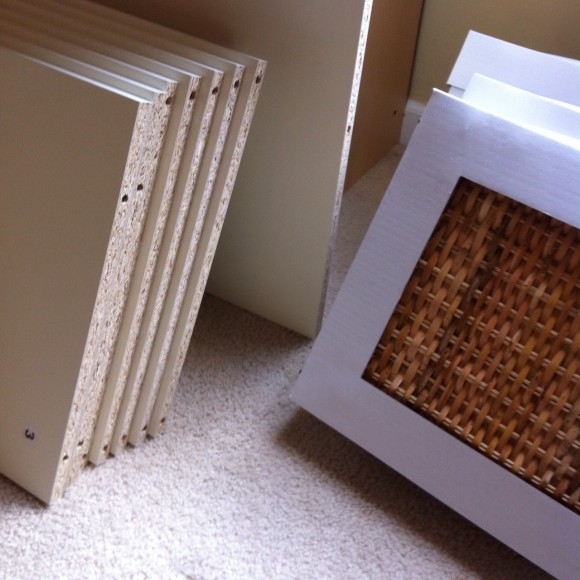 So, over a series of posts, I will share how we have replaced key pieces. Bit by bit in a frugal fashion, paying cash. (Yes, there have been many eat-from-the-pantry and beans and rice type meal plans around here!) We have replaced furniture mostly from my favorite store, IKEA.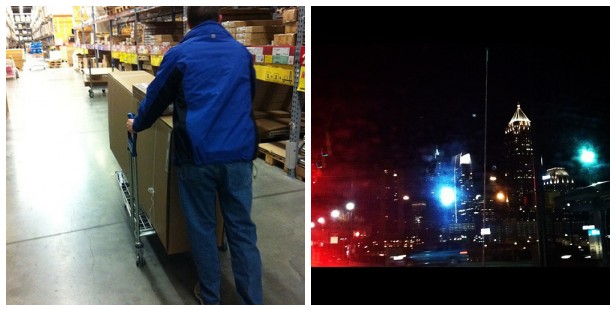 (Yes, we've had date nights at that store, walking around and oooing and aaahing at organization. Plus it was nice to drive through Atlanta at night and take in the lights of the city).
Though we have a classroom, the kitchen table still sees much learning action. Lil' Buddy can have his mid-morning snack there while I help Littlest Girl with her handwriting. We practice our 'One More Thing After Lunch' helpful habit daily there. This bookcase is situated right next to our kitchen table and in the corner of our family room.
The family room is the spot my older two children like to complete the majority of their homeschooling. (See the former bookcase in the background?) So, this is indeed the most used bookcase. Now, meet the IKEA expedit.
The bookcase in this spot has housed:
All nature-related items. Handbook of Nature Study, field guides, nature journals and notebooks
Science texts
English from the Roots Up
Now that we have replaced this bookcase and it has baskets, I have storage for:
my binder of homeschool attendance and my, ahem, stacks
field lenses, binoculars, stacks of papers yet to be filed
the handy, dandy three hole punch – We can pull it out and punch right there at the kitchen table!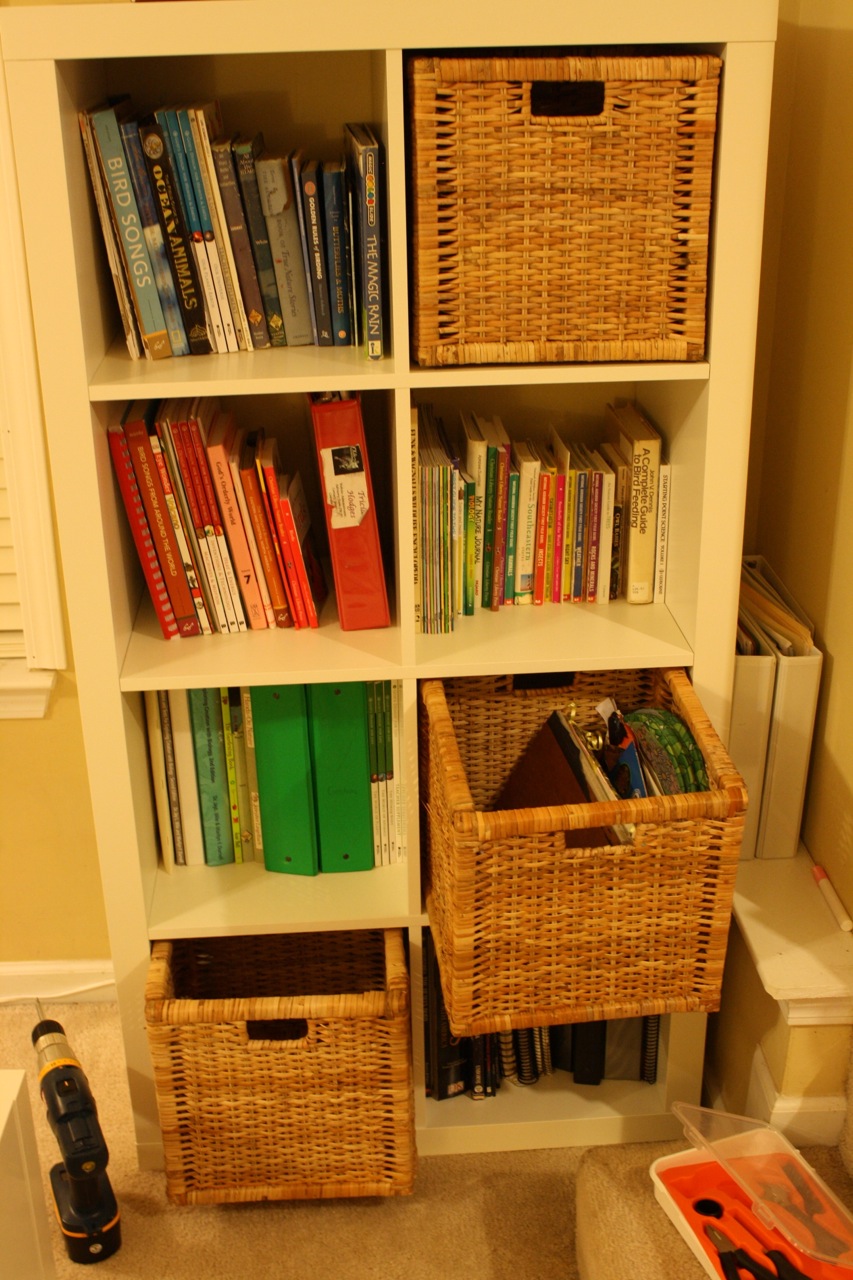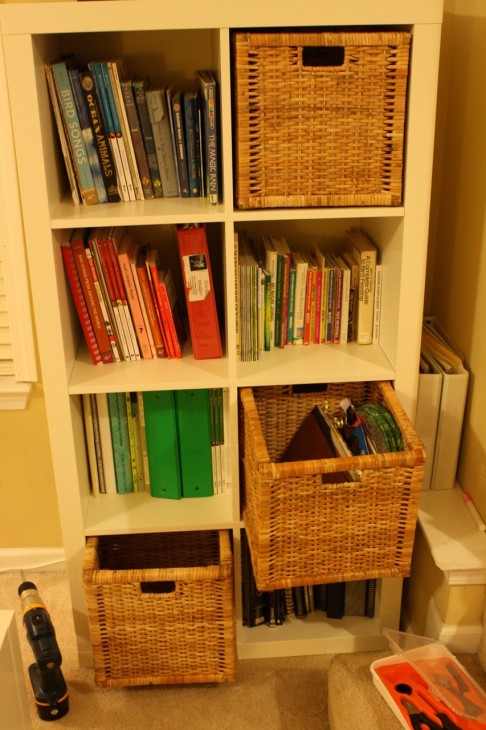 And, following cues from magazines, I arranged our resources by color. I think it has a soothing effect. Maybe? (Imagine the noise in the background from an age range of children from four to 14).
My husband put this new bookcase together, as is IKEA fashion. The former bookcase was re-purposed in a child's room – complete with two of those fabric cubes for storage. In future weeks I'll share more in a series of our frugal homeschool makeover. You might like to see last week's workboxes update?
Now for highlights from this week:
Tapestry of Grace: Having been inspired by our reading of I, Juan Pareja, Middle Girl is working on another famous artists display board. All I have to do is keep her supplied with display boards! This is definitely the way she learns best – by doing, making and creating!
This middle school boy wrote more than he ever has during nature study. Thanks to those advanced student notebook pages. In other nature study news, we searched for winter weeds on a walk and shared a valentine with our backyard birds.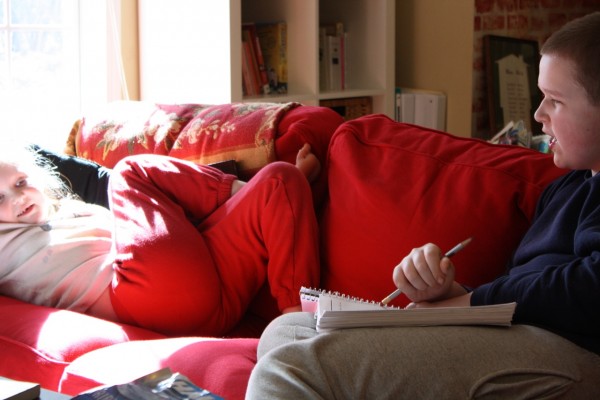 The two youngest children took turns being under the weather this week. Some virus has passed through all but one over the last two weeks. Big brother kept little sister company by completing his math on the family room couch.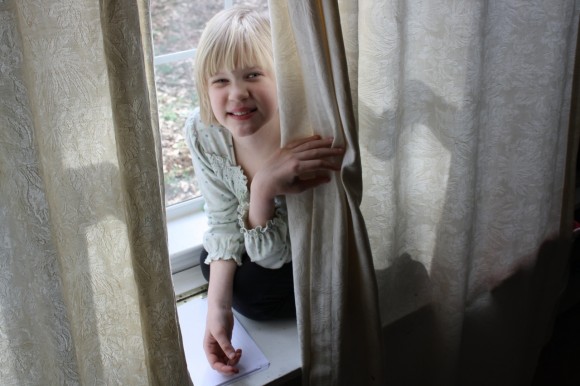 The two drama troupe girls worked on their character sketches for The Jungle Book play they are participating in.
And, Kindergartener completed the famous measuring of colored water for math! Blue and yellow make green! (Plus you might notice that lost tooth – both girls, above lost a tooth on the same night).
And the Hodgepodge collage, telling the rest of the story: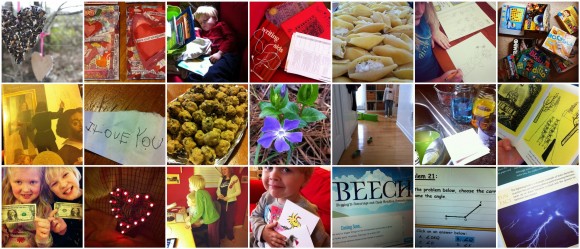 1. A Valentine feeder for the birds! | 2. Mixed Media Heart Collage | 3. Sick boy taking a big nap | 4. Eighth grader was here | 5. Big batches of Italian Stuffed Shells tucked in the freezer for our Valentine supper | 6. Sketch Tuesday – Something in New York | 7. Living math and language with a bunch of games | 8. We finished our Tapestry reading – I, Juan Pareja | 9. Unexpected gift by 6yo | 10. Batches of homemade cookie dough balls | 11. Signs of spring | 12. A train race | 13. Measuring colored water for Saxon K Math | 14. This week's FIAR selection – Madeline | 15. Two girls lost teeth the same night! | 16. An early Valentine to all of us from Hodgepodgedad – beating heart kit from Radio Shack | 17. Skyping Grandma and Grandpa | 18. Valentines in the mail from great-grandmother, Mama Ann! | 19. BEECH mini-conference and Twitter Party next week! | 20. Angles – 4th grader's Teaching Textbooks | 21. Study of electricity – lightning with Answers in Genesis Science: Heat and Energy
Many thanks to our Friday hostesses…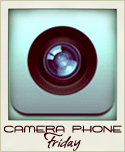 Camera Phone Friday hostess Dawn Camp @ My Home Sweet Home ,


Weekly Wrap-Up hostess Kris at Weird, Unsocialized Homeschoolers and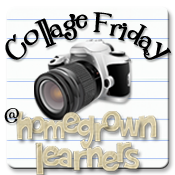 Be sure and check out the BEECH conference and join us for a Twitter party next Thursday, February 16 at 9pm EST, hashtag #BEECHcon.

(I'll be tweeting from a mini-conference in Florida with some wonderful homeschool ladies next week.) More details here!