Here are some day to day ideas and easy how-tos for making fine arts fun for the entire family!
These homeschool fine arts plans are the resource that brought delight and joy to our days. It is what we all looked forward to when I was homeschooling all five of my children. It is what we still turn to to enrich our homeschooling high school days with my two youngest children.
That, my friends, is a long-standing favorite resource!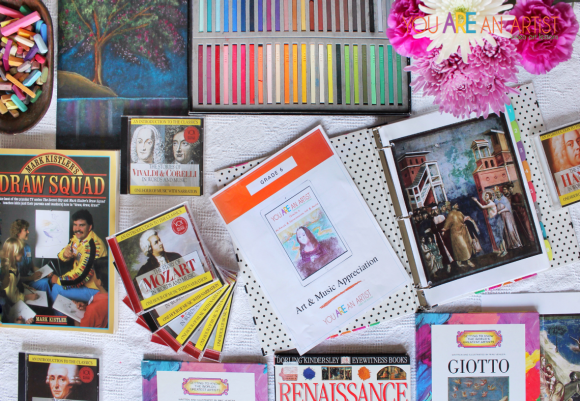 Homeschool Fine Arts Curriculum for Grades 1-12 – You ARE an ARTiST Homeschool Fine Arts lesson plans organize great art and music appreciation resources into the classical four-year cycle of history and seasons each week with a Charlotte Mason flavor. Here you will find homeschool fine arts curriculum for the whole family!
These lesson plans are available for Grades 1-12 and will offer families three different options for art study and a detailed plan for music appreciation.
Each flexible and easy to use 32-36 week plan includes notebooking pages, coloring pages and YouTube links for art tutorials and listening to classical music.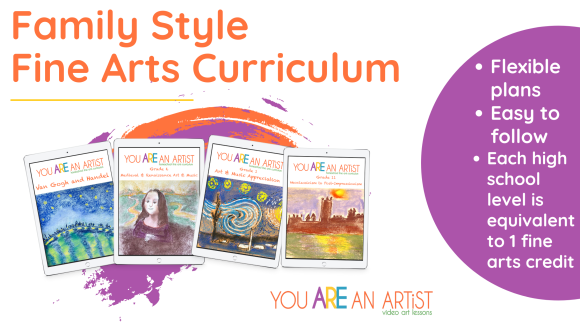 The idea behind this program came from my own home schooling experience. I was always searching for a plan for picture study and composer study. It seemed simple enough to do myself but I just never did it. I also wanted to use the classical style and Charlotte Mason's ideas for our art and music. I wanted all the great resources organized in the four-year cycle of history. I wanted it to be flexible and easy to use. I never found what I was searching for so I decided to do it myself!

This is the art and music appreciation program for busy people. We have done all the research and organizing. You are able to open our plan and offer a great program for your children.

– Founder and Curriculum Author, Barb McCoy
Homeschool Mom Tips For Making Fine Arts Fun For The Entire Family
What I originally intended for my middle-schoolers to study has extended to full blown appreciation for the whole family – all five children.
The artist and composer studies complement our Tapestry of Grace studies beautifully.
For this mama, using You ARE An ARTiST Fine Arts Plans is easy! I just click to open the plans, click to print what we might like to complement our studies, click to print a coloring page for the younger ones.
Not to mention, this type of enrichment is pure delight. Fine arts fun might just be what your homeschool needs too.
How to Enrich Your Homeschool With Fine Arts
Homeschool Fine Arts: Comprehensive Lesson Plans for Families – Homeschool Fine Arts Curriculum for YOU! We are so excited to announce that You ARE an ARTiST is offering a line of graded art and music appreciation curriculum for families. And don't miss the announcement about homeschool nature study with the Outdoor Hour Challenges!
Homeschool Fine Arts Q&A: How Real Families Make It Work – We have received many questions, comments, and praise regarding the Homeschool Fine Arts curriculum. But you know what it's like buying homeschool curriculum! Us homeschool moms value word of mouth endorsements from our closest friends. Well we pulled together some of our Members (aka close online friends) for a little help answering questions. We hope these homeschool friends can shed some more light on the Fine Arts Curriculum and how it fits in their homeschool! So grab a cup of coffee and enjoy the Q&A session.
Spring Nature Study Curriculum with Art and Music Appreciation – This spring homeschool nature study curriculum contains all the nature study Outdoor Hour Challenges, custom notebook pages for nature study as well as three months' worth of art and music appreciation.
An example of using Homeschool Fine Arts in our weekly homeschool.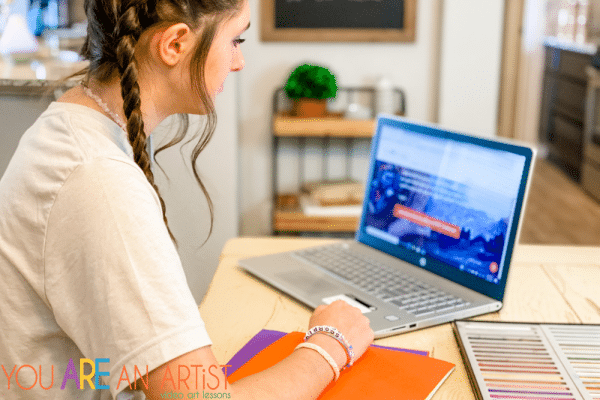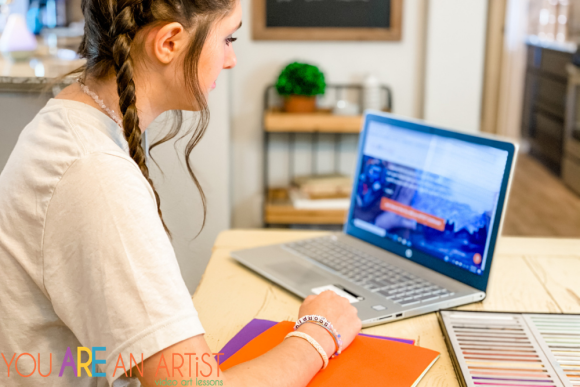 Earn Fine Arts Credit for Homeschool High School
This is How Your Teen Can Earn an Art Credit for High School – So, if you are in the process of completing high school credits for homeschool, you may need an art credit. Many states require one visual art credit for the completion of high school. If that's the case for you, we will show you how simple it is to use You Are An Artist to obtain your student's visual art credit.
Fine Arts Credit for Your High School Transcript: A Homeschooler's Quick Guide – Fine arts credits are required in most states for high school graduation. Are you looking for compelling ways to satisfy this requirement in your homeschool? This quick guide has everything you need to add fine arts credit for your high school transcript.
Homeschool Art Curriculum For High School: Everything You Need for Your Teen – Art in high school is more than just another subject! This homeschool art curriculum for high school will give your students a tour of great artists with picture study and art projects – all while easily earning an art credit.
Homeschool Music Curriculum for High School – There are so many benefits of studying music and great composers in high school! Here is the homeschool music curriculum for high school that makes it easy and suitable for fine arts transcript credit.
…music appreciation is different from playing an instrument in the same way that being a natural actor is different from enjoying a Shakespeare play, or being able to paint is different from enjoying a painted picture. I think that all children, not just the musically inclined ones, should learn to appreciate music.

-Charlotte Mason
Each fine arts curriculum offers additional art appreciation books, music, and podcasts that you can use as you have time available. They also encourage you to incorporate hands-on famous artists' and composer art lessons with Nana. These plans pull together affordably priced materials along with internet links so you can have a reasonably priced art and music appreciation program. There are 32-36 weeks planned at each level, and this allows your family plenty of flexibility to complete the curriculum in one homeschool year.
Fine Arts Friday Fun!
One of our fine arts families, the Laytons, revived a really fun Fine Arts Friday!
5 Tips To Start Fine Arts Friday – Who doesn't love themed days? Certainly not Taco Tuesday!! I'm sharing 5 Tips to Start Fine Arts Friday without overwhelming your homeschool schedule.
The Ultimate Guide to Fun Friday Activities – Enjoy these fun Friday activities for kids! By making memories having fun, learning can be so very rewarding! We are BIG fans of this type of homeschooling.