Warning
: Trying to access array offset on value of type null in
/home/n0c986d/public_html/hodgepodge/wp-content/plugins/amazon-associates-link-builder/vendor/mustache/mustache/src/Mustache/Parser.php
on line
278
Over the next week I am sharing our curriculum choices for 2013-2014. Yes, here at the second grade desk…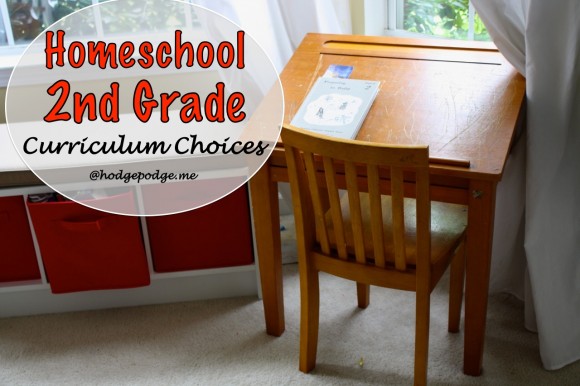 As I said yesterday, rest assured I am still in the planning stages, but we pretty much have a handle on what resources we'll be using – based on experience. My Littlest Girl is a rising second grader now! And let me tell you – boy do I have to be ready for her! She's already two months into her second grade English book because she was just ready.
Hodgepodge Homeschool Second Grade
~this post contains affiliate links~
I'm a Christian, Now What? Journal – she was given this by our church when she was in her I'm a Christian Now class. It's a journal of sorts and is detailed enough to savor, sit and spend a while. Fabulous resource.
Rod and Staff English 2 – She's the fourth one to use this book! (her favorite subject)
Dew Learning – brand new for this year! Littlest Girl will be enjoying one subject of the iPad based Christian Homeschool Curriculum. She chose PE/Health! That's because the week we were at VBS her favorite part of the morning was recreation. Dew Learning can be accessed from any internet-connected device. "With Jesus Christ at the center, our aim is to shape both minds and hearts in his image." You can read about my first impressions in What is Dew Learning?
Extracurricular
Both of our youngest two children will participate in weekly children's choir at church (earning hymn 'n m's – hymn memorization trophies along the way ) as well as Mission Friends. Littlest Girl will likely choose to participate in the puppets ministry again and the Children's Treehouse Choir. Littlest Girl will also start with both piano lessons and/or drama troupe.
The Rest of the Day
Littlest Girl will, of course, also participate in all the learning we do with our multiple ages (literature, writing, art, music, history, science, nature study and more). So this list isn't complete. I hope you'll come back over the next week as I share more of our curriculum choices.
More Resources for You!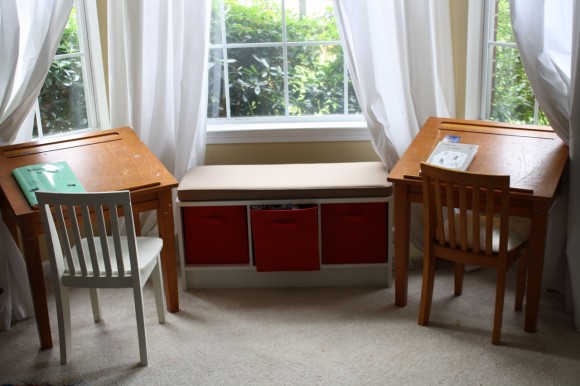 Where did we get those little desks? A Hodgepodge FAQ answered.
Hodgepodge Curricula 2013-2014
Each of these links will be live as I share about them over the next week:
Linking up with iHomeschool Network's Not Back to School Blog Hop!
Second grade seems a classic sort of year, doesn't it? No longer the brand new first grader but not an older elementary child. The magic of childhood.