I find myself in the countdown to graduation of my second high schooler! Can you believe that the graduation cap and gown has shipped and is on its way to us? Really. There are just about three months left until my son graduates. Yet another realization hit me a few weeks ago at the beginning of this second semester. I was pondering just how very different my two eldest children are. As I thought about this, I found myself grateful for such a thing as homeschool high school learning styles and being able to meet the needs of same.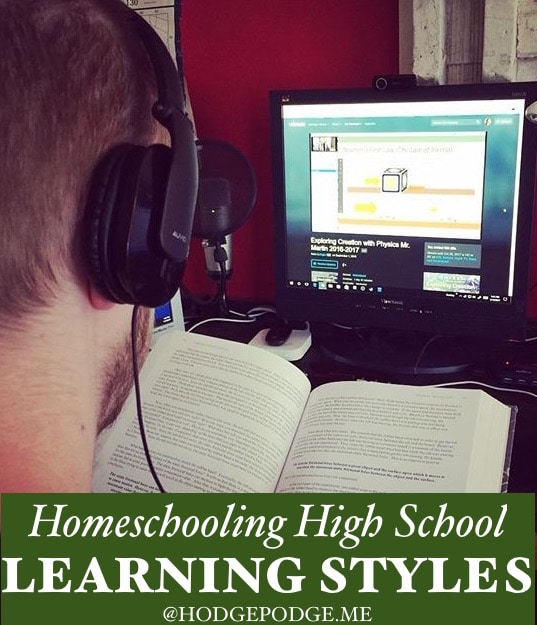 This homeschooling moment brought to you by senior son and Apologia's Online Academy – the recorded Physics course. This resource has been really great for my auditory learner this year. Hooray for homeschooling high school the way he learns best!
You might have noticed that I have not shared much about my second soon-to-be homeschool graduate. One reason is that my son is much more quiet in nature and so I respect his privacy. But I asked him if he would mind me sharing an update about his senior year experience because I know it just might encourage others homeschooling high school. He agreed.
Homeschooling High School Learning Styles
Both of my sons are auditory learners. I've shared about this learning style before and how this has caused us to tailor our resources and curriculum choices to meet the needs of the auditory learner. I'll share links to those below. My high school son has completed roughly half of his high school learning online or in auditory fashion with these great resources (the other half with textbooks and great books through Tapestry of Grace):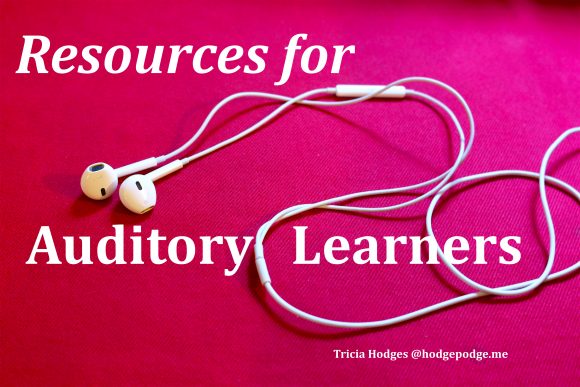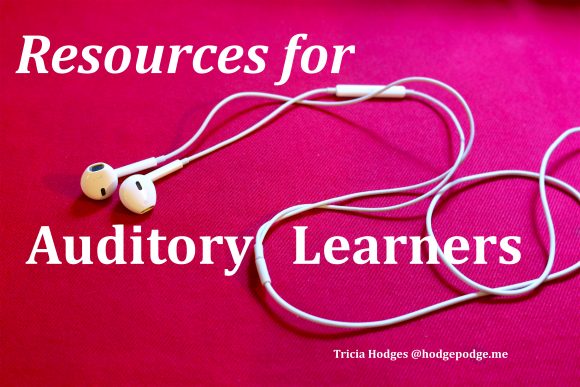 Resources for Auditory Learners – all the favorites through the years (these may help your learners too!)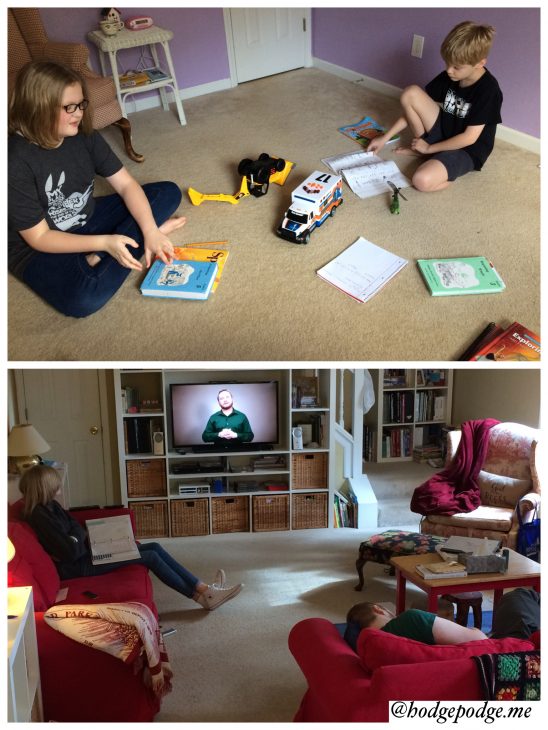 Since our eldest has been away at college this year, it has naturally happened that we have these pairs of learners in our homeschool. 📕At top, these two have always been the "little ones" but now that they are 5th and 3rd grade, not so little anymore. But they still learn science and history together. And they still have the same basic schedule. Early risers, they are often half way through their lessons when the older two are getting started.
📘Then the high schoolers do Modernity together with Dave Raymond/Compass Classroom (we love this digital curriculum so much it is a high school elective! You can also find my review of Modernity at The Curriculum Choice.)
She is a freshman and he is a senior. Can you tell their learning styles by this photo? She learns by writing and taking notes. She has always needed to stay busy while she learns.
He is an auditory learner (Before, when he and our eldest were the learning pair when she was still in high school – I used to think he wasn't participating because he wasn't taking notes. But I need only discuss something with him to know he is collecting knowledge. It amazes me all he remembers just by listening! Why he does so well with Apologia's streaming Physics class and Teaching Textbooks Pre-Calc. My youngest boy is also an auditory learner and thrives on the audio version of Apologia's science text – or me reading it aloud to the two of them- and Teaching Textbooks as well. ) 📓Not pictured: Learning together with Amanda Bennett's Inauguration unit study. 📚

Last Semester Technology Based Emphasis
Because my two eldest children did many of their studies together through high school, my son is ahead and only has a few credits to complete this semester. Rather than push for an early graduation, he opted to spend the time building up online technology certifications and exploring his post graduate options. He has been building real life experience! Unlike his older sister, he does not wish to go away to college. Since he can learn so easily online, he is pursuing online possibilities and/or a combination of classes at the local technical college.
He has an entrepreneurial bent and has been building some things on his own as well. He is also gifted in video editing and has been sharing some of his talents with Southern Hodgepodge Studios and our new video art courses!
I am so very thankful for homeschooling and for the many opportunities and options available to us.

I compiled all my favorite resources and thoughts over the last couple of years into one post that I hope you will find helpful: What I've Learned Homeschooling High School to College.
Homeschooling High School
Last year I shared senior moments and many of our favorite homeschool graduation resources. I'm so glad I did! I've been going back to those to make sure I haven't missed anything. This is another area where my eldest two children differ. Last year, my daughter wanted to participate in pretty much every possible celebratory senior and graduation celebration. My son, however, is content to be a part of the Senior Recognition service at our church. We may participate in our state homeschool graduation ceremony. Or we may put that money towards a celebratory family trip! We shall see.
All our Homeschool Graduation Favorites from cap and gown to state graduation ceremonies.
Hodgepodge Homeschool Update
I'm not sure how we are already a month into the second semester! We sat down at a recent Weekly Homeschool Planning Meeting to see just where we are. Our younger two – the elementary set – are ahead and will likely finish early in May. Our high schoolers are on the same track as well.
Second Semester Goals
Required standardized testing for my 3rd and 9th graders is scheduled for April.
Saturday Science Labs with Hodgepodgedad
More driving practice.
Focus on all the spring events – drama productions, spring sing, piano theory exam and recital.

Trail time! Beautiful January. #walkingagain #HodgepodgeHealthy #HodgepodgeWinter
Hodgepodge Wins!
Our youngest two children are making BIG strides in the area of their food allergies. Both carry epipens for different food allergies. In the last month, through our partnership with allergists, health professionals they have been able to reintroduce certain foods. We are very excited!
Warm January meant that we could get out and exercise often! Lots of trail time for my senior son with his bike 🙂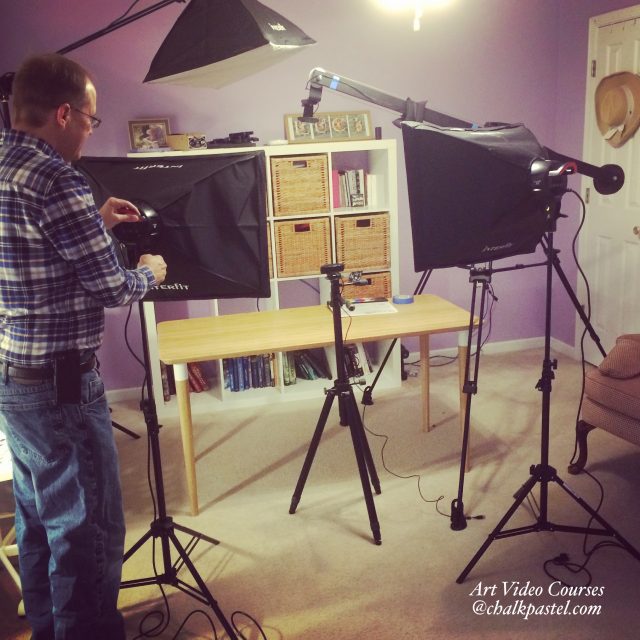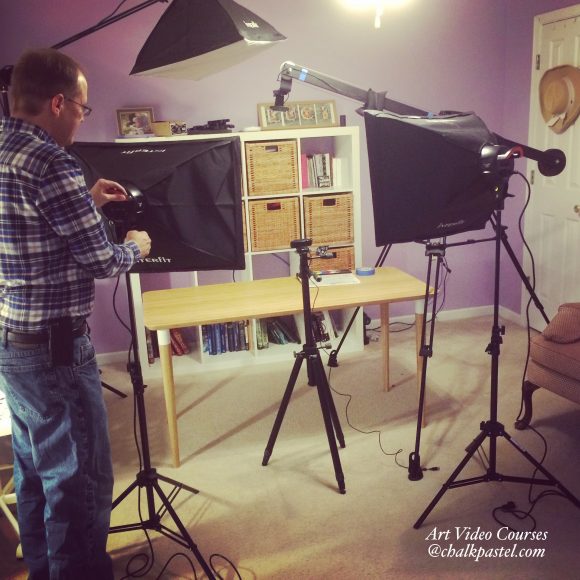 AND, Nana retired from her full time job and is now very busy with chalkpastel.com. Plus the whole family helps with the production of our Video Art Courses.
A hodgepodge. For sure!
How has your January been? Or how is your second semester shaping up?
Save
Save
Save
Save
Save
Save
Save
Save