How are you qualified to be a homeschool teacher? This highly educated man looked me straight in the face and asked his pointed question. His rimmed glasses balanced just slightly down on his nose.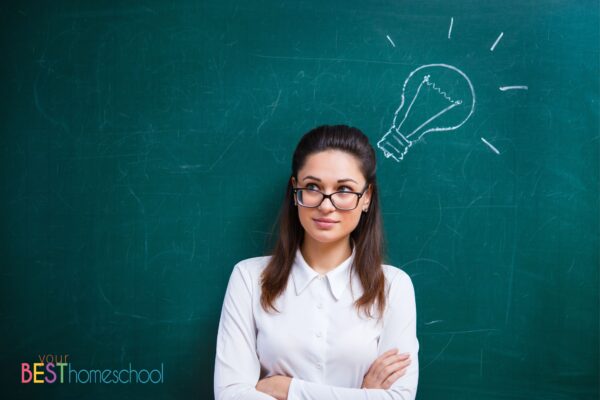 "How are you qualified to be a homeschool teacher?" he asked.
Immediately my defensiveness swelled. The protective mother and 'how dare you' side of me. He must have seen this flash of feeling in me because he quickly added, "I'm honestly curious – I just want to know. This is very interesting."
How Are You Qualified to Be a Homeschool Teacher?
He asked this question because he had looked at the paper on the clip board in his lap. I had written 'homeschool teacher' on the line for occupation. More and more these days I find I must be prepared to answer the curious. Even at routine check up visits. Even in the elevator. Even at church, the local grocery.
"I'm especially interested in how you teach high level math," he said. This is why I ask…"
…and he went on to describe his experience. How we went back to school to change the way things were going. He said at that time he felt like he was riding the back of the bus – neither he nor his patients had any say in the medical decision making process. He determined to get back in the driver's seat. And he did that. He took statistics and all those college level mathematics classes needed for an MBA. He took charge and changed the course – both for himself and his patients.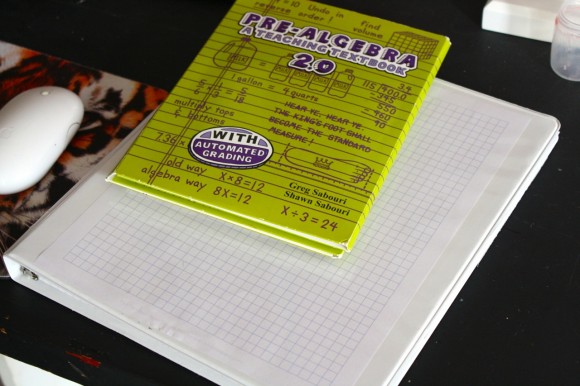 I'll admit I'm not particularly gifted in the math area. But we are blessed with many resources for homeschool curriculum. My older three children learn the majority of their math with Teaching Textbooks. This curriculum presents the lecture, problems and tests. It also grades for me! There are times that my husband spends extra hours in the evenings when my older children need help. And we can seek out a math tutor if needed. There's also the every day, living math. Saturday morning mathematics with my husband.
After hearing the doctor's description of wanting to steer the course, I believe we have many things in common. I too aim to be the driver. To be in charge, with God's direction, of my children's education. To pour into their hearts and change. He then asked another question…
"What about college? How will your children get into college?"
Well, sir, I'm still learning about all of that. I have one in her first year of high school. Another the year behind her – he's already doing much of what she is. But I understand from those homeschoolers who have gone before us that certain colleges want homeschoolers.
Homeschool students are usually independent learners. They know how to research. They often realize the big picture of education and feel a calling on their lives. But I've also learned that we must school well. We must commit to do this homeschooling the very best we can. (Update: Our eldest attended a Christian college on partial scholarship)
We should make plans counting on God to direct us. Proverbs 16:9
So far, if I lean into the Lord, then step back out of the way a bit, I find I'm amazed at how our days are designed. Oh sure, we have our portion, our share of bad days. Those days that character training take precedent. But teaching all these ages together – this history learning complements that science lesson and that verse we read this morning…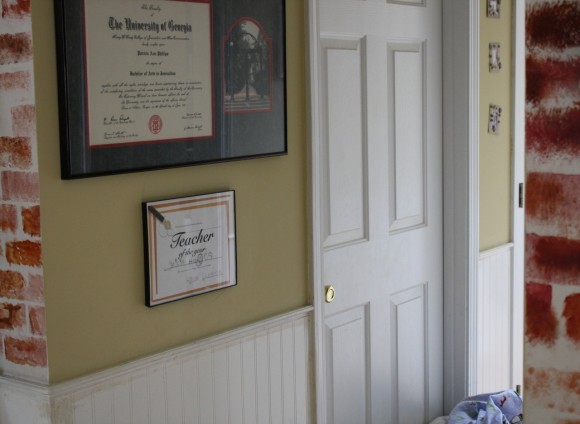 My college diploma and the more-highly treasured 'Teacher of the Year' certificate my son awarded me hang outside the laundry room door – mingled with the day's laundry.
How am I qualified to be a homeschool teacher?
Well, I guess you could look at my credentials because that is what the world would measure. I have a Bachelor of Arts in Journalism – a magazines degree. A political science minor. I feel pretty confident about English, grammar, writing, history. I love science. Particularly biology. The outdoors? Oh I work to frame our days with nature study. I'm pretty tech savvy. And I am a big proponent of continuing education. My husband is hugely qualified as our homeschool principal. Especially in the areas I am weak in like physics, math…
But ultimately, dear doctor of mine, I am qualified because the Lord qualifies me. No degree. He gives me what I need to be a homeschool teacher. One day at a time, just when I need it. He gave me this amazing privilege of parenting five children. Never, in any job I've held, no degree, have I found such satisfaction, joy and challenge.
We shall wait, pray and look forward to seeing what the Lord has in store for each of our children. For I know He has plans for them.
The fear of the Lord is the beginning of wisdom. Proverbs 9:10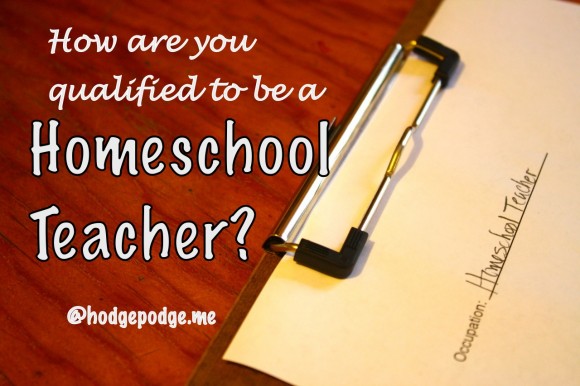 Wondering About Homeschooling?
I'm determined to write about these regular sorts of encounters. Because if those I come in contact with are curious, there must be others as well:
How about you: Are you questioned by the curious about this homeschool journey?
November 2012 by Tricia