"Your homeschool looks so peaceful."
"Wow, I wish I was as organized as you."
"Well, you have experience with teaching an age-range of children, I could never accomplish as much as you do."
Every now and then when I share our weekly homeschool wrap ups or an art tutorial, I will get a comment like those above. I always think to myself… if only they knew the drama and trauma that goes on here daily. Also, remember that with a photo, you don't get all the sensory overload that is happening at the time. The noise!
So, let me present you with the same photo and a little more explanation. The Truth Behind the Photo – The Noise.

Drama and Trauma All The Time
Friends, homeschooling is refinement by fire. Daily, sometimes hourly, we have character issues we have to address. And with five children, there is just always something going on. An adjustment to make. And when that challenge is tackled, then there's something new to concentrate our prayers on.
If you can remain calm, you just don't have all the facts…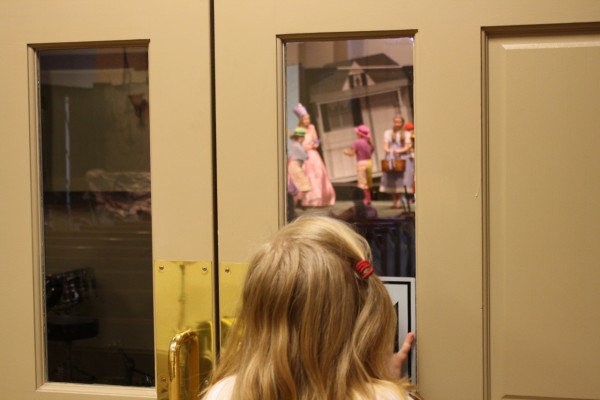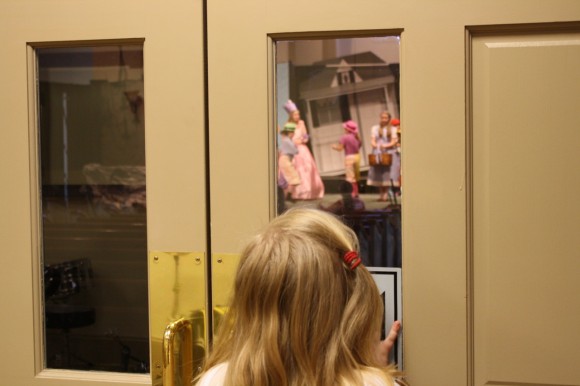 Littlest Girl peeking at her big sister practicing as Glinda in the Wonderful Wizard of Oz this week!
Drama – we have three girls. Need I say more? Trauma – someone needing a band-aid, help finding a pair of socks – or my favorite homeschool daily – finding a pencil with an eraser. We've also had our share of trips to the ER over anaphylaxis and injury. Drama and trauma all the time with five children.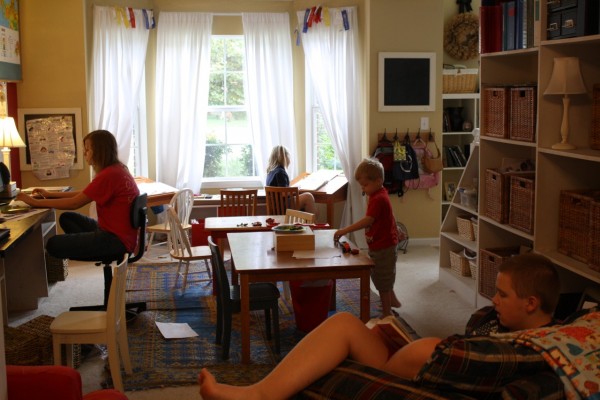 Hmmmm. There are four…
More Imperfections
I am a morning person. Some of my children are not. So, we've adjusted our Before 8:45 schedule for those young adults that need more rest. And I can at least get the basics done with three children. That's accomplishment!
Homeschooling amplifies and showcases my stacks. I was a stacker of papers even before I got married. And with all these children and homeschool papers, stacks abound. Thankfully, there's IKEA and chalkboard paint to help.
I escape now and then. A long soak in the tub at the end of the day. Just stepping outside when the noise is just too much. That's not really an imperfection as it is a need. So I can change my perspective and get a hold of the gratitude.
1. Math manipulatives as part of an elaborate story | 2. We're still working on getting our garden ready. Pulling weeds in between plentiful rain showers | 3. Construction scene | 4. I've decided to make duct tape creations part of the decor.
Why So Positive Most of the Time?
A few points. I do not write about my children's failings or speak poorly about them. Not because that doesn't ever happen but because I fail and make poor choices as well. We are human. A family all piled up together most of the time is bound to lose patience and struggle in one area or another.
I also consider that, one day, when they are each much older, what might they find if they were to Google search their own name? Would words I write now somehow wound them in the future? That would never be my intention. I aim to show my love for them through my posts and to encourage other families.
I count gifts. I turn to the three steps for savoring parenting. He's blesses us every day if only we will stop and take notice. So, yes, I do tend to share the highlights, the good, the accomplishments. But I do hope that you will see that we are an imperfect homeschool, a "we're working on it" sort of family. We struggle. And thank God He's not finished with us yet.
Maybe in the future I'll be more intentional about sharing those 'keeping it real' sort of laundry piles. Maybe that would balance out the glow of the sunshine on a blonde head as she reads a history book by the window.
Blessed are those who can laugh at themselves, for they shall never cease to be amused…
Most importantly, I can only do this through Him. Without Him I would be nothing. Without Him I'd surely fail…
And at the end of the homeschool week, date nights are an absolute gift. There are weeks that I am leaning and reaching for those couple of hours alone with my husband.
You might also be interested in A Day in the Life at Hodgepodge.
The glow of Glinda the Good heading up the stairs to herd Munchkins and chuckle at the Wicked Witch…
But I'll end with this and I think you'll agree…
This bright, new day, complete with twenty-four hours of opportunities, choices, and attitudes comes with a perfectly matched set of 1,440 minutes. This unique gift, this one day, cannot be exchanged, replaced, or refunded. Handle with care. Make the most of it. There is only one to a customer!  ~ from my Ellie Claire journal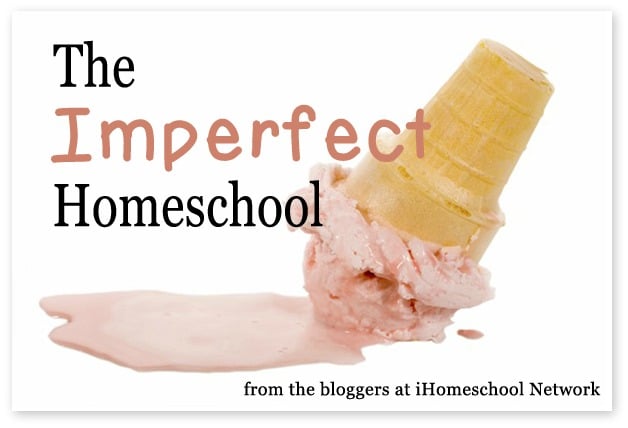 Be sure to visit all the other Imperfect Homeschools represented by the bloggers of iHomeschool Network.

Plus, Rebecca at Mom's Mustard Seeds hosts a weekly Resources for Moms. Stop by and be encouraged!
There's always something good in all the imperfections, wouldn't you say? Click to comment…