Mama Ann's sweet tea microwave recipe is perfect every time!
Mama Ann's Southern Sweet Tea Recipe
2 family sized tea bags
2 cups water in a 2 cup, glass, Pyrex measuring cup
approx. one cup sugar
lemon to taste
2.5 qt pitcher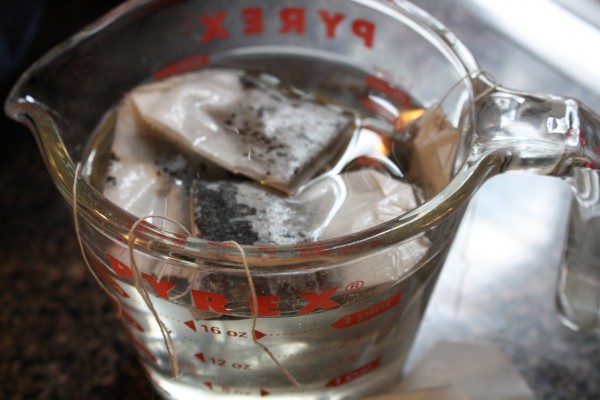 Remove tags from tea bags so the metal won't spark in the microwave. The staples that hold the bag together at the top of the bag will be submerged in the water. Push the two bags down into the water so they aren't floating on top.
Microwave on high for 4 minutes. Let steep while still in the microwave for 6 minutes. Put one cup sugar (or however sweet you like it – can even substitute Splenda) in the bottom of pitcher.
Squeeze that good tea from tea bags by squishing with a spoon. Remove tea bags. Pour liquid over sugar. Stir until sugar is completely dissolved. Fill remainder of pitcher with water and stir again. Squeeze half a lemon into tea and stir again.
In a pinch you can use the store bought lemon juice in the plastic lemon.
This Southern sweet tea is just like I like it. Good and strong – and perfectly sweetened! Plus super easy since you can just make it easily in the microwave.
Double recipe for a crowd.
another recipe from that red-and-white-checked I'm Writing My Own Cookbook.