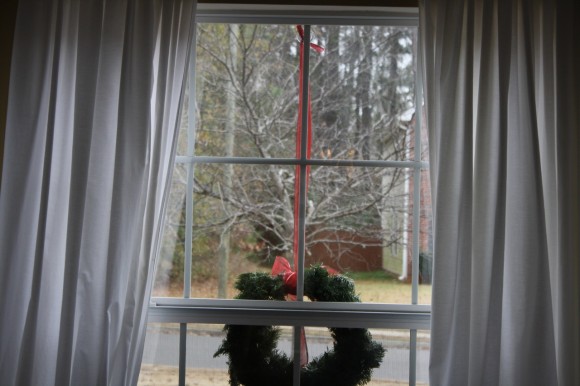 All is quiet this early morning of Christmas Eve. I'm the only one up, enjoying the lights on our Christmas tree. Thinking of all the joy and noise ahead. Today I'll cook a bunch of Italian Stuffed Shells for our Christmas Eve supper. Make a faux pecan pie to enjoy Christmas Day. The hashbrown casserole is in the oven right now for our breakfast in just a little bit.
This afternoon we'll go on a walk, maybe enjoying our outdoor hour looking for evergreens. We'll make something for the birds. Both help keep excited children busy and burn a little energy. I also may let the children get a hold of my phone and take photos of the Christmas cards we've received. Use the photos as the contact pics on my phone.
We'll go to our Christmas Eve service at church. Settle down and reflect on God's gift. Before tucking in, we'll read the next to last part of Tabitha's Travels with the children. My husband and I will put on It's A Wonderful Life while we ready things for Christmas morning. We'll likely have a few George Bailey moments over this next week. Those house full of children, "why'd we have to have all these kids anyway?" quotes said through smiles.
We are so blessed.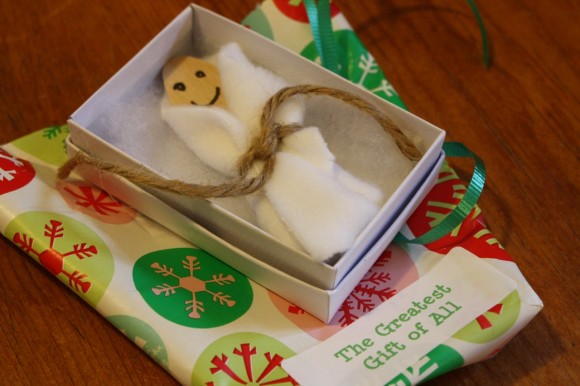 Baby Jesus is wrapped up. Ready to be the very first gift we open together. It's a new tradition we'll begin Christmas morning. We anticipate…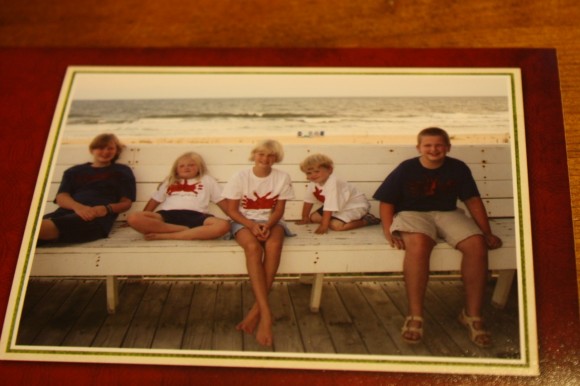 And we send all of you warmest Christmas wishes from the Hodgepodge. The children, at the beach, last summer.
And us two, all fancied up for my cousin's wedding last May. Maybe we'll get a family photo soon  🙂
All Hail Lord we greet Thee, Born this happy morning. O Jesus for evermore be Thy name adored. Word of the Father, now in flesh appearing; O come let us adore Him… Christ the Lord.