A solar eclipse is a great learning opportunity. Use these fun solar eclipse activities for your homeschool and make memories for lifetime with your family.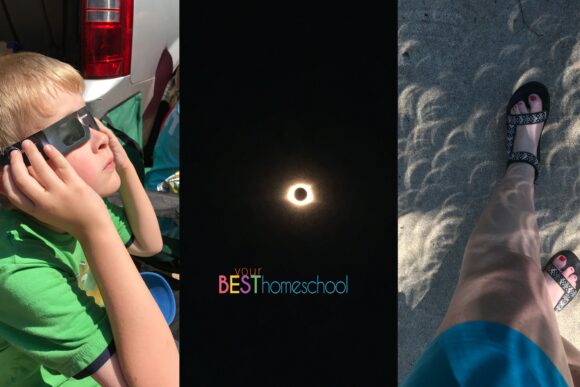 Learn About Upcoming Solar Eclipses This Homeschool Year
One of my favorite family memories is of our trip to the north Georgia mountains to see the eclipse in the path of totality. We still talk about it that day and remember how we experienced what was like night time – in the middle of the day.
Take some time to study the best viewing places for the upcoming solar eclipses. It may be that you won't have to travel far!
This NASA Map will help you determine the best areas.
Next, learn the basics of what happens during an eclipse with NASA's Eclipse 101.
Get some proper safety glasses for eye protection.
During an eclipse you might experience shadow bands (like those pictured in the right side of the photo, above). Learn more about and explore shadow bands on the NASA site.
Enjoy a Free Solar Eclipse Video Art Lesson
Celebrate the solar eclipse with art! Paint the solar eclipse plus learn about how an owl and a cricket might think it is night time during an eclipse – and paint them too!
You can learn even more with Nana's solar eclipse art lessons included in You ARE an ARTiST Complete Clubhouse membership. Did you know there are various stages of a solar eclipse?
Diamond Ring stage
Total Solar Eclipse
Baily's Beads stage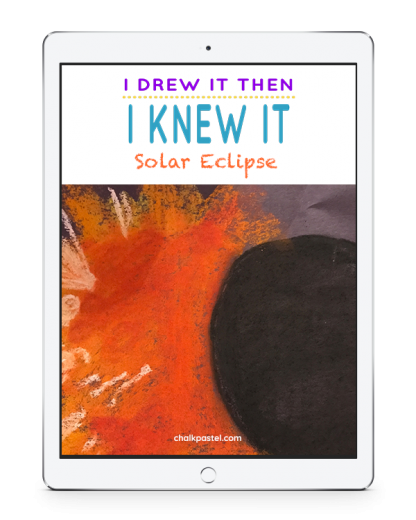 Shawna shares, "While we have used You ARE An ARTIST across many different subjects, including nature study, language arts and history, this year, we are incorporating it into our science study." Read more from her in Why Art is an Essential Part of Science in Our Homeschool.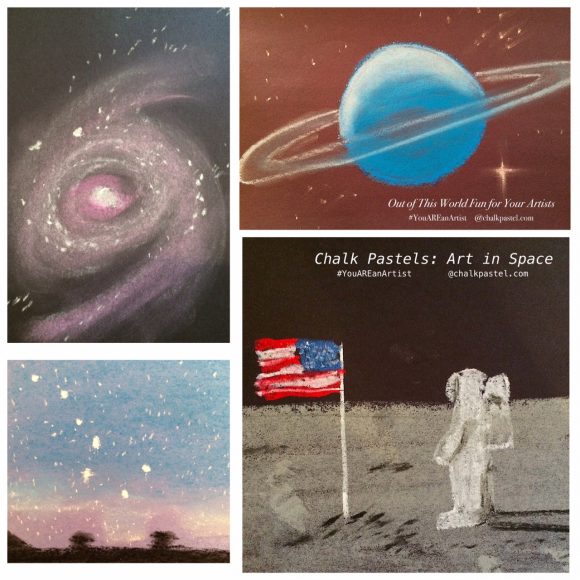 How to Create a Space Camp at Home with Art – We love space studies so much that it has, of course, branched out into our art. We have three choices in video art courses – Solar System (with a solar eclipse!), Space Exploration and a bundled option of both. We also have our eCurriculum version, Chalk Pastels: Art in Space. All of that learning has been solidified when we are creating the night sky and placing the Big Dipper or swirling a spiral galaxy.
Night Sky Nature Study and Astronomy Ideas for Your Homeschool
The eclipse might encourage you to learn even more about the sky in your nature studies!
Take some time this next week to get outside at night and enjoy a beautiful night sky homeschool nature study. Allow plenty of time for your eyes to adjust to the darkness and just enjoy gazing up at the heavens. Use some of these suggestions to get started with some simple night sky observations: Spectacular Night Sky Nature Study Ideas for Your Homeschool (with a free night sky journal page).
Discover Nature at Sundown – The ideas in this book will help you use your senses during your nature study to learn more about each of the topics. These skills are so useful in all scientific study but especially so for nature study. Plus, using all your senses is lots of fun! The book will help you with ideas for honing these skills and explain how we can enhance our natural senses.
Our favorite homeschool astronomy resources – curriculum, apps, books and more!
Elementary Astronomy Ideas for Your Homeschool – Begin with NO equipment or special tools! Go outside with your kiddos, especially at nighttime with a full moon or sky of stars, look UP and ask 'what's that?'
Explore Homeschool Astronomy – This text uses an immersion approach. "A child that has focuses on one subject throughout an entire year is being challenged mentally in ways that will develop his ability to think critically and retain complex information."
Apologia High School Astronomy – Apologia has an excellent option for astronomy as a high school elective. It's a no-fuss type of elective, so if you appreciate a quality yet simple curriculum, you will want to keep reading. It also has some attractive new features that, as a fellow Christian homeschool parent, you will love too.
Have you ever experienced a solar eclipse before? Did you know the names of the different stages of the eclipse?