"Those look like beach clouds." We must have said that dozens of times this summer. We remember from past beach trips that clouds like the ones above usually mean afternoon thunderstorms. On this day of beach clouds, we decided to purposefully notice clouds, weather, temperatures and wind. We listened to the distant then close thunder, saw the patter then pounding rain.
Following the Handbook of Nature Study July newsletter suggestions, our observations started at sunrise. A few of us, not all up, looked at where the sun appeared down the street of our neighborhood. I, for one, am still fascinated at how the sun rises on one side of the street in summer and way over on the other street during the winter.
Shortly after sunrise the morning turned mostly cloudy. Overcast. What kind of clouds are these? I asked as we headed to the pool. Stratus we all decided.
But while we were there, the morning cleared and cumulus clouds (beach clouds, as I like to think of them) moved in on the scene. Littlest boy noticed the leaves dancing on the trees in the wind.
By the time we got home for lunch, we heard the booms in the distance. Cumulonimbus clouds perhaps? We turned the handy cloud finder wheel from another Outdoor Hour Challenge.
Observations
Chances of precipitation rising every hour of the day according to the weather app.
After lunch, we load up to deliver Eldest Girl to an afternoon party. Definitely cumulonimbus clouds.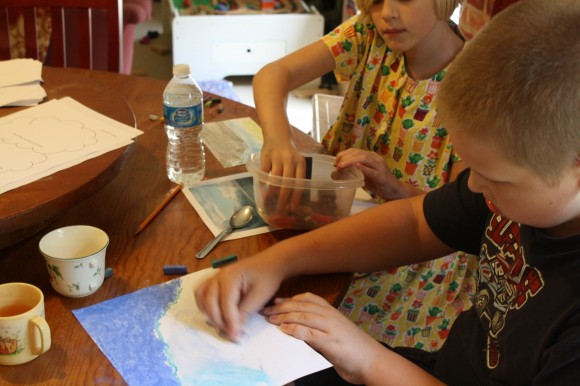 Back home, chalk pastels help make impressive storm clouds, as Nana taught us in last summer's Weather: A Pastels Tutorial.
Red sky in morning sailor take warning

Red sky at night, sailor's delight
These simple observations of 'beach clouds', sunrise and sunset, temperatures and more have made us aware of changing weather. Even though it's hot and humid (melting…) we like our summer weather for its afternoon thunderstorms.
Noticing beach clouds in the morning usually means afternoon thunderstorms. Taking note of later sunrise and earlier sunset means fall is approaching before we know it. Many thanks to Handbook of Nature Study for teaching us to tune in to these and other nature clues.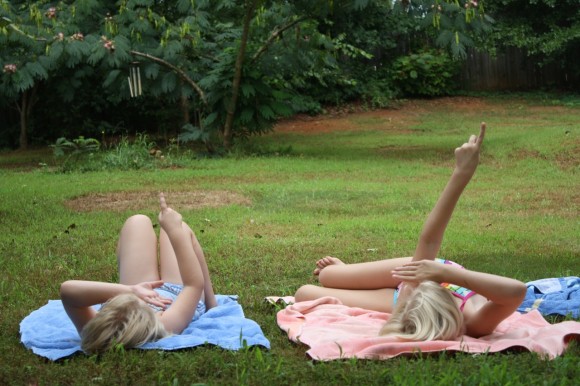 **updated with cloud-watching photo**This afternoon, if the thunderstorms hold off, we're going to spread out some towels and cloud watch. See what sort of animals and other things we can see in the clouds.
How's the weather where you are?