Last week I noticed all the many comforts of homeschool. This week I was struck by the flexibility we have.
There wasn't really but one 'regular' day this week. Is there really a regular day when homeschooling? Here's what I noticed…
Tuesday – Little ones are done and off playing. They'll join us for Olympic studies and science in a bit.
When we had two friends visit for the day, the children got half of the day's school work done the afternoon before. That next morning the children got up early and finished the day's subjects!! They had the day free to play and enjoy their friends. And we got to help a family and keep up in our school work because of the flexibility of homeschool.
Tuesday and Thursday – 1. & 2. Making bobsleds with chalk pastels! | 3. It's Olympic unit studies time! Learning about figure skater Michelle Kwan during/after lunch (Winter Games unit study is on sale through Saturday!) Verse of the day in our study: "But those who hope in the Lord will renew their strength. They will soar on wings like eagles; they will run and not grow weary, they will walk and not be faint." Isaiah 40:30
When the Winter Olympics are coming up we can incorporate those fun studies with the rest of all the regular. Because it is current events and we want to learn more about it. We can set aside something for a few weeks or simply build in the extra time. A unit study adds so much to our learning and really blends with the rest of all we do.
Yogli Mogli with my girl.
When I stay up late talking to Eldest Girl, we can sleep in just a bit and start a little later. Because some things like building relationships and getting rest are just that important.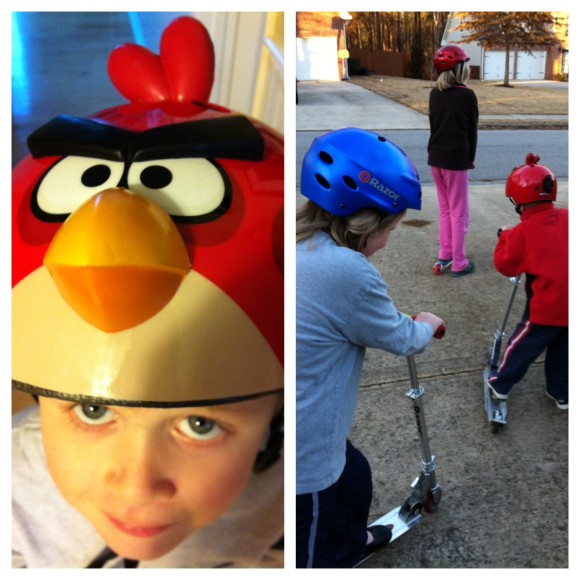 Monday – When we have one warm winter day we can ride scooters lots. Because we know that the arctic blast is coming back and we simply have to get outside!
Thursday – When there are days that are completely BURR we can stay in and do some of the favorite winter activities like Lil' Buddy listed in his Saxon K graphing. Build with LEGO® bricks, read a book by the fire, paint!, have Nerf battles, play and listen to music.
Last Friday – When Hodgepodgedad has an extended weekend we can grab our Georgia Aquarium passes and head over to look up close at the Aquatic Bodies Revealed exhibit. Because there are several of the dissection labs in our Apologia Marine Biology labs that match up. And what is offered at the aquarium is far above what we could possibly do at home. (My full review of Apologia Marine Biology for high school coming Monday at Curriculum Choice – with a giveaway!)
Wednesday – From this photo you would never know there is an amazing amount of noise from a Nerf gun war going on 🙂
And when the noise of the age range is amazing, I have the flexibility to pause and think soothing thoughts. Don't you think?
Many thanks to our Friday hostesses!
What flexibilities have you noticed this week?