Last week Phyllis at All Things Beautiful asked: "How do you store your finished pieces? Do you have special folders or notebooks?"
That IS a good question! Because when you have a house full of artists, they can produce quite a bit of art work. Phyllis – you caught me working on that very thing! Last week was our homeschool expo and we were selecting our favorite pieces to enter in the art show.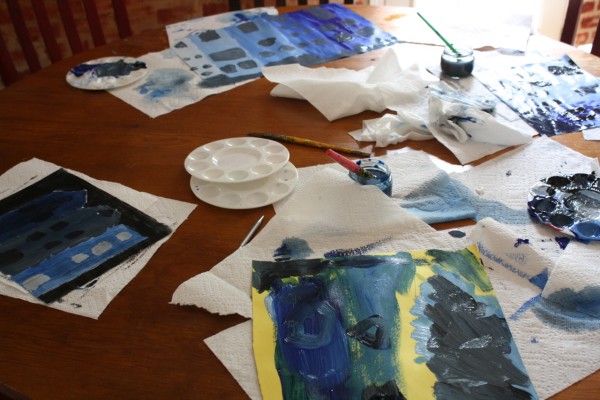 We still have some stacks! But we do have three ring binders for each where we put our finished pieces – including Sketch Tuesday and other art projects. We've also been talking about making an art wall – similar to all the wonderful ideas you see on Pinterest. Will keep you updated. We also share some finished pieces with grandparents and the local hospital rehab unit (around holidays). But all that brings me to another solution…
You Can Wear Your Art!
Sometimes it's just plain fun to make art you can wear. Wearing your art is also a wonderful conversation starter. We had fabulous fun with this tutorial – Paint a Blowing Dandelion Shirt from Dollar Store Crafts! We used acrylic paints. Nana talks about the acrylics we use in Acrylics Plus Links to Tutorials.
Nana's tip: Mixing in a fabric medium can help make the painting on your t-shirt or fabric last longer and not be stiff to the touch.  But as fast as children grow and change, you may not feel that it is necessary to use fabric medium, and it is perfectly acceptable to use plain water to mix your paints.  If you do decide to use fabric medium – use it in place of water to mix with your paint. We have used Liquitex fabric medium which is available at most local craft stores.
Here are a few other wearable art projects we've enjoyed making – and wearing!
One summer we decided we'd love souvenir t-shirts for our family beach vacation. So we made them! Homemade Handprint Crab T-Shirt.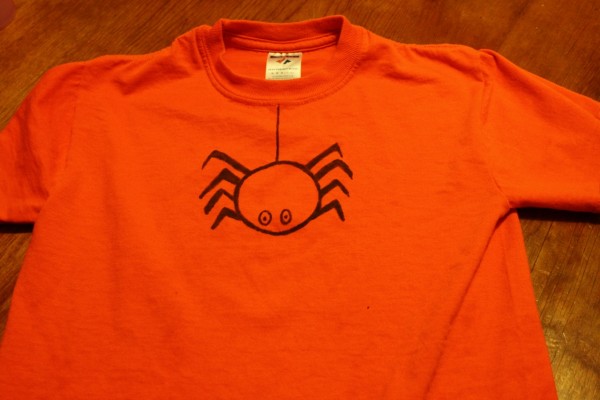 Yet another season, we noticed the beauty of a spider's web and made the t-shirt to prove it! (this one just uses a black permanent marker). Cute Spider T-Shirt.
For Christmas a couple years ago we made this really fun back rub car t-shirt for Hodgepodgedad. Lil' Buddy loves to roll his cars on Daddy's back!
We also have several family favorites that Nana has made. She painted them as gifts at Christmas and birthdays. Favorite characters, passed down through the children and loved over and over. (Top, L to R: Owl with Hoo0?, Veggie Tales Bob and Larry, little sheep (these were matching sweatshirts Nana made for our eldest three children) and a beloved Cars Mater shirt.)
Just inexpensive t-shirts that are comfortable and easy to wash. Here's a LEGO® Bionicle shirt Nana painted for Littlest Girl (yes, really!) – now handed down to Lil' Buddy. She's also painted Maisy, Max and Ruby and more. I hope this gives you some ideas.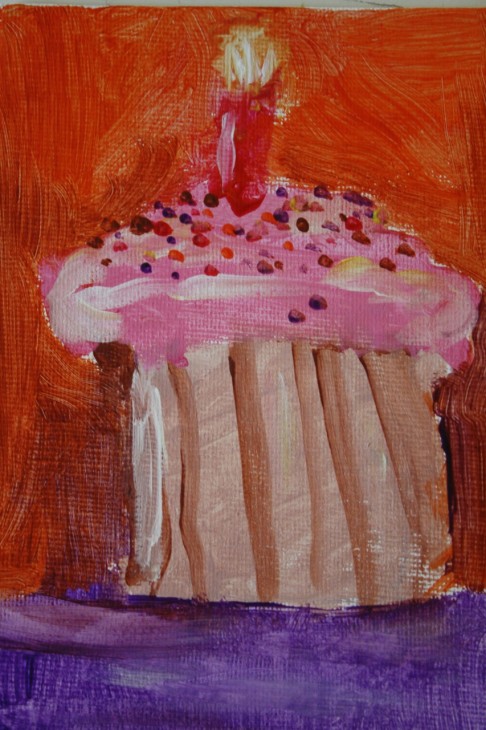 You might have fun with our Acrylics Plus Links to Tutorials. Any of these subjects you could paint on a shirt. I'm thinking that the cupcake tutorial would be especially fun on a t-shirt or sweatshirt.
Many more ideas on my Craftiness Pinterest Board.
You ARE an artist!
The spring hopscotch series is brought to you by these lovely ladies…
Be sure to click over to see all the wonderful series of Spring Hopscotch posts by iHomeschool Network bloggers – 280 posts in all!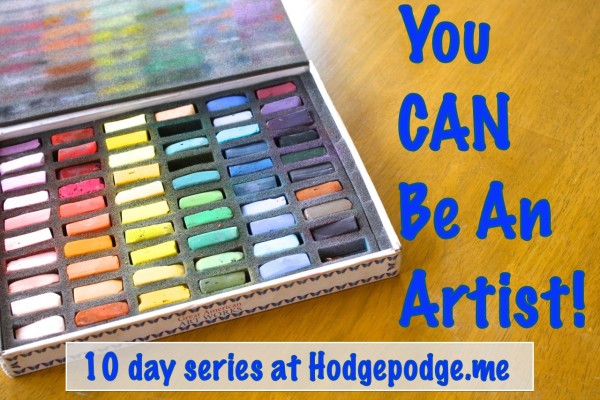 Just add chalk pastels and paper for a whole year of art tutorials for all ages! Browse the store at chalkpastel.com

Have you created some art work to wear and enjoy?

Save