From last year's school planning archives because these basics still work well with rising 8th, 7th, 4th, K and soon-he'll-be-a-four-year-old…
I love chalkboards. I love chalkboards. I love chalkboards.
And even though right after our school year ended, we went through a rather reluctant classroom revamp, the classroom still needed attention. Before getting any further into the nitty gritty of preparing Tapestry of Grace, setting up notebooks, purging more – we needed to really assess the bones. The real set up of our workspaces. I needed to switch things around as a teacher. Plus meet the growing needs of upcoming 7th, 6th, 3rd, K4 and a before-we-know-it-he'll be-a-three-year-old (last year).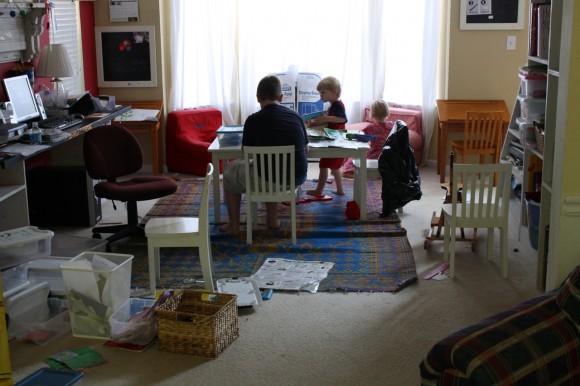 Our converted living room is our school room.
Over breakfast on Friday, July 2nd, Hodgepodgedad and I talked about what to focus on the rest of our weekend. He had some extra time off work. And we'd made a list of updates we'd like to do throughout the house. (Made use of the road trip time talking through lots of goals. See Mama on Vacation: Planning and Goal Setting). With the new school year coming up quickly, we decided on the classroom.
We addressed each of the problems with solutions:
eldest girl needs her own space to work. Sharing the desk with her brother didn't work very well last year. Her own desk in her room would be great. On a recent trip to IKEA, we'd seen some affordable corner desks that would fit in the small space of her bedroom. She has a birthday coming up! That way…
rising third grader could use the desk space and storage for her workboxes. She would share the nice stretch of desk with her brother, rising 6th grader.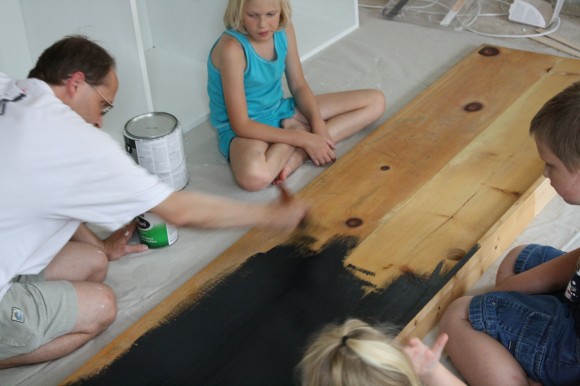 But what about this desk – the focus of our work surface… what if we painted the top with chalkboard paint??? Wouldn't that solve the stray marks problem?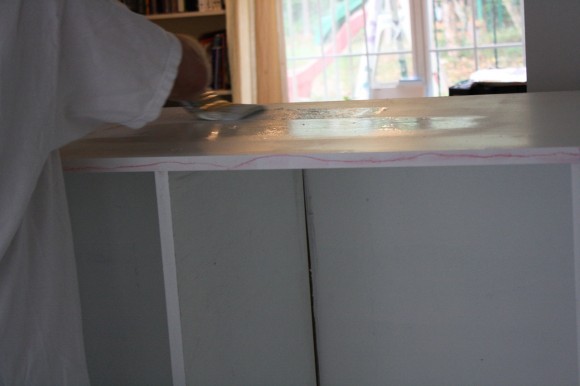 One of Hodgepodgedad's first jobs was working as a paint salesman at Sears. He knows all about paint and proceeded to pull down the classroom shelves and repaint them as well. Fresh coats of white paint. They are beautiful!
By that night the second coat was dry on the desktop, he'd painted the bottom storage white and we had a brand new desk!
He drew a road with chalk and added some Cars characters to surprise everyone the next morning.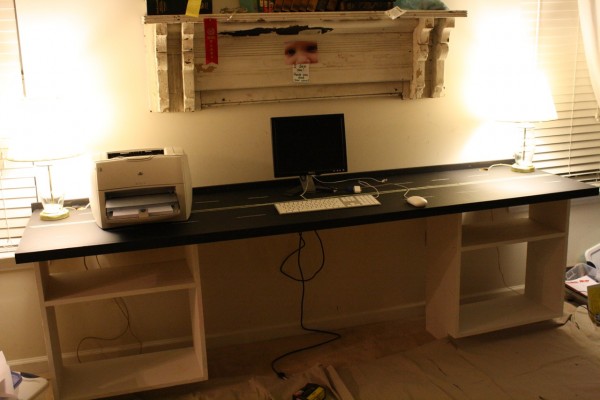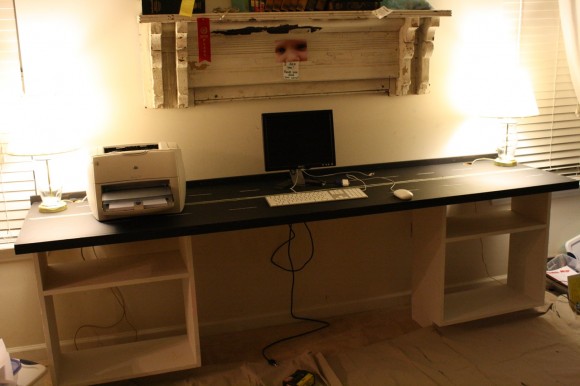 A chalkboard desktop on the desk my brother built! Plenty of storage for stacking workboxes below.
Science. While Hodgepodgedad painted, I enlisted the help of the children in moving books. We'd found out over last year that we often pulled out our science books right after lunch. Sometimes headed out the back door to do Outdoor Hour Challenges. Wouldn't a bookcase dedicated to our Science studies make things easier? This bookcase is in the family room, right next to our kitchen table.
More details in arranging Nature binders in Outdoor Hour: Summer Tree Study.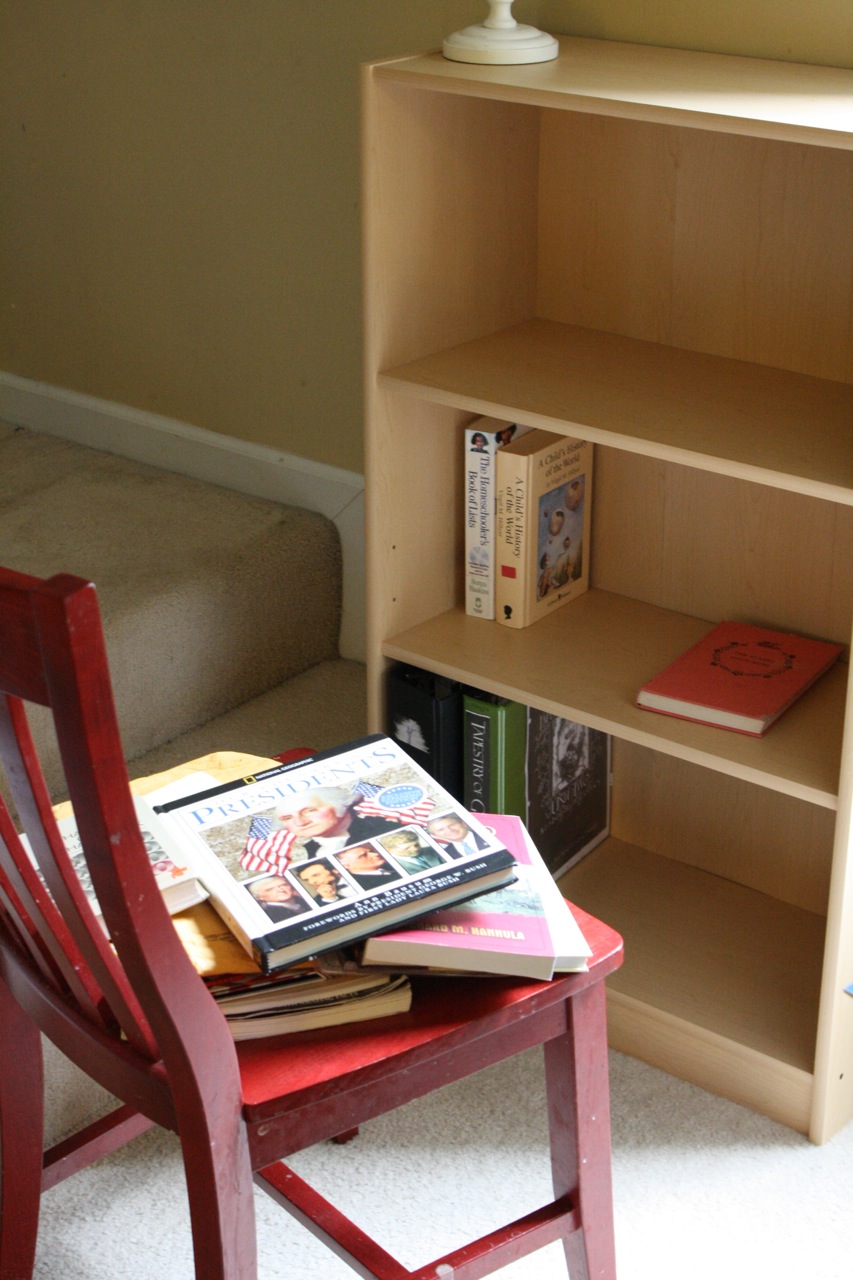 History/Tapestry. At the same time we worked on putting History books for our Tapestry studies on a matching bookcase on the other side of the room. The same ideas applied here. Tapestry binders will find their home on the bottom shelf. Our library books for the week's study can find a spot here. Just like our science studies, we often found ourselves in the family room reading aloud our Tapestry books and working on projects together. Now all our books and binders would be where we needed them. And since we also do Arts & Activities with Tapestry…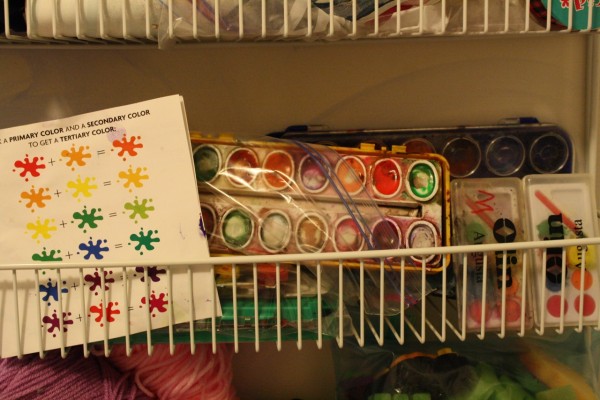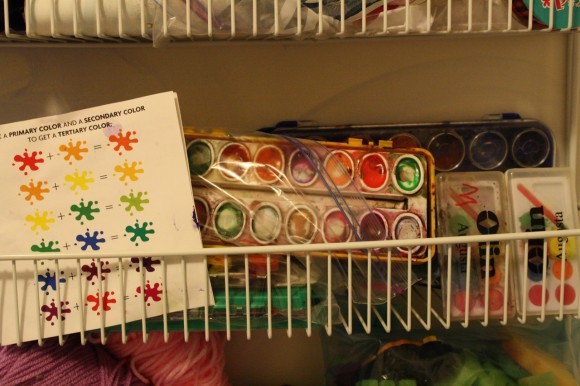 Art. In wanting to say yes to a mess, we found that our art supplies were scattered all over. Some in the classroom, some in the laundry room, some in the kitchen cabinet. So I set about pulling it all out. And decided that all art supplies should be kept over easily-cleaned surfaces like linoleum! So, this organizer in the laundry room – right off the kitchen – was made into the art wall. We never put canned foods in there as originally intended.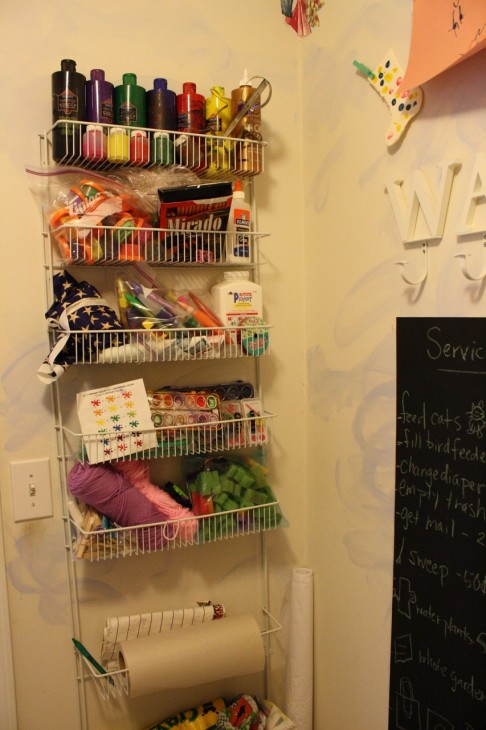 I haven't made them yet, but the top two shelves will have a sign that says ASK FIRST 🙂 Smocks are on the bottom shelf.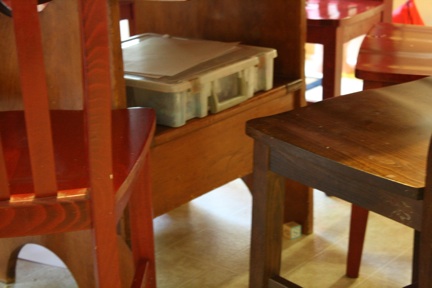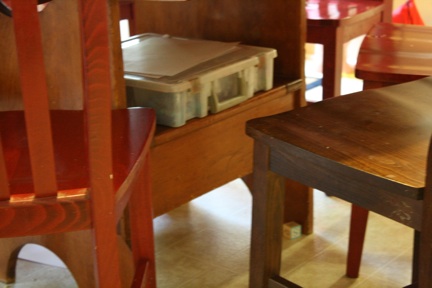 The big box of pastels? (Hodgepodgedad found they had stained the music room carpet 🙁 We put them right where we use them. In the storage right under our kitchen table. DUH! That solution was right in front of me all along! Now they are ready when we need them!
Back to the classroom…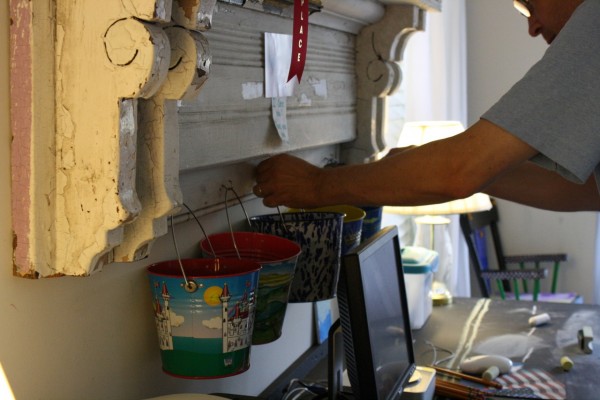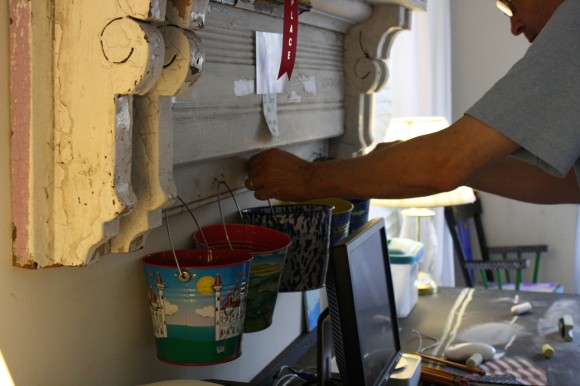 Pencils. How many times is Math stalled due to lack of a pencil or a proper eraser? These sweet buckets we've had since our eldest two were toddling. They were stacked someplace. Now they are a solution. Hodgepodgedad used cup hooks to put them within easy reach right above the new chalkboard desk.
More chalkboards. I told you I am addicted. So then my three, beloved magnetic chalkboards made their way into the classroom.
It's really where they should have been all along. Now each of the younger two have their own just-the-right-size desk with a chalkboard right above. And they each are on either end of the big chalkboard desk.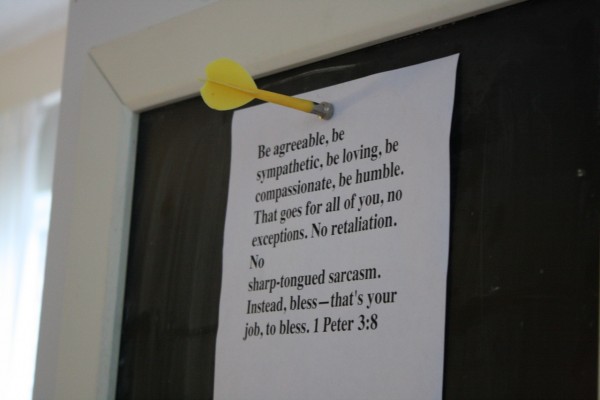 The third chalkboard greets our students in the foyer that adjoins the classroom (our classroom is really supposed to be the living room). We are aiming to commit to memory this verse my friend little sanctuary put as her status on Facebook last week.
Geography. It's one of those things I need to work in a bit more in our studies. And here's a visual we can't miss.
Nana got these on Ebay for us a couple of years ago. We hadn't figured out how to use them until we decided, as she had suggested, why not as window treatments? And what a wonderful history discussion for Year 4 of Tapestry. This map has to be at least 20 years old since it still has U.S.S.R. across the top.
Replacement curtains. Our curtains, which are really just white, flat sheets, were a bit torn, worn and magic marker stained. So we were able to replace the tattered with these that we moved for the maps!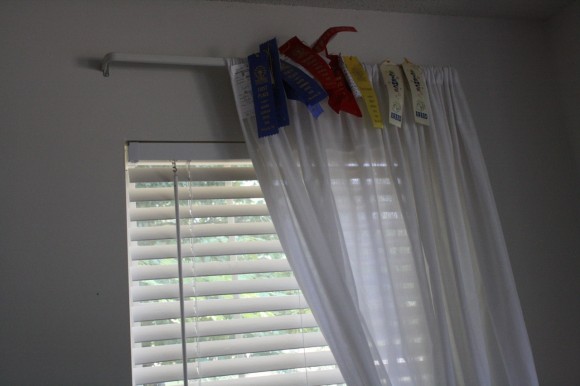 Need a place to keep all those state fair, homeschool expo and participation ribbons? Use them as a classroom curtain topper. (Shh. Don't tell Hodgepodgedad – we just used the stapler to keep the ribbons up  – it's just cheap, flat sheets).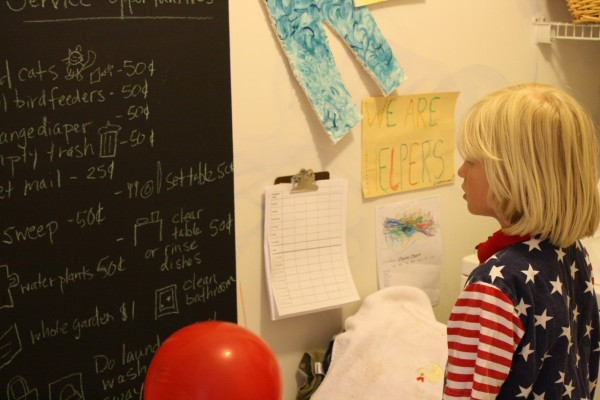 Service Opportunities an upgrade. We made one more addition with our chalkboard paint. Something most practical I am so excited about. Hodgepodgedad shares about it in Service Opportunities: An Upgrade.
**A huge thank you to my husband for all of this labor. What a guy I am so grateful for! He leads this family and makes all this homeschooling possible**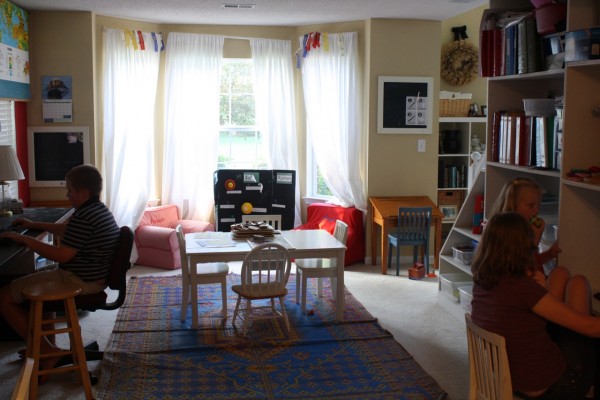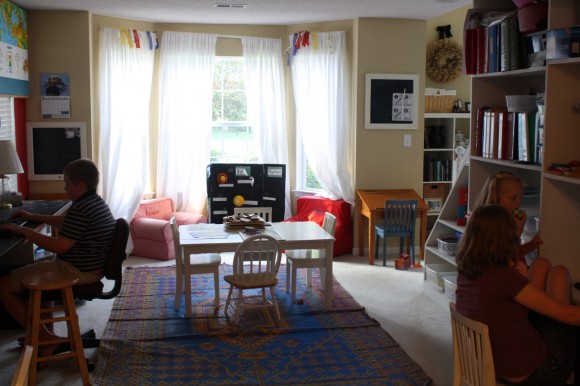 A very full summer week! And yes, I am berserk for chalkboards.
Joining in the School Hop with Heart of the Matter!