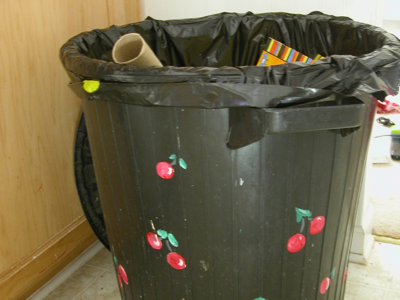 Nana is so smart. I'm just gonna brag on her a minute. She decorated this trash can. Make something that is just everyday, you-don't-really-see-it-even-though-you-toss-something-out-all-the-time, utilitarian into a piece of art.
Now she would say it's easy. So that's why the beloved black cherry trashcan is featured here in It's Easy. She bought the big trash can and painted it up pretty.
She had heard the last of my sighs over taking trash out so often. Bigger trash can, less often emptying necessary. (Thankfully Bubba does that during the day now).
Thank you Nana!
I'll ask her to comment here and explain just how she turned a plain ol' trashcan into the beloved, big, black cherry trashcan.
Please excuse the splatters from all that loving.
from the 2009 archives