How do you choose the books for Tapestry of Grace was a question I answered often as a Tapestry booth hostess at homeschool conventions. A Tapestry of Grace Year Plan offers an extensive list of resources for your family. It is a buffet of wonderful offerings. In our years with Tapestry, we have never read every single book. Tapestry authors offer more than you need to ensure you and your family have the best to choose from.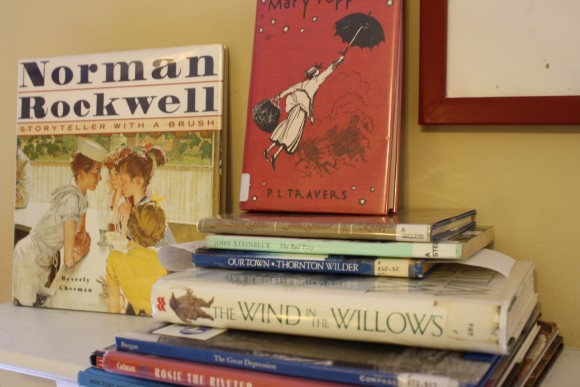 Question: How Do You Choose The Books for Tapestry of Grace?
Answer: Basically, Tapestry of Grace has done the work for you! However, in this post, I will share examples of how I tailor the Tapestry book list to our needs. I will also walk you through the simple steps of planning – pointing you to Tapestry of Grace plans, the Tapestry website and the wonderful supplier, Bookshelf Central.
How Do You Choose Books for Each Unit? Before each unit begins, I spend a good deal of time planning. I look at the list on the Tapestry site (more detail on using Bookshelf Central, below) as well as the week-by-week reading assignments in my Tapestry curriculum plans. I scan the column indicating the number of weeks we will use a book. The books I notice we will use for an entire year, I likely purchase. I might even purchase a book we will use for an entire unit. I shared more details in Helpful Habit: Preparing for a New School Year.
Cost Justified: Purchasing 'spine' books we will use for an entire year or a full unit makes sense. Not only will we use it during this study but the books will be enjoyed again when we repeat the four year cycle of history. Therefore, my younger children will benefit. The investment upfront makes sense. Plus, Bookshelf Central offers a book buy back program.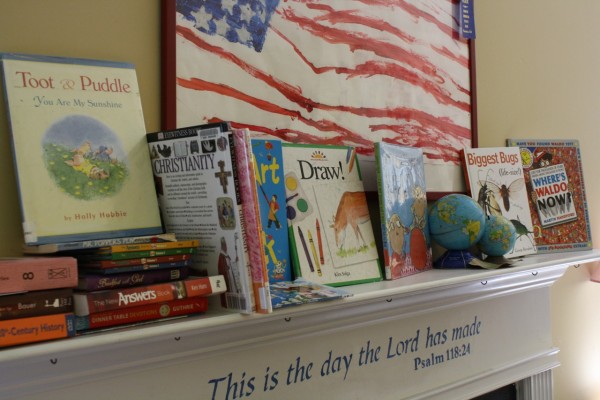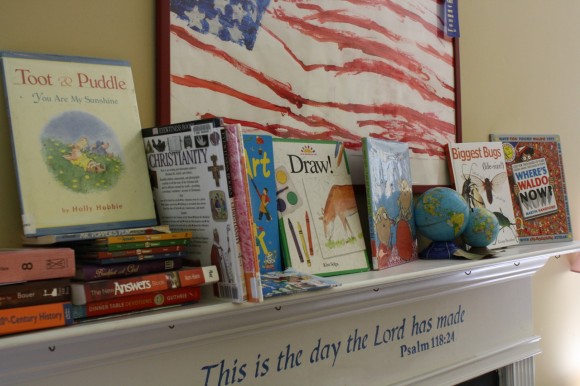 Use the Library: Isn't that a given for homeschoolers? The remainder of books for our unit/year, I reserve at the library. About once a month, I review what we might need and spend some time reserving. Then we usually recheck books their limited three times.
I've shared lately how much I love to display our current reading on our family room mantel. But I haven't specifically talked about how much we love those books or which studies they are for. Mostly, the books that we keep in plain sight are for our Tapestry of Grace studies.
See this selection from our Year 4 studies last year? Because of the ages and stages of our children, we often have books ranging from Lower Grammar all the way to Rhetoric level.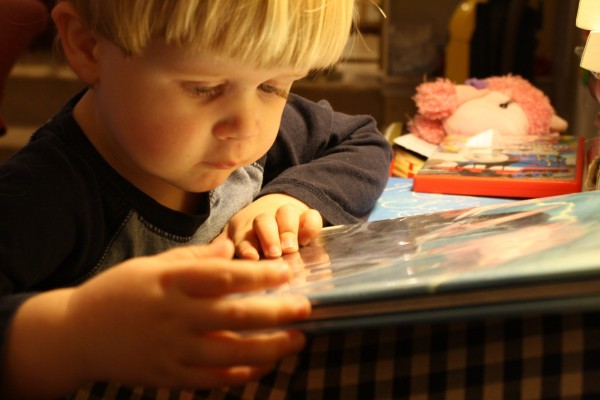 There is always something good to read – books to appeal to the age range from four to 17.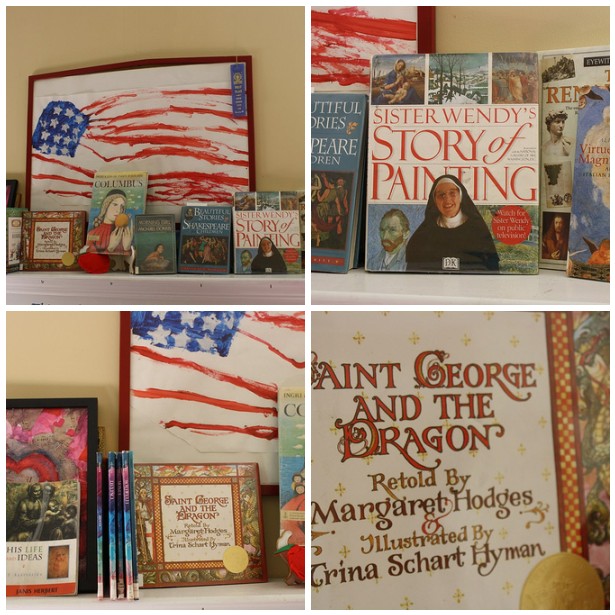 Selection of Year 2, Unit 2 history, literature, arts and activities. Each Tapestry unit is rich with living books.
Books for Tapestry of Grace Alternate resource list
Tapestry plans provide you with an alternate list of books in case you are unable to find the first selection at your library. I often already have the books listed on the alternate resource page in each week's reading. For years 3 and 4, Story of the World was listed as an alternate resource. Already had that on my shelf!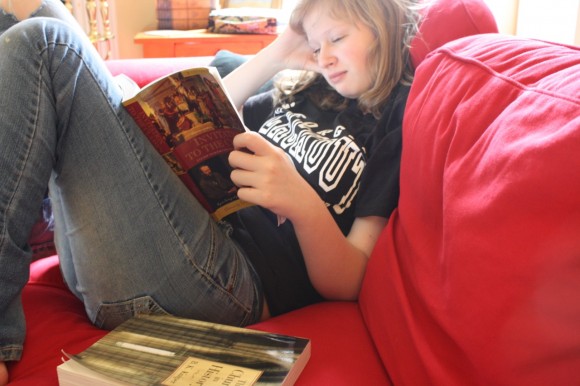 Eldest reading Invitation to the Classics and The Church in History for Year 2, Unit 2.
Bookshelf Central is the spot to load your online cart with books
You can:
select the books you need for all learning levels the entire year or
fill your cart with just the books you will need for your grammar students for unit one
create a tailored selection just for your family
just purchase your 'spine' books for the unit or year
simply view the list of all the resources for the year you are studying – just to get your bearings
Visit Bookshelf Central here.

Buying Guide and Your Online Guide – Grace
The online cartoon character, Grace, leads you through the Buying Guide step by step. Everything you need for your full year – or just a unit at a time – for all your children. Select just grammar books for one unit. Maybe you'd like to see the list of dialectic books for the year. You can browse, clear your cart, go back a step, do whatever you like. Friendly cartoon, Grace, is there to help you through the process.
Can you tell we love Tapestry of Grace books? So much so, in addition to the mantel, we've designated one of our new IKEA Expedit shelves for notebooks, Writing Aids, Church History, lapbook storage, Map Aids and more. Just so our Tapestry books are easier to reach and enjoy. Stop back by on Friday when I share our Tapestry of Grace bookshelf in the continuing homeschool makeover series.
Do you have questions about Tapestry of Grace?
-originally published March 2012