"It's a recipe book that spans a century. It's a snapshot of celebrations past."
I've shared before about that wonderful, red and white checked cookbook my mother gave me when I was a new bride. It contains a treasure of recipes, handed down from my great-grandmother to my grandmother to Nana.
And then to me. Not only that but Nana wrote her own comments and tips on each and every recipe. It's such a priceless and generous gift. Makes me smile every time I open it!
"I think this was the first dish I ever cooked. I didn't know what chicken parts were what – so I cooked the neck and back and threw away the breasts." ~ Nana's comment on the Forget It Chicken recipe

Some of those recipes are here on Hodgepodge. I've passed them on to you. Some of them I've shared at $5 Dinners as a contributing writer there. More often these days I've heard, "you should write a cookbook." It's what we Southern women do – we pass on these frugal, basic meals that have blessed our families. Hand them down.
I'm doing that in a modern way. It's a Hodgepodge of eCookbooks. For you, dear readers!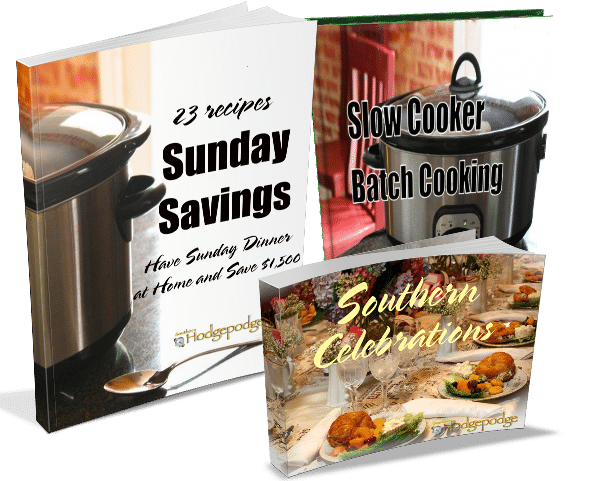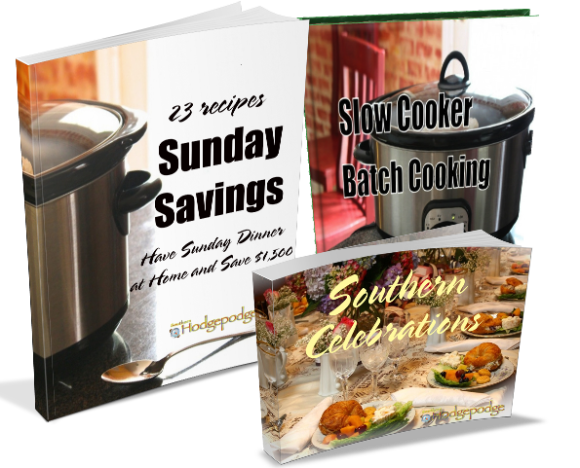 Sunday Savings was born from my Fast Food for Slow Sundays series. Southern Celebrations is a simple sharing of classic Southern recipes for ladies luncheons and showers. Spring is surely the time for those! And Slow Cooker Batch Cooking is that life-changing tip from my friend, Little Sanctuary, plus the how-tos for getting that main ingredient cooked and ready to pull from the freezer.
"It's time I heed Tricia's fabulous advice and get her mouthwatering recipes going in my slow cooker on Sundays. I do experience "that moment" that she describes and would love to start this simple and practical way to simplify Sunday Supper, and rest easy on the day I need to rest. Thank you, dear Tricia, for sharing these Sunday Suppers and the Sunday Savings!" ~ Erin Chase of $5 Dinners
Hodgepodge cookbooks are available individually or as a bundle, pictured above. The three cookbooks as a bundle are just $4.99! Sunday Savings and Southern Celebrations are available individually for $2.99 and the Slow Cooker Batch Cooking is still available as a free download. We have an affiliate program as well.
I hope the simple meals and classic recipes bless you as they continue to bless us! Find out more at Southern Hodgepodge. I'm just thrilled with what people are saying!
I'm such a HUGE Hodgepodge fan! Once you discover Tricia's generous heart, wonderful tips, and creative spin on daily life, you will be, too! ~ Christy Jordan of Southern Plate
And I'm grateful to you all, friends, for your encouragement.