Silent night, holy night…all is calm, all is bright…
Sometimes it is calm and bright in our homeschool in December. Sometimes not! December is such a beautiful, blessed time of year! However, it is also one of the very busiest times of year for us. Wonderful drama programs, choir concerts, piano recitals, parties, family gatherings, giving of gifts and… whew!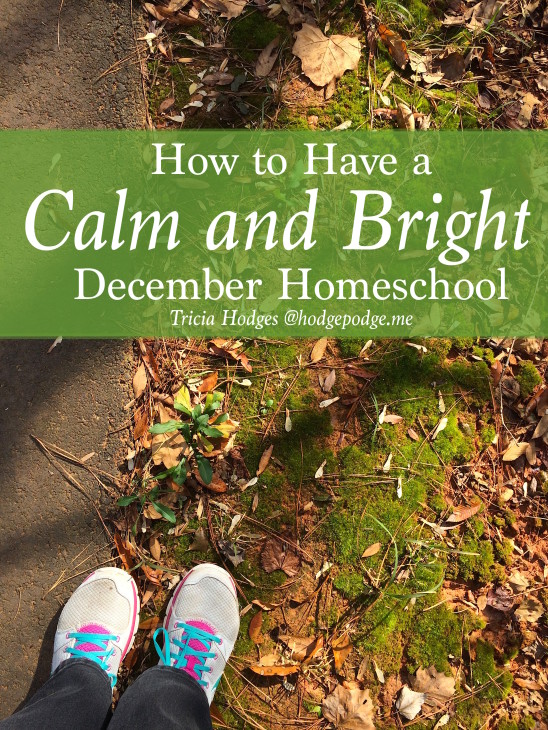 Go for a nature walk and look for green and red!
So, in hopes of focusing on Jesus and the real meaning of Christmas we take a certain approach to homeschooling in December. We change up the learning.
And JUST HAVE FUN!!
How to Have a Calm and Bright December Homeschool
Here are some ways we have accomplished calm and bright December homeschool in the past:
Do You Homeschool in December? – What does Christmas look like at Hodgepodge? In our homeschool? I invite you to come and sit by the fire, enjoy a warm cup of coffee, hot chocolate or tea and put your feet up – for about five minutes. Just five minutes because in December things are changing moment to moment. Like most families, it's so very busy. Time to head to this practice, get your dress shoes for this performance and, oh dear, another child with a fever. Precisely why…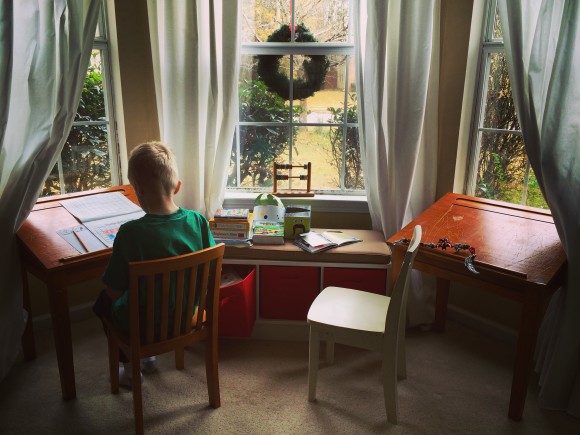 I LOVE ❤️ this view. #HodgepodgeHomeschool ? #Christmas #1000gifts
Take December Off (not really – but kind of. We do the basic math and three Rs then add in lots of Christmas studies)
Hodgepodge Holiday Homeschool Celebrations – we have a celebration of our studies and for the captive audience of grandparents, we present display boards, reports, play piano pieces and even put on a play. We do this at Thanksgiving but you might want to do it during Christmas or around the New Years Day holiday.

December Unit Studies
December is the perfect time to use a unit study! Deep breath. All the research is done for mom, the learning links are gathered. Just open and go. Some of our favorites we will use through December are:
Christmas Unit Study Adventure by Amanda Bennett – we use many unit studies by Amanda Bennett throughout the year because they are such a blessing! Highly recommend these favorites!
Harmony Fine Arts – also a year long study that is such a joy! We ❤️ our Harmony Fine Arts (review of same) Wednesday afternoon composer and artist studies! We are using one year study with all our ages and learning so much. Our fifth year and we highly recommend it!
Continuing our music afternoon with @marykprather @squilt_music Christmas Carols! ? See my daughter leading the study with the Apple TV AirPlay? And the listening pages the children are coloring? ALSO! My friend Susan of @educationpossible has a great review of this very resource at thecurriculumchoice.com – head over to visit Mary at squiltmusic.com or Susan's review to find out more and get your own copy to enjoy this December. ?
SQUILT Christmas Carols – you know how much I love hymns and Christmas carols are the icing on the whole year. This study by Mary Prather is fantastic! Hooray for Christmas music!

December Read Alouds
So exciting to start Ishtar's Odyssey with the Hodgepodge tonight! #advent Love this series of books that points us to the newborn King. "Ishtar, it seems you have discovered a star that even yesterday did not exist!"
Favorite Christmas picture books and storybooks. But especially the Jotham's Journey series and the latest! Ishtar's Odyssey.

December Field Trips
Yes, we will do our math and our three Rs the majority of December. But we will take time off with Hodgepodgedad too. We will enjoy art!! And maybe visit those big ornaments in Pemberton Place and our favorite World of Coca-Cola. There is always a great art collection to explore at the World of Coca-Cola.
And speaking of art… calm and bright Christmas art, of course! Because you ARE an artist!

Christmas Art
Art for ALL ages – preschoolers to high schoolers to homeschool moms and dads! Nanas too!! Don't miss our newest Glowing Christmas tree and be sure to browse all the Christmas Chalk Art at Hodgepodge we have shared with you. Plus A Simple Start in Christmas Chalk Pastels!
Linking up and sharing in the fun with Mary's Collage Friday,  Finishing Strong at Education Possible and Kris' Weekly Wrap Up.
Merry Christmas, friends! May it be blessed. Joyful.
Save