Here are some fun summer ideas for kids and a chalkboard list for your family so it is easily seen. I love chalkboard. I also appreciate a good list. And so we created a chalkboard of summer prompts. A combination of the two!
Summer Ideas For Kids: A Chalkboard List For Your Family
Simple. Actions verbs. Encouraging us all to be creative!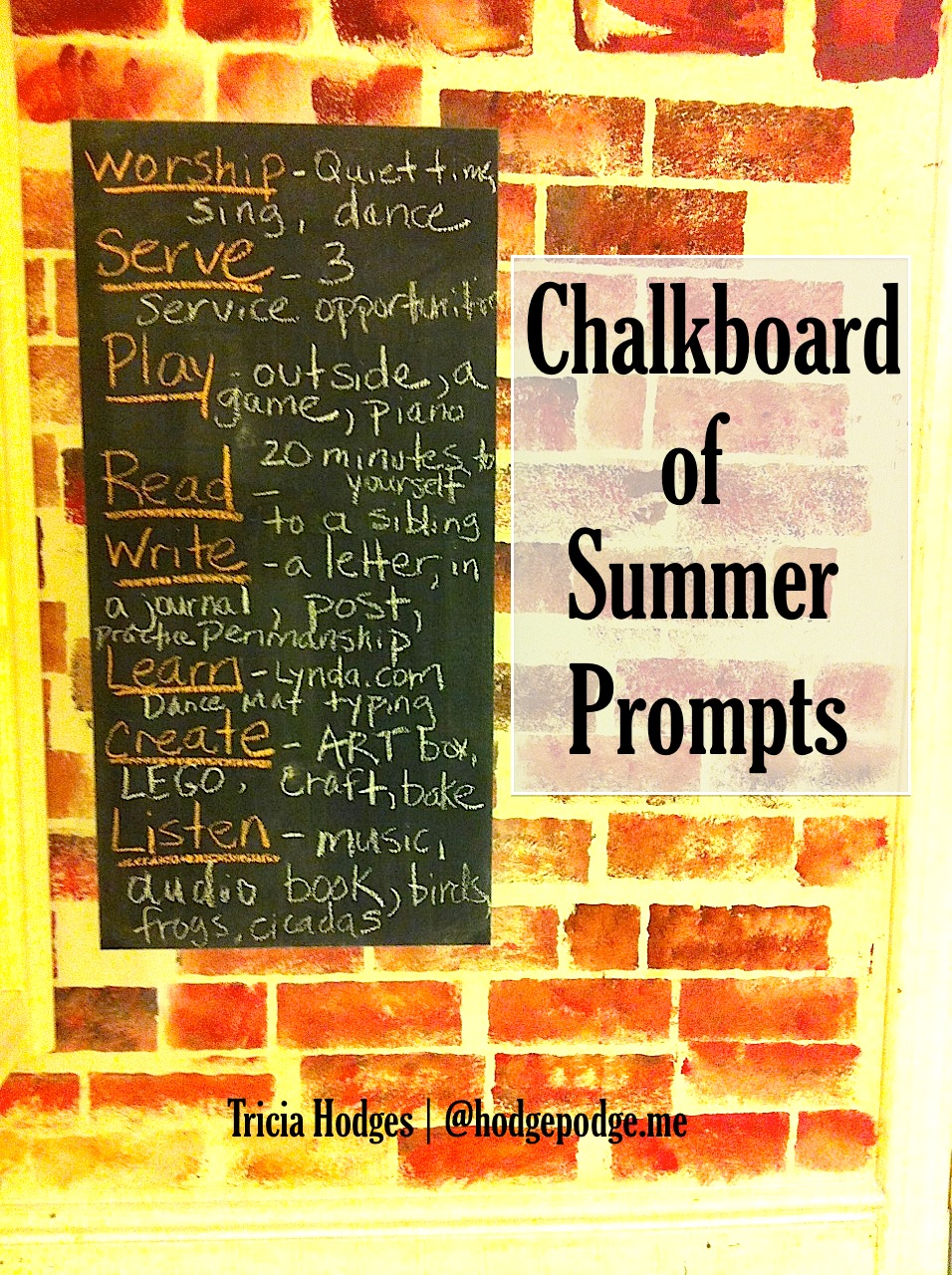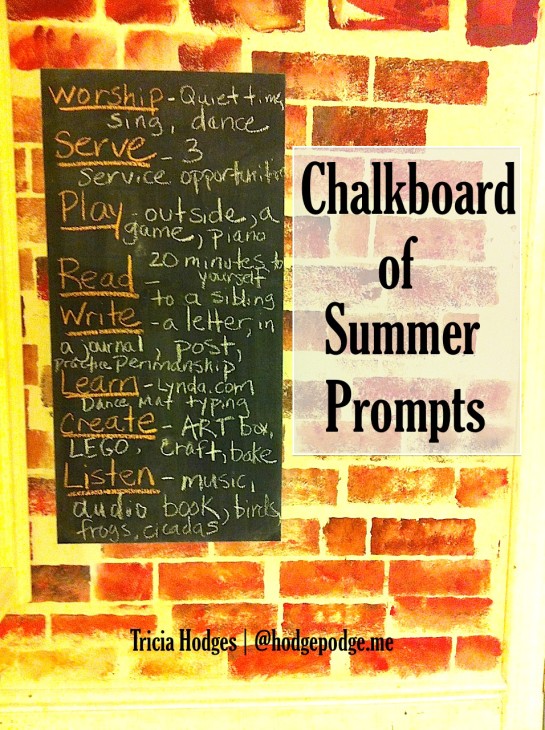 Keeping Ideas For Summer In One, Easily Seen Place
It's nothing fancy but when I shared it on Instagram and Facebook, there were several friends interested. So I thought I'd expand and explain a little more on these summer ideas for kids.
Summer is the perfect time to build some habits. I encourage you to think on those things that sidetrack your day or those little things that always come up. Pick one thing and place something positive in its place.
Summer Activities To Add To Your Schedule
Worship. We recently built some new play lists of our favorite Christian music and there has been much more dancing! Plus we revived some George Winston piano music, especially his Summer album.
Serve. In case you are wondering about service opportunities, those are explained in depth in Chores or Service Opportunities? in our Housekeeping Habits. Finish up that Before 8:45 (which is really like a before 10:30 during the summer).
Play. Go outside and look at the clouds. Swing. Ride a scooter. Catch lightning bugs. Come back in and pull out Blokus, Sorry, Monopoly or Connect Four. Play cards.
Read. Just a simple reminder to stop and read to Lil' Buddy – imagine how far his reading would go if all six of us each read a book with him a day! This is also a prompt for our Afternoon Quiet Time.
Write. Compose a letter. Practice penmanship. Write in a journal. Make a wish list. Anything!
Learn. We have a monthly membership to Lynda.com for all types of technical training under the sun. Plus, it's time for the younger ones to spend some time with Dance Mat Typing.
Create. Pull out that Art Box! Join Summer Art Camp! Build and imagine with LEGO bricks. Bake something! Make a snack for the family or fix supper. But why not learn to craft something too. I have a Pinterest board for that! And our sister website has a series of Nature Crafts.
Listen. Your choice of music. Stories of composers. Audio books of the Chronicles of Narnia. Step outside and identify bird calls, listen for frogs and cicadas.
Come to think of it, we could really use this year 'round. Not just during the summer. And there's more to add. Action verbs.
Watch. Remember. Think. Build. Paint. Recite. Memorize. Notice. Count. Collect…
What would YOU add to these summer ideas for kids? What habits are you working on over the summer?
-originally published 2014