These memory making May activities are perfect for learning and fun! Enjoy quality time with your children as you homeschool.
Making Memories Can Be Educational And Fun!
May the 4th Be With You: Use the Force for Learning – This fun Star Wars chalk pastel teatime with Nana is the perfect way to celebrate your kiddo's love for all things Star Wars! The Star Wars-themed lessons are super easy to follow and are ideal for all ages. All you need is a simple set of chalk pastels, construction paper, and Nana's video art lessons! Add in some tasty treats, and you have a teatime even a Wookie would love!
May the 4th Be With You Fun for Your Star Wars Fans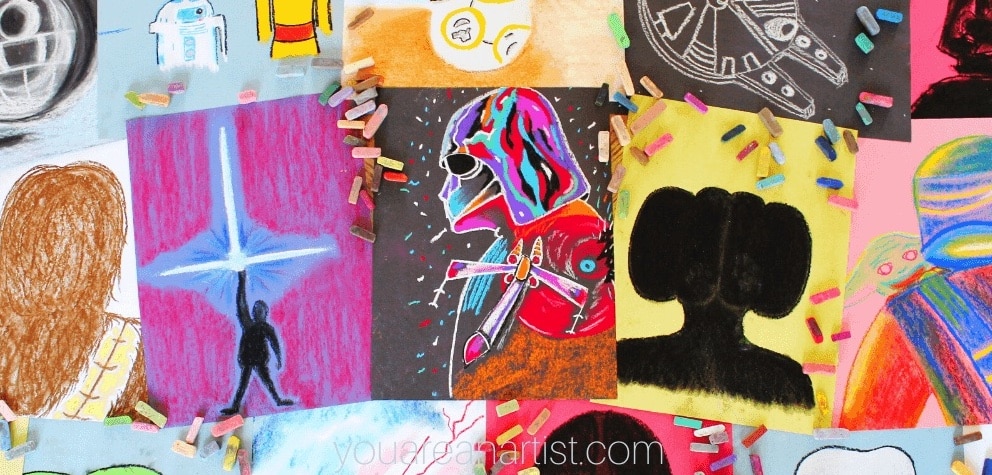 May the 4th Be With Your Homeschool – Because we are huge Star Wars fans, our family goes all in for May the Fourth Be With You. Last year we enjoyed a Star Wars morning basket for May the Fourth. What better way to celebrate May the Fourth as a homeschool family than with a Star Wars unit study? May the Fourth Be With Your Homeschool!
Make Sweet Gifts for Moms for Mother's Day
Creative Mother's Day Activities for Kids – These Mother's and Father's Day art activities are perfect for making lasting memories.
A Rose for Mother's Day – I remember Mother's Day Sundays growing up. Our tradition was a bit different. We children would wear a rose for Mother's Day in honor of our mother. My brother and I would find a pretty, deep-pink rose bud on the backyard bush. Mama would pin it on with a straight pin. Or maybe a safety pin if we were so lucky to find one that morning.
Mother's Day Gifts Round Up – fun, frugal and easy to do gifts!
Spring Recipes for May Homeschool Days
Lemon Bars Recipe: A Little Bite of Sunshine – There's something about lemon bars that just say spring to me. For this recipe you'll need to juice and zest 4-5 lemons. Use a little of the zest in the crust and the rest in the filling. This lemon bars recipe is like a little bite of sunshine.
Mama Ann's Southern Sweet Tea Recipe – perfect every time and you can make it in the microwave!
Morning Bars Recipe – of course sweet tea (or coffee) pairs perfectly with these favorites by Mama Ann as well.
Fun May Homeschool Activities
How to Make a Wagon Garden – Nana leads us in this fun mini gardening activity. There are even ideas for gardens around your favorite book (like Charlotte's Web!)
Make Seed Tapes by Nana – Here is how to make seed tapes the frugal way! My middle granddaughter and I just made some spring-time seed tapes like the ones in pricey seed catalogs. We decided that $14.00 was much too much to pay for this convenience, so we made our own! We used plain toilet paper! I made some tapes with bath tissue last year, and they were a great addition to my garden.
5 May Family Fun Homeschool Ideas – You know there is a day and holiday for everything right? Take some time during this month to check out these May Homeschool Family Fun Ideas based on some of the wacky days celebrated in May!
May Homeschool Celebrations – Thirty days of April hath no more and the calendar slipped into a new month. May flowers bloom exquisitely and decorate landscapes, ushering in a wealth of springtime beauty. Look for ways, even during these challenging times, to enjoy the month with family celebrations and activities to create lasting memories with those you love. Create some unique May homeschool celebrations that fit your own family, or try some of the wacky, but real, celebrations.
May Nature Study Activities
Turtle Nature Study for World Turtle Day – Learn about pond life, pondweed and a pond habitat with this fun turtle nature study for your homeschool. Includes activities for learning about tortoises and microscopic pond life too.
Homeschool Garden Activities Perfect for May Nature Studies – These homeschool garden activities are perfect for your May nature studies. Includes outdoor activities and gardening tips for kids.
Plan Some Summer Homeschool Fun for Your Homeschool
Summer Art Camp at Home – have some fun at the ready with a go at your own pace summer art camp for all ages!
Simple Reminders of Summer Fun: A Chalkboard Filled With Ideas – Simple. Actions verbs. Encouraging us all to be creative!
Celebrate an End of the Homeschool Year – because a year of learning is always something to celebrate!