There's something about lemon bars that just say spring to me. For this recipe you'll need to juice and zest 4-5 lemons. Use a little of the zest in the crust and the rest in the filling. This lemon bars recipe is like a little bite of sunshine.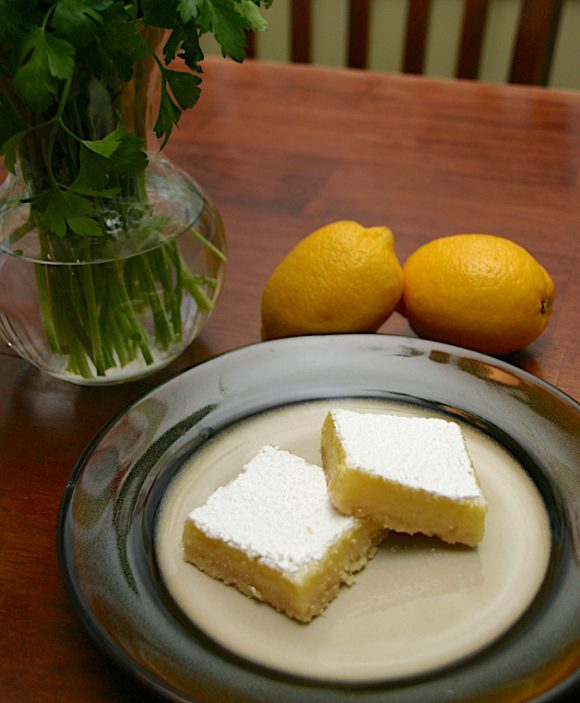 A Little Bite of Sunshine – Lemon Bars Recipe
Crust:
2 cups flour
½ c. powdered sugar
1 cup butter, softened
½ tsp. lemon zest
Filling:
5 eggs
½ cup lemon juice
lemon zest
1 2/3 cup sugar
3 tbsp. flour
Preheat oven to 350 degrees. Grease a 9X13 pan. These things will stick like glue to whatever you bake them in, so you can use a well-greased foil or parchment-lined pan to make it easier to get the little jewels out, but the very best thing is a silicone baking pan.
Combine all the crust ingredients in a bowl and blend with a fork until crumbly. Then press that mixture into your pan and bake for 20 minutes, until lightly golden around the edges.
While that is baking, whisk together your filling ingredients until it is smooth and frothy. Once the crust is baked, pour the filling over the hot crust and return to the oven for another 20 minutes. They should be just firm to the touch and not jiggly in the middle.
Cool completely and then dust generously with powdered sugar.
You might also like:
-originally published March 2011