We're teaming up with a great bunch of bloggers to celebrate Seuss! Be sure to stop by and visit seven others for more inspiration. Enjoy the Dr. Seuss acrylic art and more art lessons listed below. Looking for more art to celebrate holidays? You might like Nana's Holidays & Celebrations video art lessons!

You can paint with a brush
using colors like blue
You simply must
I can paint – how about you?
In celebrating Dr. Seuss' birthday and all the fun his books bring to our lives, we pulled out the paint brushes. The wonderful thing about Seuss art is that you can create a Cat in the Hat, fish or Thing 1 or Thing 2 any way you'd like. There's really no wrong way.
Dr. Seuss Acrylic Art Tutorials
My six-year-old chose the simple shape of the fish and his bowl while my nine-year-old picked Cat in the Hat.
For this project you will need:
1 5×7 canvas for each painting you plan to do
acrylic paints
brushes
black, permanent marker
colored markers (optional, for drawing activity)
For the characters, we had a Cat in the Hat book close by for reference. If you don't have a Dr. Seuss book handy, you can click over to Suessville for inspiration.
*Details on canvas, paints and brushes are explained in Acrylics Plus Links to Tutorials
You have brains in your head. You have feet in your shoes. You can steer yourself in any direction you choose. ~ Dr. Seuss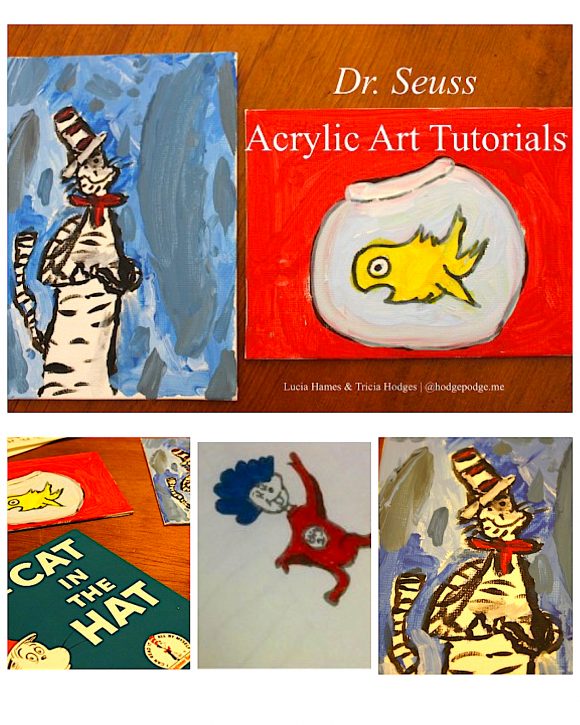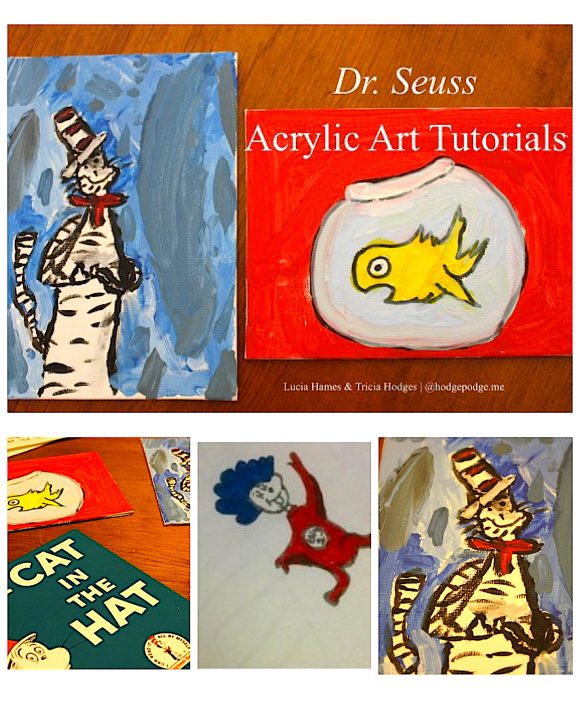 Instructions: For both characters, we sketched off the basic outline. Here are the steps we followed:
1. Taking a plain piece of printer paper, trace the outline of the canvas. This will help you determine the size of your Seuss character. For example, Middle Girl ended up just drawing Cat in the Hat from the waist up because that is all that would fit to scale on the 5×7 canvas. The fish, however, was just a simple shape. He and his bowl fit easily into the 5×7 space.
2. Sketch the basic outline of your character onto your printer paper – into the 5×7 space you sketched off. This gives you practice in sketching your character. You could also trace the shape onto your paper.
3. Using a pastel chalk stick (or a pencil is fine – just use it very lightly), sketch the outline of your character onto the 5×7 canvas.

Dr. Seuss Fish
Sketch the outline of your fish bowl onto your canvas.
Sketch the outline of your fish.
Mix a touch of blue paint into about a tablespoon of white paint. Paint your bowl. You can add some touches around the outer part of your bowl to give it depth, like above.
Paint your fish the brilliant yellow of Dr. Suess style.
Next, paint your background red.
Once your painting dries, use a black permanent marker to outline the fish and your bowl.

Dr. Seuss Cat in the Hat
Sketch the outline of your Cat in the Hat onto your canvas.
Leaving the cat white, paint stripes on his body, face and tail.
Add in the eyes, nose, mouth and whiskers with black paint. Outline the stripes on the cat's hat in black paint as well.
Paint some of the stripes on your hat red. Then paint your cat's bow tie red.
Using brilliant blue, paint your background.
You might want to mix in some white with your blue and add some modern art looking touches to your background. (Middle Girl mixed in a bit of blue-gray to her background).
With both of these characters, feel free to make them your own. Add touches of your favorite color to the background. The background ended up being my favorite part. Just look at the modern art look of the blue brush strokes.

Dr. Seuss Drawings with Colored Markers
The children enjoyed the acrylic art so much, they then pulled out the colored markers. Copying, free-hand from illustrations. Nana points out to the children that copying from drawings is a great exercise in concentration. It is good to see how others have drawn the scene or figure in the past. Of course we always give credit to the real artist and say that we drew this "in the manner of…"  Nana says she, "learned how to draw cartoon figures in the fourth grade (probably when a math lesson was being taught) and I found it to be an exercise similar to the teachings of the book, Drawing on the Right Side of the Brain."
Today you are you. That is truer than true. There is no one alive who is youer than you. ~ Dr. Seuss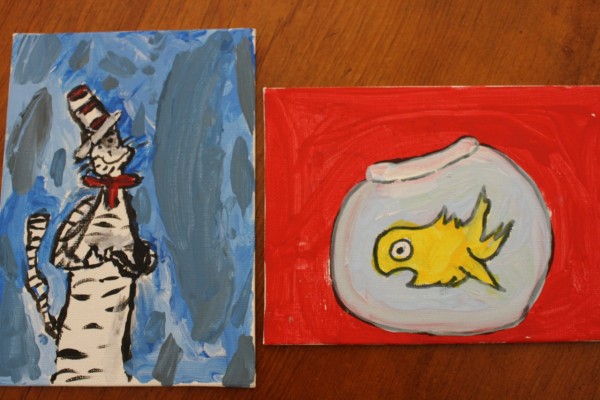 More Seuss Art Lessons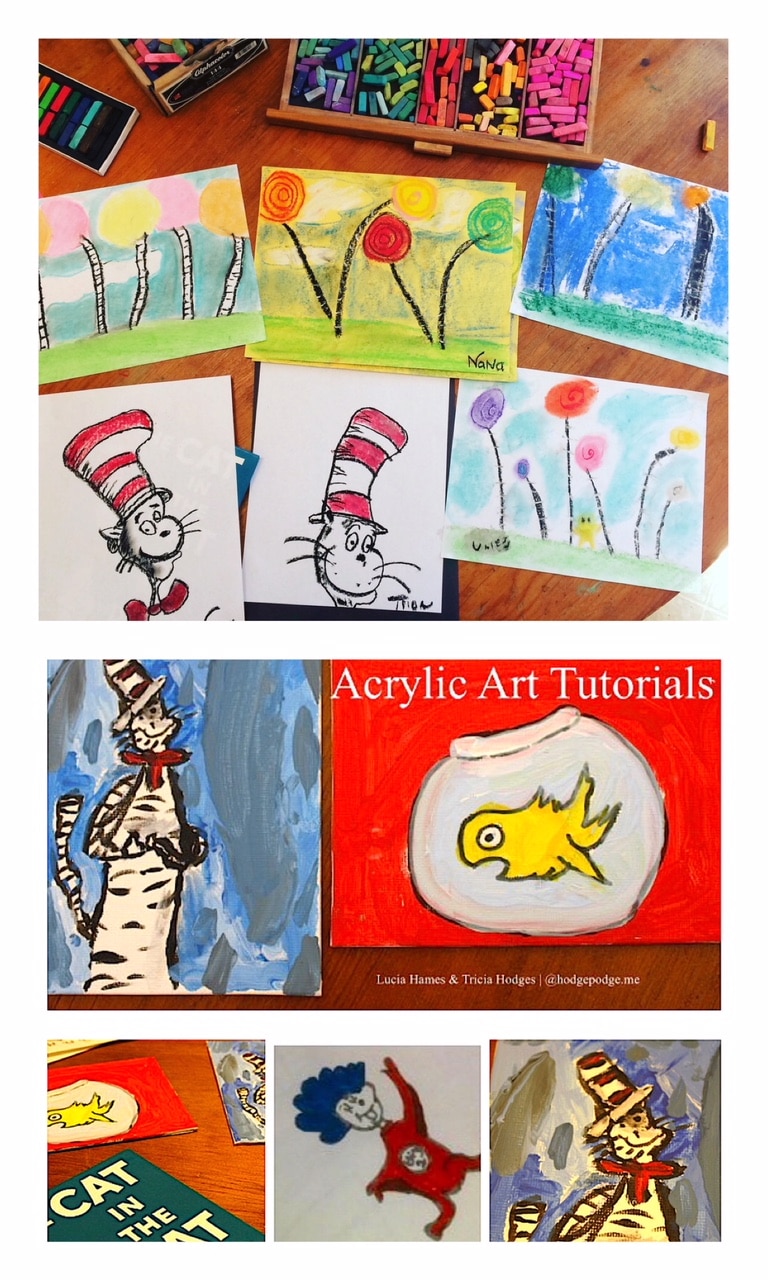 For more ways to celebrate Dr. Seuss' birthday, visit my Sooo Seuss Pinterest board.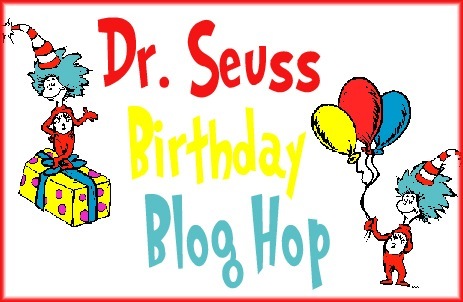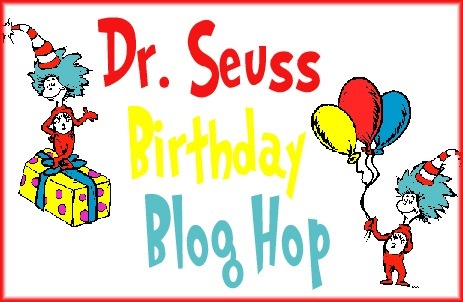 Hodgepodge is teaming up with these wonderful friends for a Dr. Seuss Birthday Blog Hop. Be sure and visit each site for more fun ways to celebrate Dr. Seuss' birthday!
How about you? Are you enjoying a Seussville sort of day?
-originally published March 2012
Save
Save