Made from a boxed cake mix, this is the most simple, celebratory, chocolate chip cake recipe I know of. Perfect for any holiday, birthday, dessert after a Sunday meal or just because!
You can even opt for a gluten-free version with a boxed gluten free cake mix.
Easy Chocolate Chip Cake Recipe
4 beaten eggs
1 cup sour cream
3/4 cup oil
1 package devil's food cake mix
1 LARGE package instant chocolate pudding mix
1/2 cup water
12 oz. chocolate chips
Mix together. Pour into greased Bundt pan. Bake @ 350 for 50-60 minutes.
When this chocolate chip cake is paired with vanilla ice cream and a drizzle of chocolate syrup, you can pretend you are paying big bucks for cake in a fine restaurant.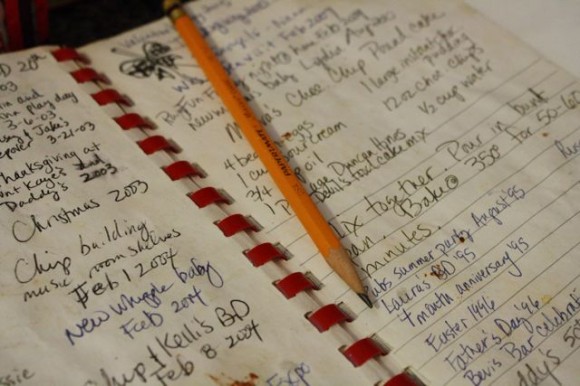 The chocolate chip cake I've been making since before 1995 – and have recorded many a time. So many celebrations! This is a recipe my friend and former co-worker, Marva Bickle, shared with us all.
This is also an easy recipe to let children in on the action. Because, really, all you do it pour all the ingredients in together, then mix it up. Simple success.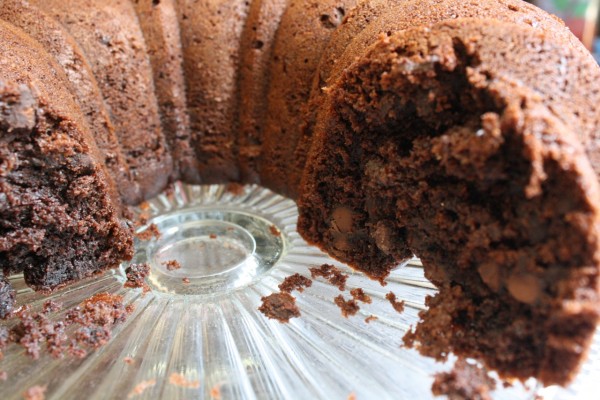 This is a recipe I added to that red-and-white-checked I'm Writing My Own Cookbook that my mother wrote out in her own handwriting and gave to me soon after I was married. Thank you, Nana!
Feel free to browse the chocolate and dessert tags here on Hodgepodge. You might also enjoy the mouth-watering selections on my Dessert Deliciosity Pinterest board. And don't forget to subscribe to Hodgepodge for more yummy updates.

Enjoy!
-originally published February 2011