This is a pastel painting that I completely thought up myself. Young Mr. Moon Chalk Art Tutorial – instead of the Old Man in the Moon!
Young Mr. Moon Chalk Art Tutorial
Supplies: I used a medium brown construction paper and these pastel colors: light brown, white, black, light and dark blue.
Start with your young moon – place him a little more than half-way up your paper (turned horizontally). He needs to be big and round. To do that, you can take your white pastel and turn it on its side and make a circle about four inches wide. Smooth the white into the circle solidly.
You can now put his face on. You are the artist, and it can look like the painting that I did or you can make your own happy moon. Just make sure your black pastel shows the viewer the smiling eyes, a small nose and the mouth that grins back at you!
The young moon is in place. Now take your brown pastel and make some land for him to shine on. This will be just a suggestion of trees, bumps and pointed tops of tall oaks. You are just making an impression of a forest below.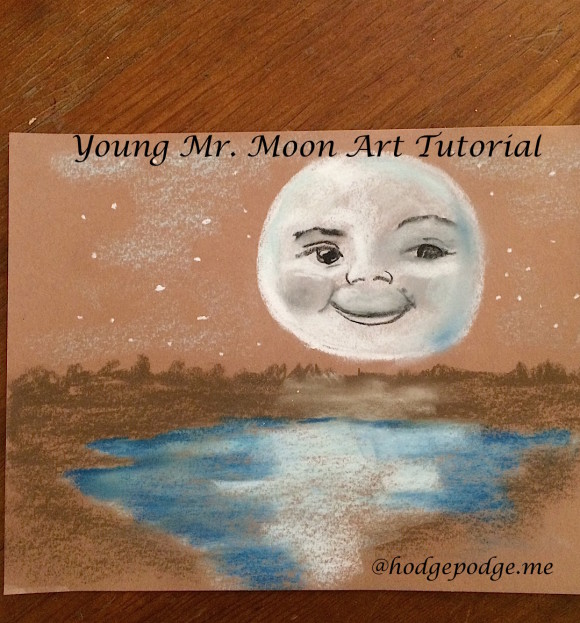 Take your blue and make a flat lake for the young moon to shine on. Use dark blue around the edges and white in the middle, reflecting the moon.
Now you need to put some twinkling white stars in the sky next to the moon. Not big spots! Just make tiny stars around the moon. A few silvery clouds and you are done!
Be sure to sign it on the corner, flip the painting over and give it a name and a date. What a happy new moon you have painted! Your colors are perfect and I can tell that you worked hard – great job!
And always remember, you ARE an artist!
FEATURING YOU! YOU ARE AN ARTIST!
So, paint your young Mr. Moon art and be sure to share with us! Simply tag @chalkpastelart on Instagram, use the #YouAREanArtist hashtag, or upload a photo to the ChalkPastel.com Facebook page!
A note on chalk pastels: Pastels are an easy, forgiving medium. Fun for children and adults alike! Details on the pastels and paper we use, how and where to purchase, and links to all of Nana's other pastel lessons are here: Our Favorite Chalk Pastels
The practical aspects of a mess: Pastels are blessedly messy. We always have baby wipes close by to wipe hands. We wear something we don't mind getting stained or don a smock.
Nana has a whole astronomy series! Do you and your artists learn best with a video art tutorial? Find a Snow Moon, a Moon Nocturn and the first man on the moon with the Apollo Missions and over 700 video art lessons in our You ARE an Artist Clubhouse membership at ChalkPastel.com!
—>> Subscribe to Hodgepodge so you won't miss any future art tutorials! <<
-originally published March 2015