This is an easy Chocolate Mint Brownies recipe. The rich, creamy center and moist chocolate cake are topped off by a smooth chocolate topping. The green mint center gives it a Christmasy feel.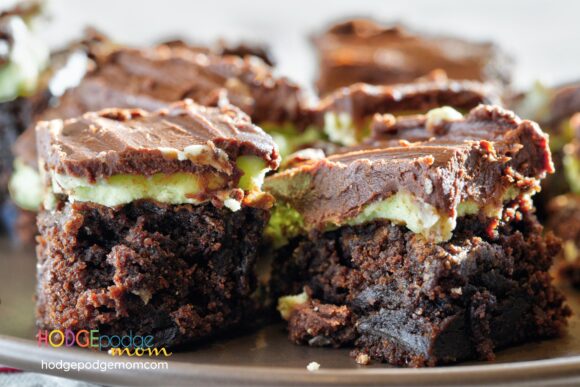 I have taken these chocolate mint brownies to many potlucks and always receive multiple requests for the recipe.
I use 1 tsp. peppermint extract instead of the cream de menthe, as most people are more likely to have that on hand.
Easy Chocolate Mint Brownies Recipe
Ingredients
1 cup white sugar
1/2 cup butter, softened
4 eggs
1 1/2 cups chocolate syrup
1 cup all-purpose flour
2 cups confectioners' sugar
1/2 cup butter, softened
2 tablespoons creme de menthe liqueur
6 tablespoons butter
1 cup semisweet chocolate chips
Directions
Preheat oven to 350 degrees F (175 degrees C). Grease a 9×13 inch baking dish.
In a large bowl, cream together 1 cup sugar and 1/2 cup of softened butter until smooth. Beat in eggs one at a time, then stir in the chocolate syrup. Stir in the flour until just blended. Spread the batter evenly into the prepared 9x 13 pan.
Bake for 25 to 30 minutes in the preheated oven, or until top springs back when lightly touched. Cool completely in the pan.
In a small bowl, beat the confectioners' sugar, 1/2 cup butter or margarine and creme de menthe until smooth. Spread evenly over the cooled brownies, then chill until set.
In a small bowl over simmering water, or in the microwave, melt the remaining 6 tablespoons of butter and the chocolate chips, stirring occasionally until smooth. Allow to cool slightly, then spread over the top of the mint layer. Cover, and chill for at least 1 hour before cutting into squares. ~ recipe modified from allrecipes.com
More Christmasy Recipes You Will Like
Kim (aka Daisy Muse) is a former elementary school teacher, textbook author and editor, and seventeen-year homeschool veteran. She currently tutors and teaches middle and high school students at a homeschool academic center. You can find more of her musings at thedaisymuse.com.