We're riding over to my aunt and uncle's house for the reunion type holiday gathering. The Christmas music is playing from the local Christian station. An ad comes on. The voice lists all the goodness of the season. Christmas lights, children not able to sleep on Christmas Eve, good food, family. This is what Christmas is all about, the voice says.

Littlest Girl doesn't let the announcer correct the thought before she says, very firmly from the back of the van, "NO! Christmas is all because of Jesus!"
A smaller voice, right behind me says, "Mama? Is Christmas all because of Jesus?"
Yes, child. Christmas IS all because of Jesus. And we talk more about the baby God sent. And I marvel (why do I marvel?) at how the Lord provides opportunities in the every day to talk of these simple truths. These glorious truths. Nothing I had planned to discuss as we were busily whisking our way down the road to see cousins. How grateful I am…
A thrill of hope. The weary world rejoices. For yonder breaks a new and glorious morn!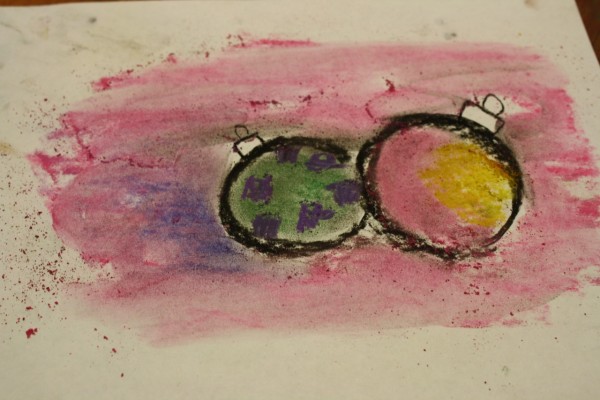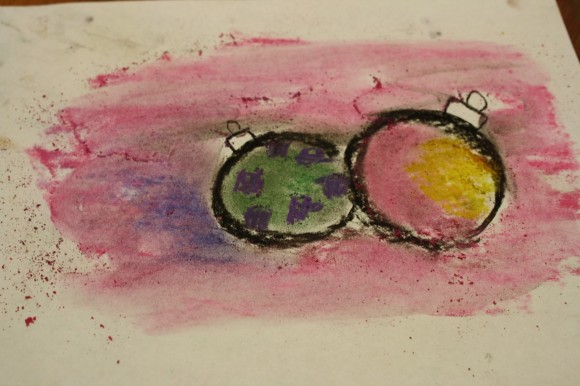 Yet another gift to count. Along with…
an afternoon of pastel lessons with Nana. One, a Christmas gift for you – Ornaments!
seeing cousins from childhood. Those I who grew up down the street from me.
boy cousins rolling cars on along the floor under the food table.
Christmas wreaths hung on pasture fences.
date night – the finish up the Christmas shopping version with a score of white chocolate Oreos on sale.
hand-written Christmas note from my great-aunt. Complete with a Christmas story about Nana.
a Friday at Mama Ann's. With glorious weather!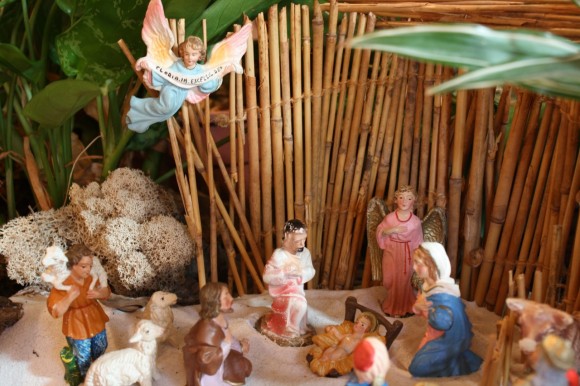 Mama Ann's nativity. With the sweet background of reeds my Daddy made for her when he was nine years old. The story she tells me of each piece. How 10 cents is written on the bottom of each. Memories of playing with that nativity as a child. The sand surrounding it – from our favorite beach.
only a few more loops on the Christmas countdown chain.
a hush settling even with all the building excitement.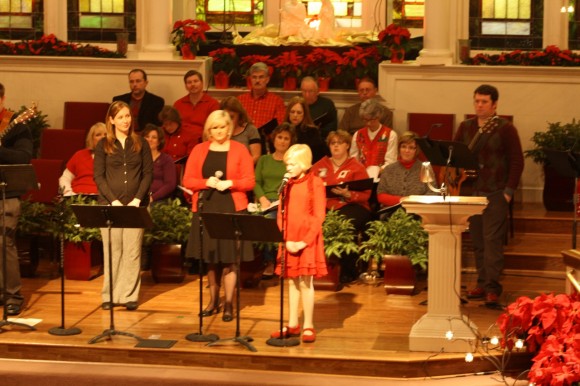 Middle Girl singing a solo, Infant Holy, Infant Lowly at the Candlelight Service last night. She did beautifully and we are all so proud of her! (Listen to an excerpt of her solo in this post).

And Littlest Girl made it through her sister's solo before Away in a Manger lulled her to sleep.
…Christ the babe is Lord of all!
A present Middle Girl made for me in Sunday School.
The greatest gift of all. Christmas is…Jesus.
Counting gifts 2882 – 2900.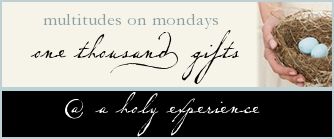 originally published December 2011