Simple holiday recipes and year 'round favorites…
7 Chicken Comfort Recipes
Chicken is a comfort food at our house. Simple meals and casseroles fill tummies and stretch pennies. Chicken soup helps heal stuffy noses. I shared seven easy and frugal comfort recipes at $5 Dinners.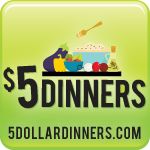 I also have some allergy-friendly favorites for you. Now if you are blessed with those can eat just regular ol' ingredients, feel free to adapt my adaptations – and enjoy the way that is best for your family. For example, this egg-free oven pancakes recipe can surely be made with egg. Just not at my house  🙂
Egg-Free Oven Pancakes
Have you ever found one of those life-changing recipes? Well, I have one for you. This is a recipe for pancakes you bake in the oven. You mix up the ingredients and put it in a pan and bake it. Then you cut it, like brownies, and serve it up with syrup. Egg-Free Oven Pancakes
SunButter Cookies
Three Ingredient SunButter Cookies – just as easy as those three ingredient peanut butter recipes you've seen. They fell apart a little with the egg substitute but they were gone so quickly no one seemed to notice.
No Bake Recipes
10 Simple No-Bake Recipes – those quick sorts of recipes you can whip up. A personal favorite is No Bake SunButter Energy Bites. Perfect.
Easy and Practical Thanksgiving Menu
If you are considering recipes for Thanksgiving, I put together an allergy-friendly holiday menu last year. (Including that wonderful faux pecan pie made with pretzels!). Even more Thanksgiving ideas in 10 Thanksgiving Habits at Habits for a Happy Home.
Don't you just love simple and delicious mixed up together?
~Subscribe to Hodgepodge so you won't miss a recipe.