Does getting back into a homeschool routine make you feel like you are pulling some heavy weights a long distance? I understand. Me too. The planning, the gathering of resources for so many ages! I do have a solution I've found that I want to pass along that just may work for you. For many years we have eased back into a homechool routine after summer break. One subject for a few days then another subject added in. It's an easy homeschool routine. But there is also a new resource I think you will like!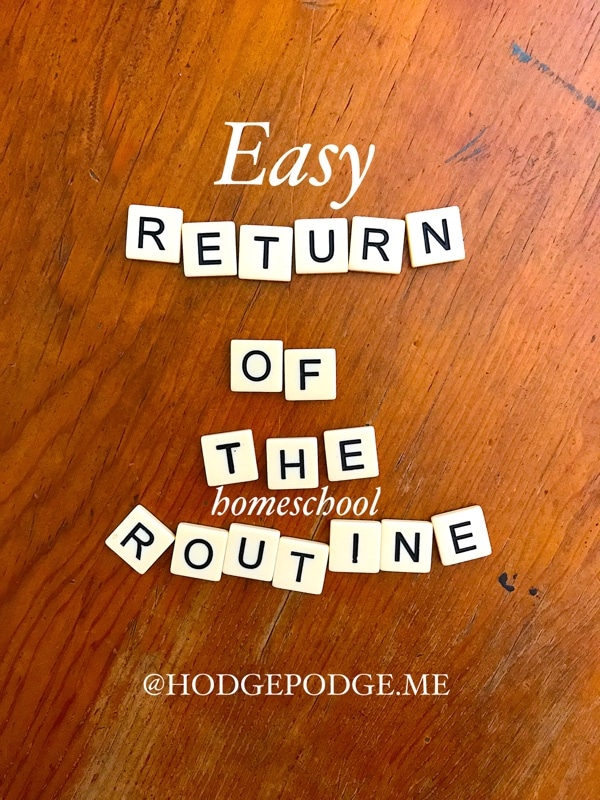 Easy Homeschool Routine
Our homeschool probably looks different from your homeschool. That is the one of the beauties of homeschooling. We can tailor and tweak our learning to the needs of our children. I don't feel the need to jump into a full school day right away so we start with an easy homeschool routine. Another particular way we might be different is our afternoon homeschool basket. Rather than a morning basket, we have our afternoon basket.
I love, love the idea of a morning basket. Back when all my children were ages eight and under we had a morning basket. It is simple and it is beautiful. Simple because we can all learn together. That makes it easy for me as the teacher! Beautiful because we enjoy the lovely things like nature study, art and composer study. (the good things!)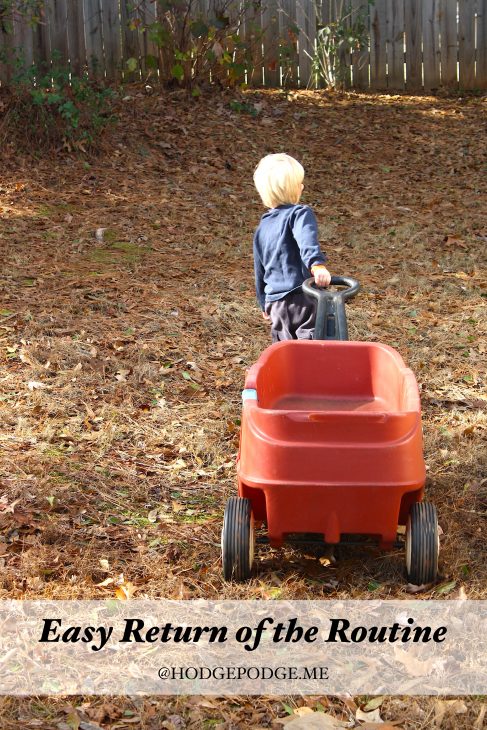 So why do we have an afternoon basket? These days it is simply because our children are older. We get the basic three Rs under our belts, have lunch, then we pull out all the learning we do together. This grew quite naturally from our "One More Thing After Lunch" habit. Back in the day of babies and toddlers, we finished up the majority of our homeschool day BEFORE lunch. Then we did one more thing together after lunch.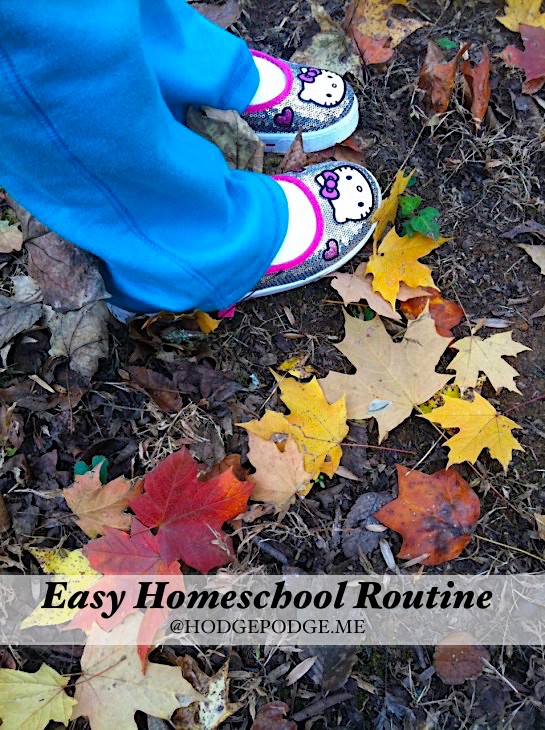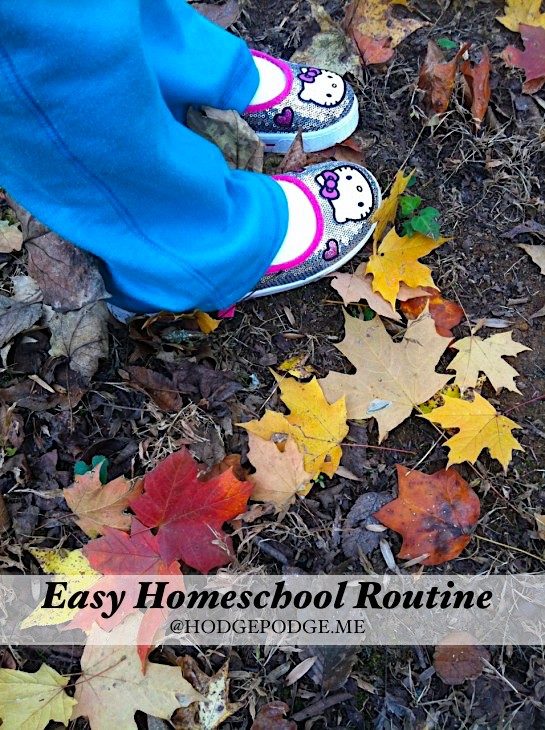 Our Afternoon Homeschool Basket
But as children get older I found just that much more learning to fit into a homeschool day. High schoolers and middle schoolers and their longer assignments schedules. With the elementary-aged children in the mix, I found it difficult to accomplish a morning basket with all of us together. So we simply adjusted our schedule. We picked up that morning basket and moved it to the afternoon. Now our "One More Thing After Lunch" has become several things after lunch in the form of our afternoon basket.
Easy and Done For You – Homeschool Backpack
In the past I have gathered together our afternoon basket resources. Favorite nature studies, great read alouds, seasonal activities and, of course, art! I've loved how Pam Barnhill does this for you. Morning time plans and the resources listed all in one spot – makes it SO easy. If you don't yet know about Homeschool Solutions by Pam Barnhill, please let me introduce you.

Easy Homeschool Routine
It is my great pleasure to be joining together with Pam and two more of my favorite homeschool friends, to give you a ready-made Back to School Backpack. I don't think I am stretching things to say that this digital backpack will bless your homeschool and simplify your back to school time. And let me say it again – it is done for you.
All of this is done for you…
The planning – TEN weeks of morning time plans (scheduled loosely around a theme) for you!
The schedule suggestions – you can tweak to make your own
The nature study by Cindy West
The music study by Mary Prather
The art study – our Bird Video Art Lessons
Not to mention all the bonuses! Our Art in Space ebook (with the solar eclipse included), September SQUILT listening calendar, 10 Nature Walks Sampler
What an easy way to start back to homeschool. Jump right into the best things! The Back to School Morning Time Plans Backpack.
Literally, just open and go. The planning is done for you. The shopping is done for you. It's an easy homeschool routine.

Save
Save
Save
Save
Save
Save
Save
Save