A few leaves are already starting to turn here in the south and that means it's time to turn our attention to fall art! Pull out those fantastic reds, oranges, browns, yellows and greens and enjoy our free fall art lessons for all ages. Don't you love a fall palette?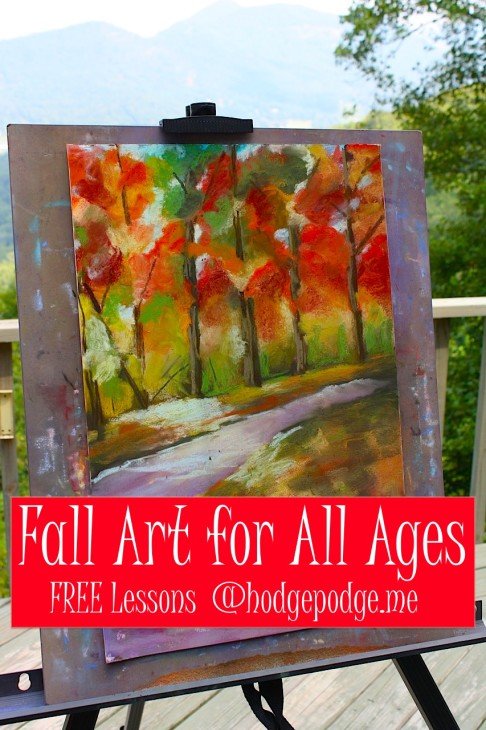 These colors make me so happy! I've put together a list of our best art lessons for fall below.
Free Fall Art Lessons for All Ages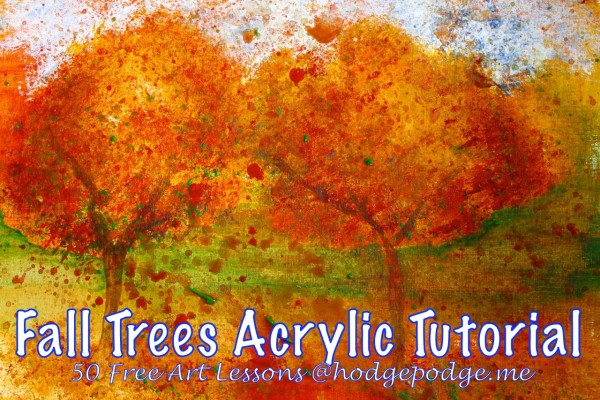 Fall Acrylic Trees Tutorial – I am a firm believer that each of us can paint; especially children, who possess an innate ability to create art. The hardest lesson is this: you cannot paint exactly like someone else. Embrace the freedom to please yourself!!
Tree Reflection Chalk Art Tutorial – Nana taught us a pastel lesson with trees, water and reflection. (Video lesson included in Fall Video Art Lessons.)
Fall Walk in the Woods (and a video lesson on our YouTube) – this is a perfect lesson in perspective…
Fall Tree Video Tutorial (and the very few must have chalk pastel supplies) – short, less than three minute long video!
Wind in the Tree Chalk Pastel Tutorial: Art in Motion – This is one of my absolute favorite pastels!  The lines are simple; the flow of the bending tree limbs is instantly recognizable to the viewer. (Video lesson included in Fall Video Art Lessons.)

How to Draw a Pumpkin in Chalk Pastels in Less Than a Minute – We raced the timer – and proved that you really can do art in less than a minute. Have you tried it?
Columbus Sailed the Ocean Blue – a subscriber-only tutorial. (To subscribe: simply enter your email address in the upper right hand corner 'subscribe' box. Find the download link at the bottom of your next subscriber email.) This tutorial is going to give you and your students the joy of an ocean voyage, complete with flapping canvas and great big waves!  As you know, Columbus Day is upon us, and we must celebrate his journey to our shores with a chalk pastel painting.
Follow Tricia's board Fall Art on Pinterest.
My Fall Art Pinterest Board
FEATURING YOU! YOU ARE AN ARTIST!
Paint your fall art and be sure to share with us! Simply tag @chalkpastelart on Instagram, use the #YouAREanArtist hashtag, or upload a photo to the ChalkPastel.com Facebook page!
Looking for a video art lesson? Nana has over 600 in the You ARE an Artist Clubhouse – including a whole section of fall video art lessons and preschool fall lessons.

A note on chalk pastels: Pastels are an easy, forgiving medium. Fun for children and adults alike! Details on the pastels and paper we use, how and where to purchase, and links to all of Nana's other pastel lessons are here: Our Favorite Chalk Pastels
The practical aspects of a mess: Pastels are blessedly messy. We always have baby wipes close by to wipe hands. We wear something we don't mind getting stained or don a smock.
 Do you LOVE fall too?
Save
Save
Save
Save
Save