We are big fans of Mike Mulligan and his steam shovel, Mary Anne. Every time I turned the page to this particular scene – the dirt, the steam, the clouds of smoke – I always thought this would make a wonderful Mike Mulligan chalk pastel art tutorial. So we set aside an art afternoon and enjoyed it!
Chalk Pastel Art Supplies Needed: White piece of paper. Red, brown, black, yellow, orange and light blue chalk pastels.
There is even a video version of this art lesson from Nana… scroll down just a bit.

Mike Mulligan Chalk Pastel Art Tutorial
Begin with the steam shovel, Mary Anne. Take your black chalk pastel and sketch out Mary Anne's 'face'. She is working hard and fast to dig the cellar of the town hall. Because of the dirt and the clouds of smoke, you can simply sketch an impression of Mary Anne. Make sure you add her eye and that wide jaw, open and scooping dirt. The back portion of Mary Anne – or the cab where Mike Mulligan is – is somewhat of a blur. Add the lines and then the splash of red.
Next add the flying dirt! Start at Mary Anne's 'mouth' and swirl it up and around into the air behind her. Draw several lines, skumble in some brown and then 'dot, dot, dot' in some clumps of dirt in the swirl.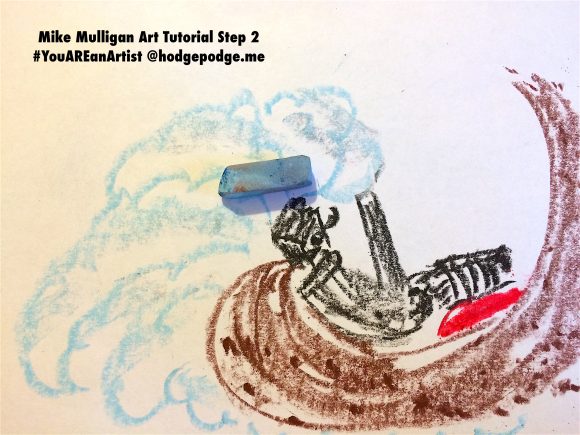 The blue clouds of smoke and steam are next. Take your light blue chalk pastel and swirl in some smokey clouds. Notice that the outer parts of the clouds are darker and there is plenty of white left.
"Mike Mulligan and Mary Anne dug a little faster and a little better…"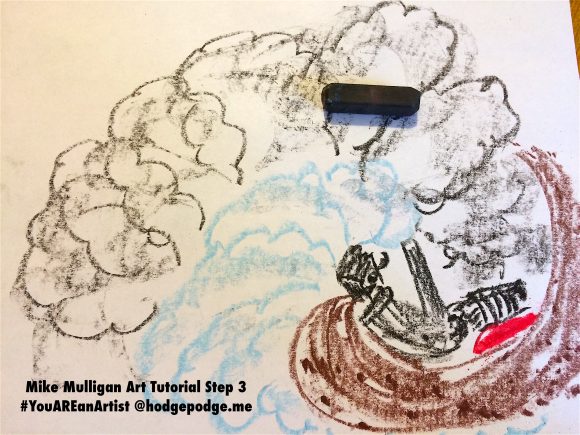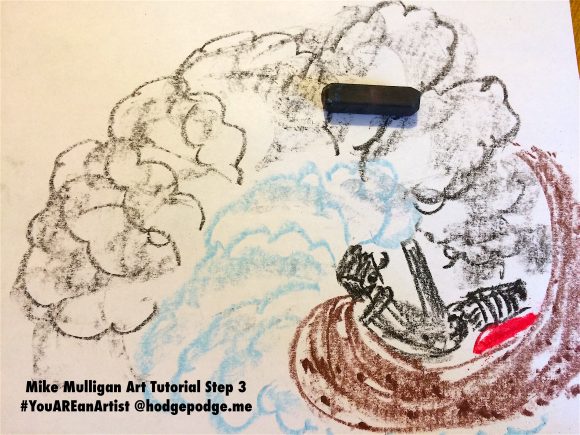 You will now add the dark clouds of smoke and steam. Take your black chalk pastel stick and make puffy clouds of smoke circling around the blue steam. Once again, the outer edge of each cloud is darker, so turn your chalk pastel stick on its side and skumble in some black pastel.
Next is the sun, peeking out from the smoke, steam and dirt. Notice that it is a yellow semi-circle. Fill in the sun then outline with orange. Add straight, little rays of orange going out from the sun all the way around. Make one more semi-circle outline of orange and add little rays again from this circle. Add a layer of yellow over the outer lines of sunshine.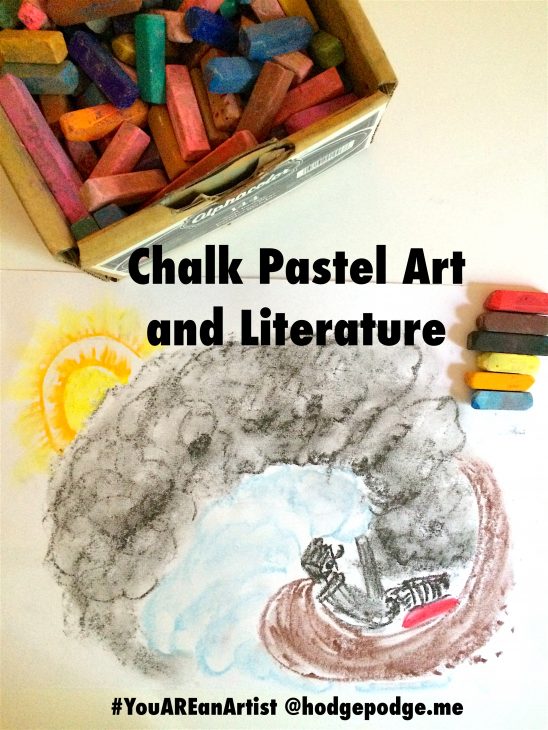 Now it is time to blend it all! Make sure to use a clean finger for each color – or clean your finger after blending. Blend the dirt in swoops. Then the steam clouds you can smooth with another finger. The black clouds of smoke are next. And then gently blend the colors of the sun – just slightly so that the rays of orange sunshine are still distinct.
Mike Mulligan Chalk Pastel Video Art Tutorial

That is it! art and literature and a bit of American history because you ARE an artist!

More Art and Literature
Here is a list of the art tutorials we have offered here at Hodgepodge to go along with children's books – Children's Books and Chalk Pastels:
FEATURING YOU! YOU ARE AN ARTIST!
Paint your fall art and be sure to share with us! Simply tag @chalkpastelart on Instagram, use the #YouAREanArtist hashtag, or upload a photo to the ChalkPastel.com Facebook page!
Looking for video art lessons for all ages? Nana has over 600 in the You ARE an Artist Clubhouse – including a whole series of art lessons for favorite books, literature and read alouds plus preschool lessons for the Before Five in Row crowd.
A note on chalk pastels: Pastels are an easy, forgiving medium. Fun for children and adults alike! Details on the pastels and paper we use, how and where to purchase, and links to all of Nana's other pastel lessons are here: Our Favorite Chalk Pastels
The practical aspects of a mess: Pastels are blessedly messy. We always have baby wipes close by to wipe hands. We wear something we don't mind getting stained or don a smock.
Have you subscribed to Hodgepodge yet to get your exclusive, FREE, subscriber-only art tutorials?
-originally published May 2016