I know I mentioned this before. Fall fever gets me more than spring. Every season of homeschooling has its challenges. But fall– especially October – calls us out of the house more often. These beautiful fall days are simply meant to be enjoyed.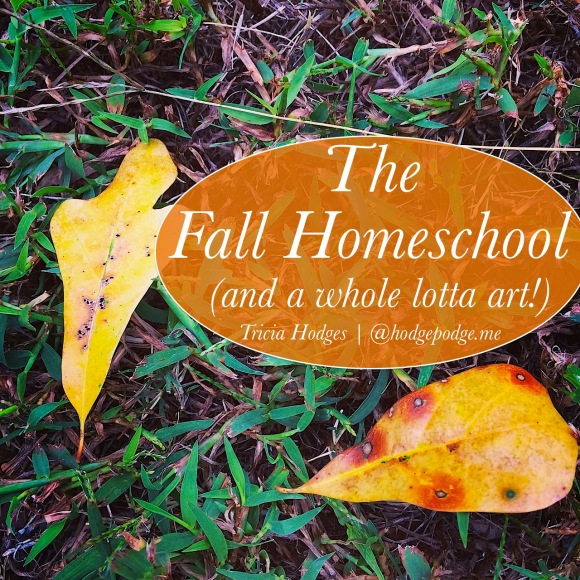 And so a couple of months ago we planned for Hodgepodgedad to take off some time – an extended weekend. We've worked ahead and we've planned ahead and for getting stuff done and having some fun. I think that balance is important for life in general – don't you? I'll be sharing more about what we are doing on our extended weekend in next week's Collage Friday. It will be more Exploring Georgia as we've been in the habit of this year. I invite you to follow the Hodgepodge adventures on instagram if you'd like!
Since it has been a couple of weeks now, I'll share the hodgepodge of goings on – two weeks worth! (a.k.a. this post is huge!)

A whole lotta art!
Last night I had the privilege of being the special guest for Yes, You CAN Teach Art in Your Homeschool along with some wonderful fellow homeschool friends. Now, I am not an expert but I have learned, with practice, that I am an artist. And I am very much passionate about helping others discover just how much fun art time can be, get over mess-a-phobia and realize what a huge overall blessing art is! Art blesses the whole homeschool and opens up the creative parts of the brain – that then, in turn, make math better, history studies brighter – yes, really! Take a look at the video from last night…



Planning to Get Stuff Done So We Can Have Fun
With our weekly homeschool planning meeting we can look ahead to the week and know what to expect. We can leave space for fun and taking advantage of that homeschool schedule. There is accountability and flexibility and it works so very well for us. Plus, I feel strongly that planning is a life skill our children need – so this time is a gift! The planners we use and more in our Weekly Homeschool Planning and Weekly Homeschool Planning Expanded.
Taking Advantage of a Homeschool Schedule
Yep, this is a theme. 1. And why not? We had about half an hour and were in the area. And it's a beautiful last day of September! #makingmemories #motherdaughtertime #exploregeorgia #kennesawmountain | 2. Perfect spot for a weeknight family picnic! | 3. This boy has been SO excited for wearing socks and having warm fires in the fireplaces. First fire of the season. | 4. Last night The African Queen was on Netflix. Bogart and Hepburn 1951 classic WWI of the book by the same name.
Working Towards Goals (And Curriculum Recommendations for You)
1. This homeschool moment brought to you by my high schoolers. Can you tell they knew they were being photographed? They were being so studious – doing their SAT prep – and I wasn't sneaky enough. (We LOVE the SAT Course for the Christian Student from Master Books – highly recommend) | 2. Learn Math Fast – yes, we love Teaching Textbooks and Saxon Math but why not take it a step further and learn another way? Upper level math is challenging and thanks to J.K. Mergen and her Learn Math Fast series – we are hopeful for the bumps we've been encountering. We will be using this will our multiple ages and give a full report and review in the spring. If you are interested, I encourage you to check it out for yourself – there is a guest post at The Curriculum Choice, Why Can't My Child Learn Multiplication? along with a discount code and links to the Learn math Fast site – where there are placement tests. | 3. Studying for ham radio operator . Eldest boy (10th grade) has decided to join Middle Girl and Hodgepodgedad in the challenge. Middle girl went to three Saturday classes with Hodgepodgedad. The three of them take the test to earn various levels of the ham radio operator license this weekend | 4. Sisters working on duet for fall festival (any of you experienced musicians know the cooperation this takes!)
This photo has nothing to do with the writing we focused on the past two weeks. I just thought the teddy bear picnic following math one morning was cute.
Writing for Multiple Ages – Back to Basics
I plan to share a more detailed update on this soon but we have taken a purposeful approach with our writing skills. Thankfully, with Tapestry of Grace, we write weekly. However, we had reached a wall with the listing of expository essay, descriptive essay and other terms that were daunting. So, taking the advice of Jeannie Fulbright, we have been going back to basics. In a Real Refreshment Retreat session on writing that Ms. Fulbright led, she described a basic formula. (P.S. Registration is open for Real Refreshment Retreats and I highly recommend it!)
We have used that writing formula with repeated success. See, our high schoolers will be writing essays for the SAT and ACT and college entrance and more. It is a needed skill. But do they need flowery words and butterflies flitting about in their writing? Do they need great poetic skills and flourish? Ms. Fulbright (who is developing a writing curriculum) shared that her husband, who is an attorney, has used the same basic formula to write briefs. Topic sentence –> example, example, example  —> closing sentence. See, when test taking, our children need to be able to express what they have learned. Share examples. That is what college professors will be looking for – what they have learned and what they know. So, for now, that is what we are doing. Basic writing.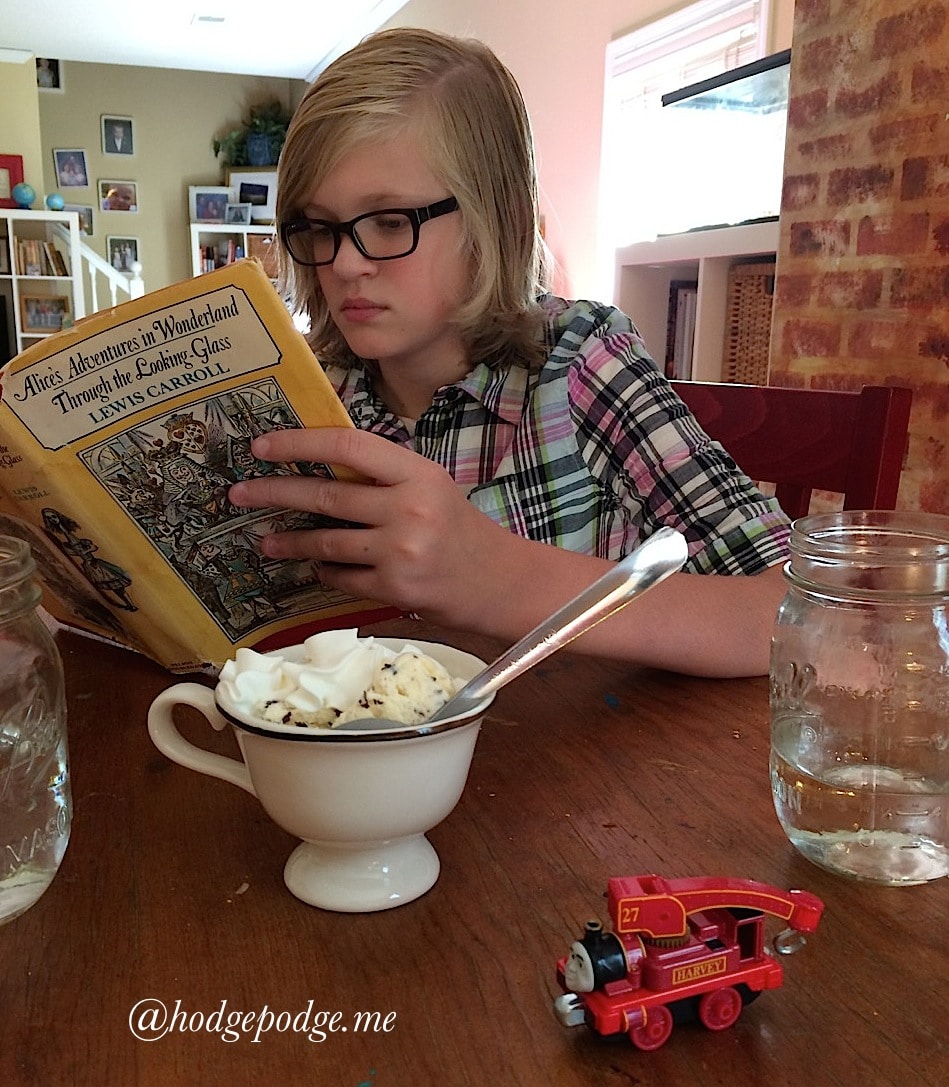 The children have been writing about what they are reading for Tapestry: The Adventures of Huckleberry Finn, Alice in Wonderland, Little House on the Prairie. Plus our pet, Oswald, a bearded dragon, has been a topic of writing. Eldest Boy wrote about a recent science experience on fall leaves.  Yes, we shall return to the recommended Tapestry of Grace writing topics when I feel we are ready. Because we do need that variety. But for now, we need basics.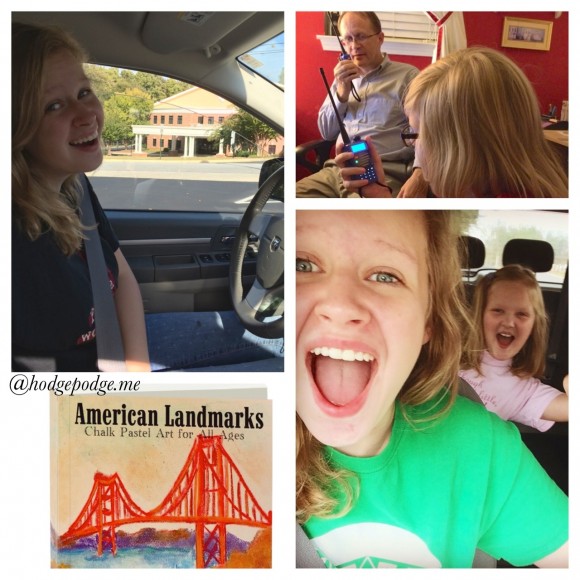 Plus extracurricular! 1. Learning to drive!! Yep. She's had her learner's permit for a year and a half and is now determined. | 2. Hand-held ham radios and talking through the upcoming testing. | 3. Our newest American Landmarks ebook – coming soon! | 4. I laughed and laughed so hard with these girls on Wednesday. We went all over town getting things done, taking care of dental visits and more. The stories they tell and the things they say – I almost had to pull off the road at one point I was laughing so hard! Laughter is the best medicine. I am big time blessed to be the mama of my five.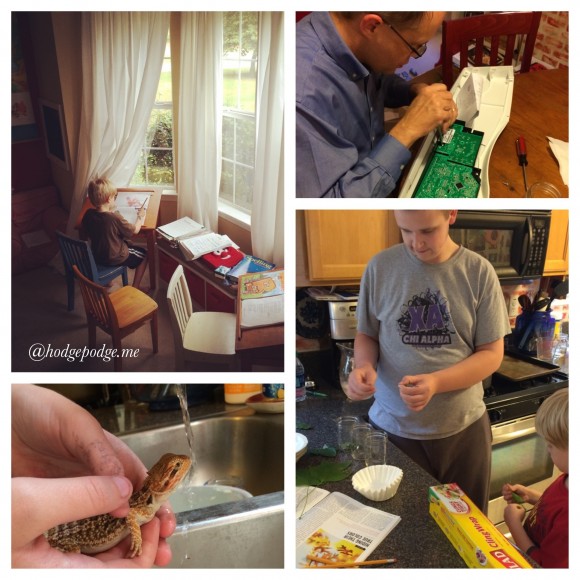 Caught Being Diligent
1. This homeschool moment brought to you by diligent first grader. | 2. Two Thursdays ago it was the dishwasher, last week the dryer. He is patient and talented, this man of mine! All fixed – And just when the girls were getting excited about stringing up clothes to dry like Little House on the Prairie. |3. Taking care of Oswald the Bearded Dragon (I mentioned he was the topic of a writing assignment, above) | 4. A spontaneous science experiment from the latest Answers Magazine – and led by Eldest Boy!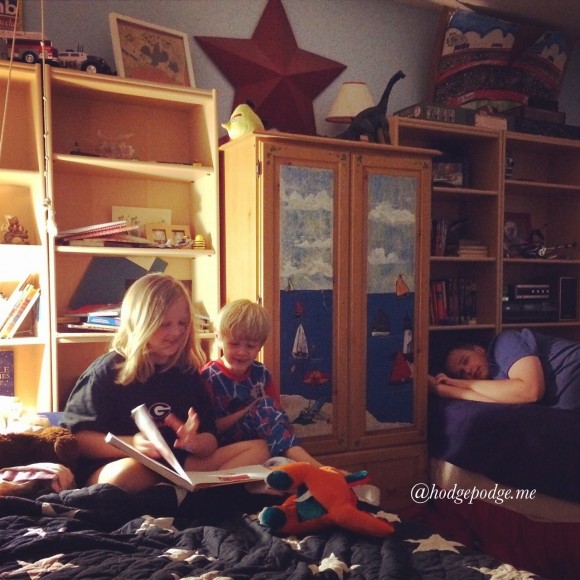 Love this bedtime reading, giggling, pillow tossing, silly, fun bunch! (Lived in and loved boys bedroom – complete with bucket pulley to the left).
More Hodgepodge for you
Many thanks to these kind hostesses (I'm linking up!):