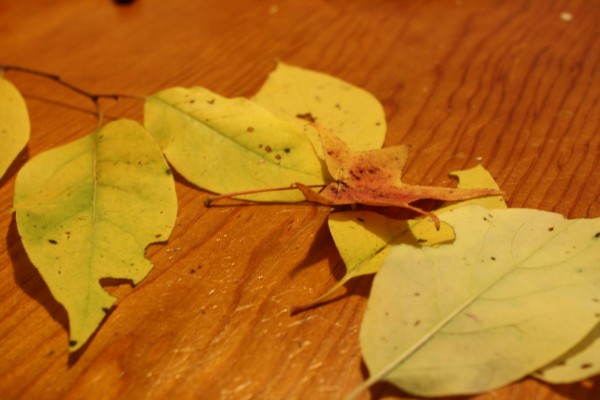 (Photo of leaves Littlest Girl collected in the backyard before we left).
We spent a favorite afternoon looking for fall colors. Our favorite because Hodgepodgedad had the day off for Columbus Day. Our best because we headed to Kennesaw Mountain National Battlefield Park all together for a fall leaf walk. (Plus we like the BBC children's show Charlie & Lola)   🙂
We drove the mountain road to the top. But along the way we stopped to take pictures of yellow leaves. As we did, one of the children noticed a deer in the woods. Then another! You can barely see the deer watching us – peeping around a branch right in the center. There was another further back in the woods.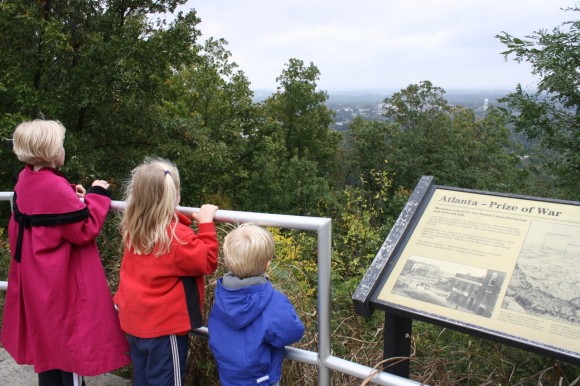 At the top it was a bit chilly.
We grabbed coats out of the back of the van and headed up the steps. (Notice the transitional array of clothing. Flip flops, shorts, long pants, coats.)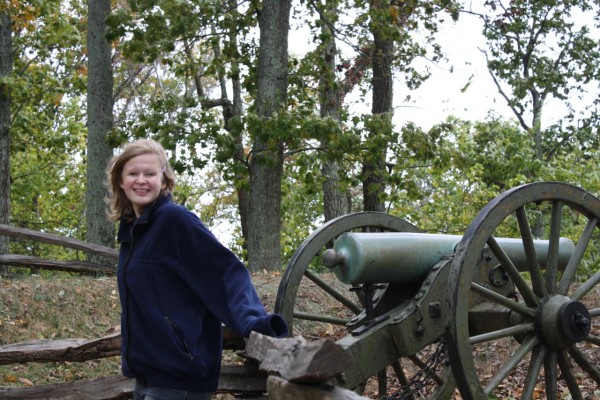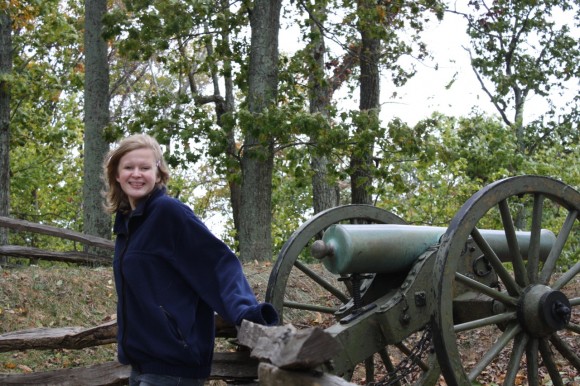 We stopped to pose by the Civil War cannons.
We noticed all different shapes of leaves.
Yellows mostly. Over the next days and weeks we'll see more oranges and reds. Though we did see a variety today.
More brilliant yellows on the way back down.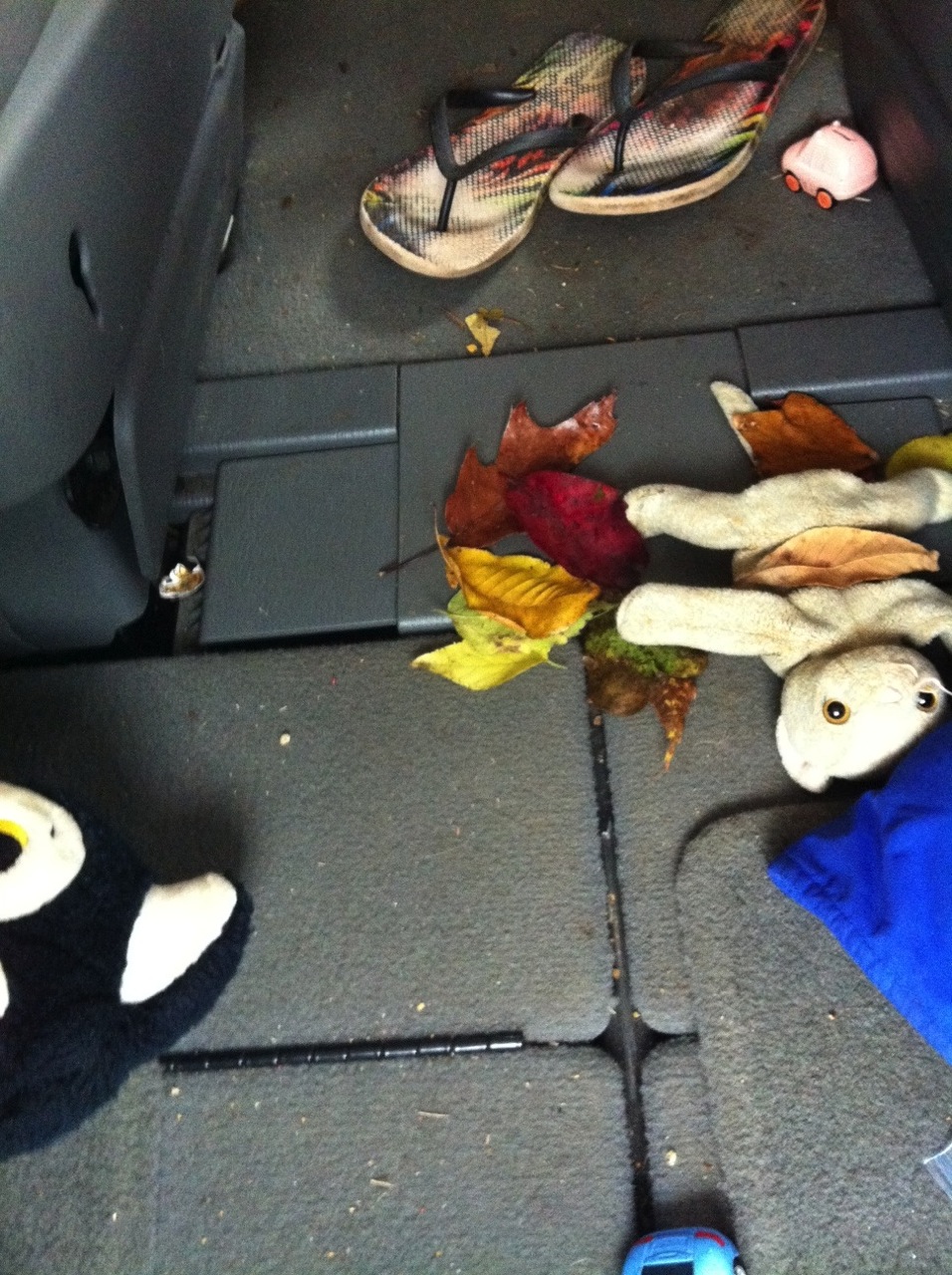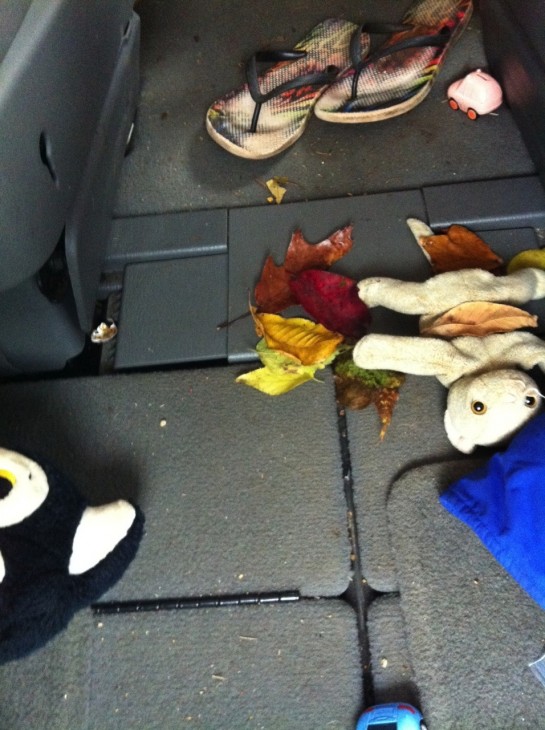 Some leaves made it to the van to mix in with the stuffed animals and discarded flip flops.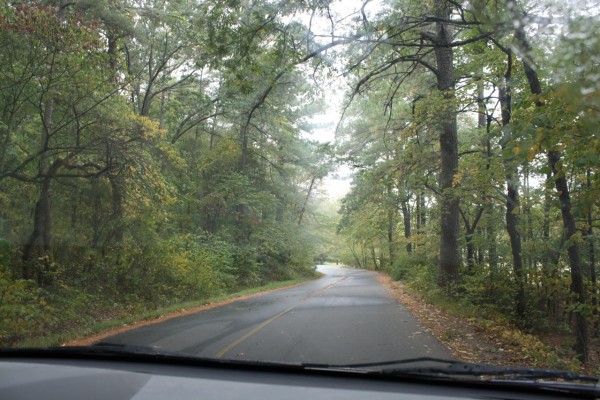 No sketching or journaling this day. We darted to the van at the end of our walk because it was starting to rain. And we drove slowly down the mountain, taking in more of the colors. Fast forward to the next afternoon. With plenty of rain outside, we gathered around the table to a look through our photos. We decided we'd sketch the photo above.
We also clicked through the links for the advanced studies on changing leaves, provided in the More Nature Study Autumn ebook (The Chemistry of Autumn Leaf Colors). You know what was really nice? I had a special activity and notebook page for each of the ages and stages of my children.
A nice Leaf Color Walk page for the youngest two to color and for Kindergartener to practice writing colors.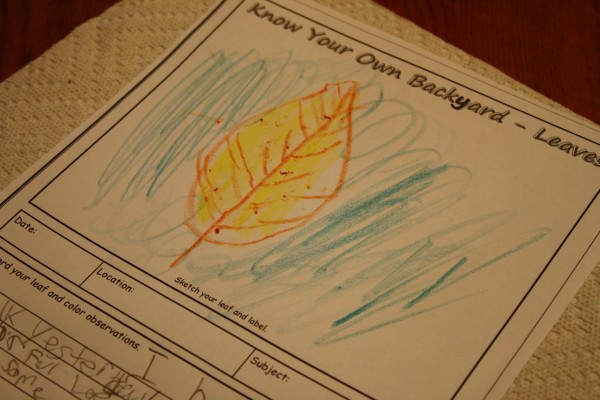 A leaves in my backyard notebook page for Middle Girl.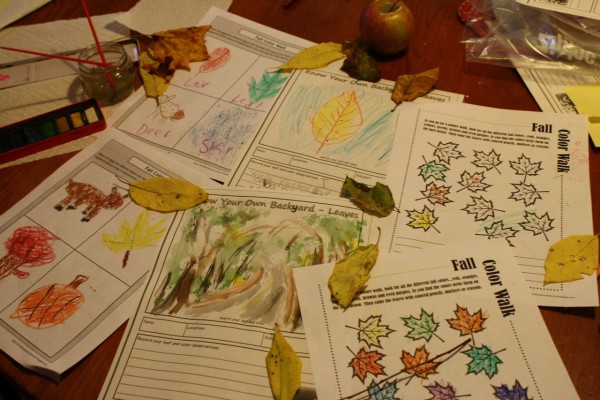 And the advanced pages for the eldest two to think through. I really appreciate that.
Fall colors. Beautiful leaves. A walk in a favorite spot. Our favorite and our best.
Won't you join us in autumn nature studies with Outdoor Hour Challenges? You might also be interested in all the fall activities and art our nature study has prompted? Apple or Pumpkin and Leaf Pastels Tutorials and Nature Walk Leaf Art.
P.S. – Guess what our friend Amy brought us? Milkweed seeds! Aren't they beautifully silky? Spring time planting and future nature study fun. Thank you, thoughtful Amy!