Meatloaf can easily be baked on a Saturday then warmed when you walk in the door from church…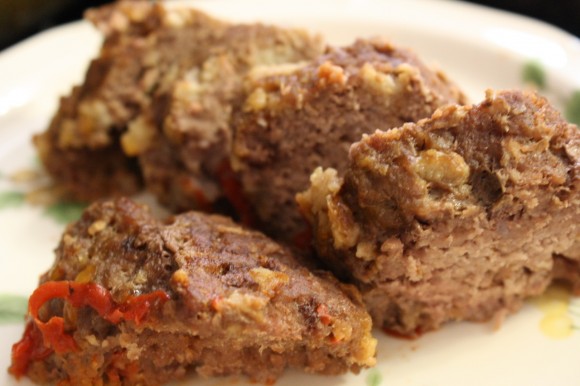 Often I need to modify a good, old, basic recipe due to the children's allergies. Meatloaf is no exception. Now, I could add in egg substitute. But I've found that meatloaf is every bit as tasty, sans egg. How does the loaf not crumble, you ask?
The key to leaving out the egg is the bread crumbs. They help hold the meatloaf together. As does mixing the ingredients by hand.
Every once in a while we buy ground beef. Usually we stick to ground turkey but beef is a treat every few months. This being the month.
So, since I am faced with the blessing of five pounds of ground beef from the warehouse club, meatloaf went on the menu. As did meatballs.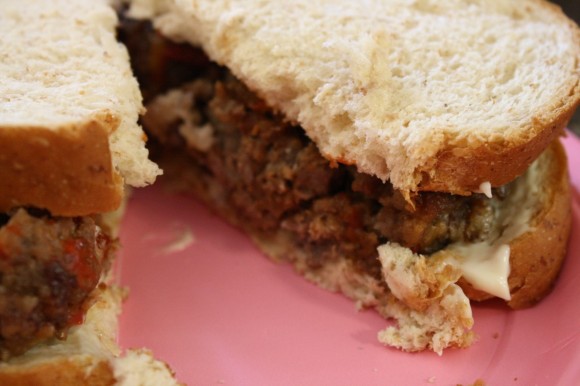 If you are fortunate enough to have leftovers, have a meatloaf sandwich for lunch the next day. Just slather some mayonnaise on one piece of bread.
A manly meal to have on your pink birthday plate 🙂
For more Sunday lunch ideas – that can be enjoyed any day of the week, see the other recipes posted here in the Fast Food for Slow Sundays category or Fast Food for Slow Sundays at Habits for a Happy Home.
What's your favorite way to fix meatloaf?