Please scroll down for a list of Nana's Acrylics Plus Links to Tutorials art lessons…

I thought that we could take a break from our wonderful pastel lessons and go explore a new medium…acrylic paint!  I have painted with acrylics for many years…using them to paint wall murals, tee-shirts…the paint is a very forgiving medium.
Acrylics Plus Links to Tutorials
You can make a small investment at your local craft store and get enough basic, primary colors to mix any other color or hue that your heart desires!

Acrylic Paints:
Our local store is Michael's Arts and Crafts.  I had advised the Liquitex brand of paint, but after Christmas, Liquitex was not on sale.  The Michael's store brand, Artist's Loft was very reasonably priced, so I purchased 7 colors of paint in 4 1/2 oz. tubes for about $2.99 each.  I am a believer in buying a BIG tube or jar for myself, but for introducing acrylics to the grandchildren, these were the best buy.  I bought yellow, red, blue…then the secondary colors of green, orange, violet and raw umber.

Paint Brushes:
Then I picked out at 25-piece set of all-purpose paint brushes…big, medium and small, and tiny brushes that could be abused by children without a big expense. This set was $10.99, I believe.

Paint Palettes:
Because my personal paint palette is a plastic microwave plate, I thought that I would splurge and buy a stack of disposable plastic palettes.  These can be thrown away if you like, but being super frugal, I just rinse the paint off the palettes after each use…These were $10.99 also – for a stack of 20 palettes – and you could put them on the top shelf of your dishwasher. You can also simply use a paper plate.

Canvases:
Next were the canvases, I picked up 2 packages of three 5×7 flat canvases for us to try out our newest art adventure! The canvases cost $3.99 for each package.   All of the supplies were Artist's Loft brand, or Michael's store brand.
That is it. For about $50.00, you have the supplies to let your imagination run with it…just think…learning how to mix colors, how to use more water to make the paint thinner…the teaching goes on and on.  I am lucky because the children are super interested in art and usually make teaching a wonderful pleasure. If a picture does not suit the little artist, most anything can be corrected with a dab or two of more paint!
A note on acrylics: Just like pastels, acrylics will wash off your hands easily. But if the paint gets on any fabric – it is permanent! We wear a smock and cover our painting surface – usually with newspaper.

Below are our Acrylics Plus Links to Tutorials. Enjoy!
Heart Collage: Mixed Media Acrylic
Dr. Seuss Cat in the Hat and Fish Acrylic plus colored markers
Peter Pan's Hat in Honor of author James Barrie

Fall Trees Tutorial – make leaves with paper towels and spatters

Look Up! Summer Trees – a lesson in perspective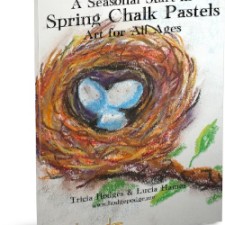 Find our Spring Trees Acrylic Tutorial in A Seasonal Start in Spring Chalk Pastels!
[amazon_carousel widget_type="SearchAndAdd" width="600″ height="200″ title="Acrylic Paints" market_place="US" shuffle_products="False" show_border="False" keywords="basics acrylic paints" browse_node="" search_index="All" /]
Do you learn best with a video tutorial? Find Nana's A Simple Start in Acrylics Video Art Lessons along with her The Gift of Art: Gifts to Make and Give Video Art Lessons at ChalkPastel.com.