What is fistin'? Some of you may think that I have dug deep into my Southern vernacular, but this is a term that I have coined in teaching pastel art. The fistin' chalk pastel art technique.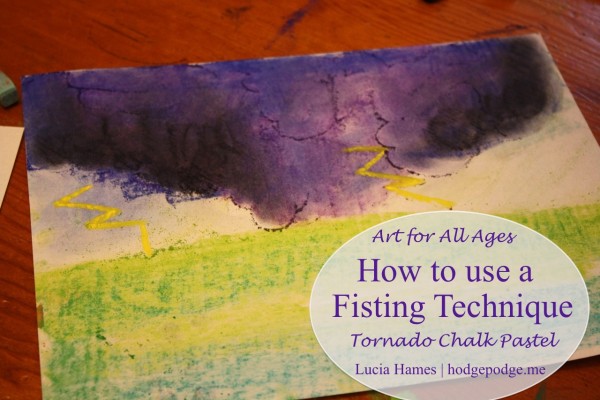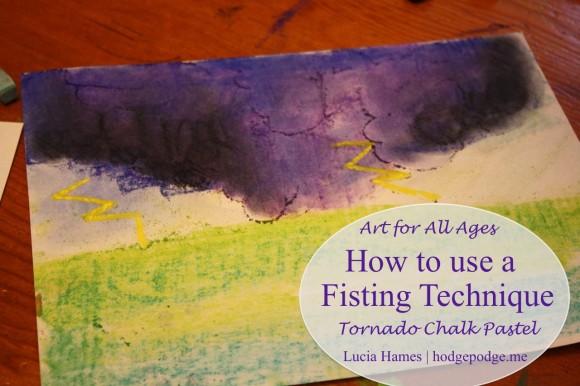 Fistin' Chalk Pastel Art Technique
What FISTIN' is…is balling up your fist, turning your fist down so that your thumb is up in the air and lightly smudging your pastels with the back side of your balled up fist to:
1. Even out the pastel color on your subject that you are painting; that is, for example, an apple that you don't want to be a solid red, but slightly smudged.
2. Fistin' lets you make clouds "wispy" or give a landscape a foggy, misty look.
3. Fistin' is just plain fun for students of all ages…they get to put part of their fist on the pastel painting and rub it round and round until they get the look that they want!
You may use this technique to blend sky colors; I always tell my students that the sky is darkest at the top of the paper and lighter and lighter as it comes down the painting. And…most important, the sky goes ALL THE WAY DOWN to the ground on your paintings! Sky is not a band of color only at the top of the page! If you are five years old or 50, the sky needs to "kiss" the ground!
Fistin' is important when you have water spray or mist at a waterfall or on the ocean. Fistin' comes in handy when you have a tiny short stick of your favorite, most-used pastel stick, before you buy a new one. When you just want to have a suggestion of a dark shadow around a green pear…that shadow on the side of a chimney, the curve of a jaw in a portrait…it is a marvelous technique!
I suppose that you could be absolutely correct in your grammar and say, "Fisting." But if you want to bring a smile to your students' faces, just put one hand on your hip, smile a saucy smile and in your most Southern voice, tell them that "today we are going to do some fistin'" and see if they don't smile right back at you!
A great example of fistin' is our Twilight Chalk Pastel Tutorial. But also there is fabulous fisting when making a tornado in chalk pastels. Check it out in this video art tutorial.
Fisting Technique Video with Tornado Chalk Pastel Art Tutorial
For written, printable instructions on this tutorial, visit A Tornado in Pastels.
Art for All Ages: Tips and Tutorials
Here's what you can expect each of these 10 days! The following links will be live on each day as we go through the series:
Featuring You! You ARE an Artist!
So, paint your tornado and be sure to share with us! Simply tag @chalkpastelart on social media, use the #YouAREanArtist hashtag, or upload a photo to the ChalkPastel.com Facebook page!
A note on chalk pastels: Pastels are an easy, forgiving medium. Fun for children and adults alike! Details on the pastels and paper we use, how and where to purchase, and links to all of Nana's other pastel lessons are here: 100+ Free Art Lessons for All Ages plus the video The Very Few Must Have Supplies for Chalk Pastel Art. A simple set is very affordable. Nana also teaches acrylic lessons.
The practical aspects of a mess: Pastels are blessedly messy. We always have baby wipes close by to wipe hands. We wear something we don't mind getting stained or don a smock.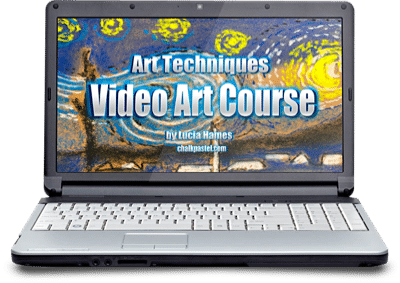 Do you and your artists learn best with a video art tutorial? Find our Video Art Lessons at ChalkPastel.com!
My friend Stephanie has a great variation of the tornado tutorial you must check out. It is part of her 10 Days of Activities for The Wonderful Wizard of Oz.
It's an autumn hopscotch with iHomeschool Network! Be sure to visit all the wonderful bloggers! It's a fabulous page full of categories and 10 days worth of topics!
**Thanks for joining us for Art for All Ages. We invite you to subscribe to Hodgepodge via email so you won't miss any free tutorials! You can also join us and help spread the word about our 10 day series on Pinterest, YouTube, Google +, Facebook and Twitter. Thanks in advance for helping Hodgepodge.**
See, with these little hints, you too ARE an artist! And a little bit Southern, too.