Warning
: Trying to access array offset on value of type null in
/home/n0c986d/public_html/hodgepodge/wp-content/plugins/amazon-associates-link-builder/vendor/mustache/mustache/src/Mustache/Parser.php
on line
278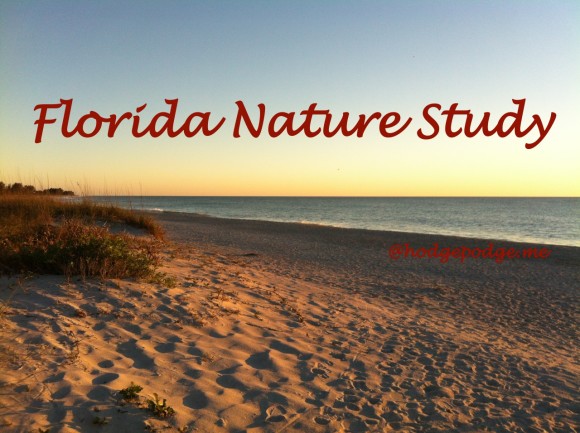 I love the beach. I enjoy bird watching. And I've learned so much about nature studies for our homeschool from Barb-Harmony Art Mom. So what a true gift it was to have each and every one of these things mixed together in one BEECH Retreat trip!
Something deep in all of us yearns for God's beauty, and we can find it no matter where we are. ~ Sue Monk Kidd
Birds are the Handbook of Nature Study topic for February. How fitting that I would have the awesome privilege of accompanying Barb on a nature study at Captiva Island, Florida. We got into that cute little KIA Optima hybrid and headed to…
"Ding" Darling Wildlife Refuge
Say that with a Southern drawl. It's fun. Barb had researched the Ding Darling Wildlife Refuge ahead of time (of course!) and made plans for us to spend some time here amongst the mangroves. First we stopped at the visitor center to see what there was to see. We learned about Ding Darling and the mighty conservationist he was.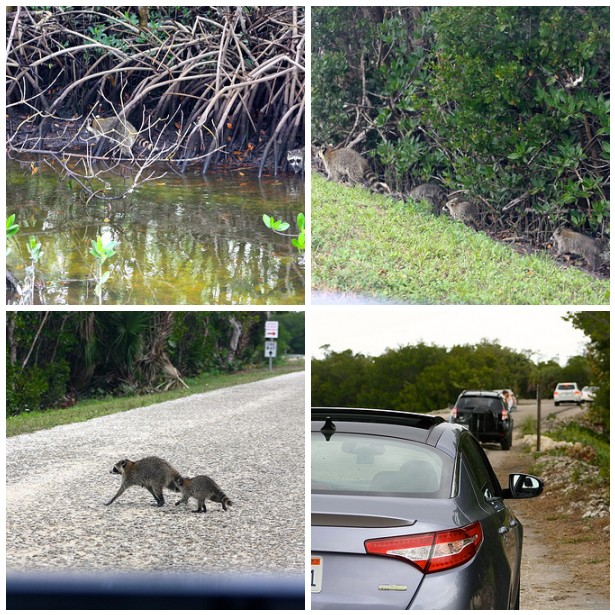 It seemed every few feet we drove or walked we found something unexpected. We were greeted by a family of raccoons. Barb spied them amongst the roots. Babies following their mother. Then scurrying across the road in front of us.
Barb saw several birds on her life list. We watched one little guy slowly and patiently creep up on his lunch (bottom, right). After doing a little research back at home in the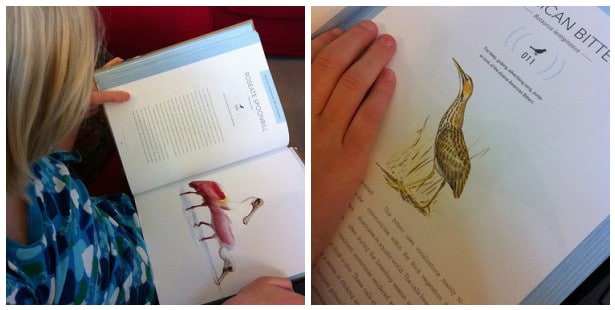 We love all the Bird Songs books – especially our favorite
This one overlook was a beautiful spot to see birds, as you can tell by the number of birders, cameras and tripods there. The reflection of the sky was lovely! And it was definitely cool and breezy that day.
Florida Gator
Next we drove down to another spot in hopes of seeing an alligator. As we started on the path, a family walked by and told us exactly where to go see one. Sure enough, this guy was sunning himself and seemed rather annoyed that we were interrupting his nap with clicks of the camera shutter.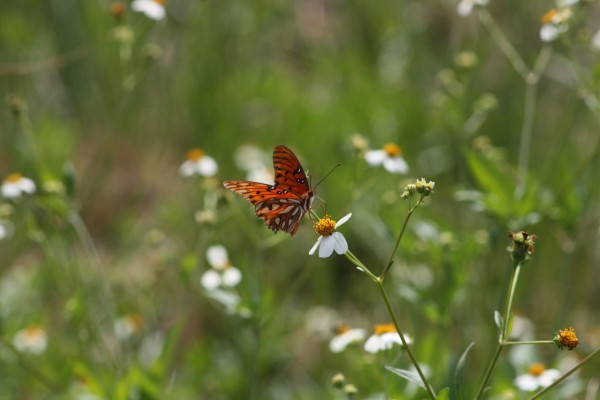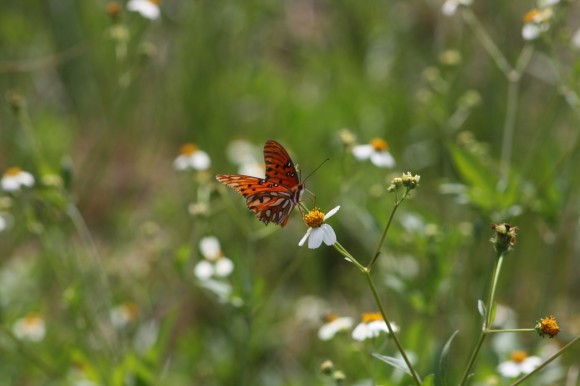 And along the same trail as the gator, we saw a couple of beautiful butterflies! Our favorite gulf fritillary (we've raised some of those here at Hodgepodge – watched the butterfly cycle –  and had fun with a butterfly chalk pastel.)
Manatees at South Seas Island Resort
Back at the South Seas Island Resort – right within view of our balcony – there were manatees. Though one did not surface fully, we did see an outline and a sweet little nose break the water. And it made me want to sing the famous Veggie Tale silly song Barbara Manatee  🙂
The Captiva Island Beach
My favorite. The beach. Captiva Island and the close by Sanibel Island are known for their abundance of shells. Barb and I saw many shells in the surf on our walks and collected a colorful hand full.
Barb and I had the chance to walk the beach and enjoy the sand between our toes a couple of times. BEECH Retreat had us on the beach for a luau and our Friday evening meal at sunset as well! The South Seas Island Resort is the perfect spot for a blogging retreat – and some nature study!
A true friend is the gift of God, and…He only who made hearts can unite them. ~ Robert South
I thoroughly enjoyed my time at BEECH Retreat with Barb-Harmony Art Mom. And I count myself blessed to have experienced first hand some nature study time with her!
**Head over for a visit at The Handbook of Nature Study for more from Barb in her post on our Florida adventures. She's sharing video of the raccoon family!**
Won't you join us in noticing nature too? So many resources to get you started down the path at Handbook of Nature Study.
More on BEECH Retreat: How to Continue the Blog Conference Learning, KIA Optima Hybrid Review
Hearts and Trees: Art, Handicrafts and Nature Study for your Homeschool