I have some very good friends at Crowe's Nest Media. Two of their DVDs are already favorites in our house. And now they have a third resource that grew from a need. "When our youngest, Andrew, was born, we began looking for a DVD to teach signing, but we wanted one that also taught him about the Lord.  And, we wanted it to be worshipful.  We looked and looked, but to no avail.  That's when we decided to create what we were hoping to find!  The end result is our newest DVD."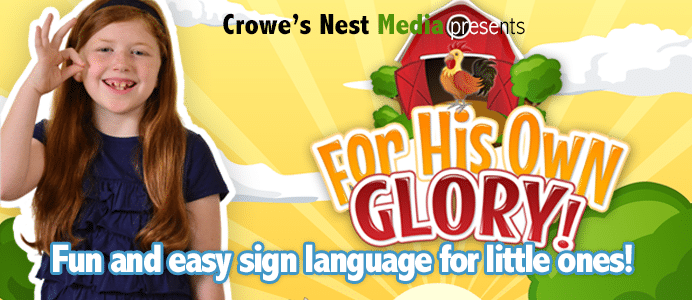 For His Own Glory Sign Language for Little Ones
"It's fun on the farm as you and your little one snuggle close to learn 12 ASL signs for common barnyard animals!  Enjoy vivid, up-close images of your favorite farm animals beautifully set to best-loved hymns such as "Joyful, Joyful, We Adore Thee" and "All Creatures of our God and King."
From playful and colorful farm-themed finger puppets to counting and letter recognition, For His Own Glory is designed to introduce children to the world of signing, all the while pointing them to the glory of the Creator God.
Playfully-engaging and yet welcomingly-gentle, For His Own Glory is a children's production that gives glory to God and teaches children to have thankful hearts."
Watch this introductory video and you will be hooked too…

What We Love Best About Crowe's Nest Media Products
Each of the Crowe's Nest Media DVDs gives glory to God and points to the Creator.
This is a family business of fellow homeschoolers! The whole family works together. (Kellie Crowe is the friend that told me about Lynda.com for online courses in all things technical.) That means the filming, editing, photography, recording, production and more. For His Glory is produced by David Crowe, written and directed by Kellie Crowe, and hosted by Grace Crowe. It is an amazing story and you can read more about it in The Habit of Working Together – Kellie's guest post at Habits for a Happy Home.
These are long time friends!  As I've said before, "I'm so proud! I have known Kellie Crowe of Crowe's Nest Media since high school. Yearbook staff, out with our big group of friends. She even survived going on a family vacation with us and a passel of cousins. She and I ended up at the same college. We got away together for scrapbook retreats when both our families were very young. Then, she and her husband followed the Lord's call to plant a church in Pennsylvania. And though she's further away, our heart strings are still tied. Homeschooling, growing our families, and now this family has allowed the Lord to use them to touch others and glorify the Creator even more."
Gentle teaching with vivid colors, happy and smiling children. Watch this short video, above, where Grace introduces the sign language for goat. Following the teaching is more video of goats set to the beautiful music of a favorite hymn, What a Friend We Have in Jesus. Grace then slowly spells the word goat (letter recognition and early reading!) and we hear the animal sound. A fun goat puppet appears! Then Grace counts 12 goats (early math!). She then says, "Thank you God for creating goats" while another child signs the sentence!
Repetition and review! There is an Old MacDonald review after three animals. The narrator sings the song and a child appears – reviewing the signs of each animal already introduced.
Where Can You find For His Own Glory?
Crowe's Nest Media is offering a SPECIAL Introductory price of $14.99 ($2 off regular price) + FREE shipping on For His Own Glory at the Crowe's Nest Media site!
We also have the first two Crowe's Nest Media's DVDs and highly recommend them as well:
I pre-ordered two copies of For His Own Glory for little cousins for Christmas! This high quality DVD makes a wonderful gift! I do hope you will order one for your family or for a gift as well.