This time last year I made it my goal to cook dinner for my family more often. You can read about it here. I was living up to my promise to my family until my son was hospitalized and our lives got busy with doctors' appointments and tests. I knew I needed to get back to providing home cooked dinners, so I decided finally to try some of the freezer meals I see posted online.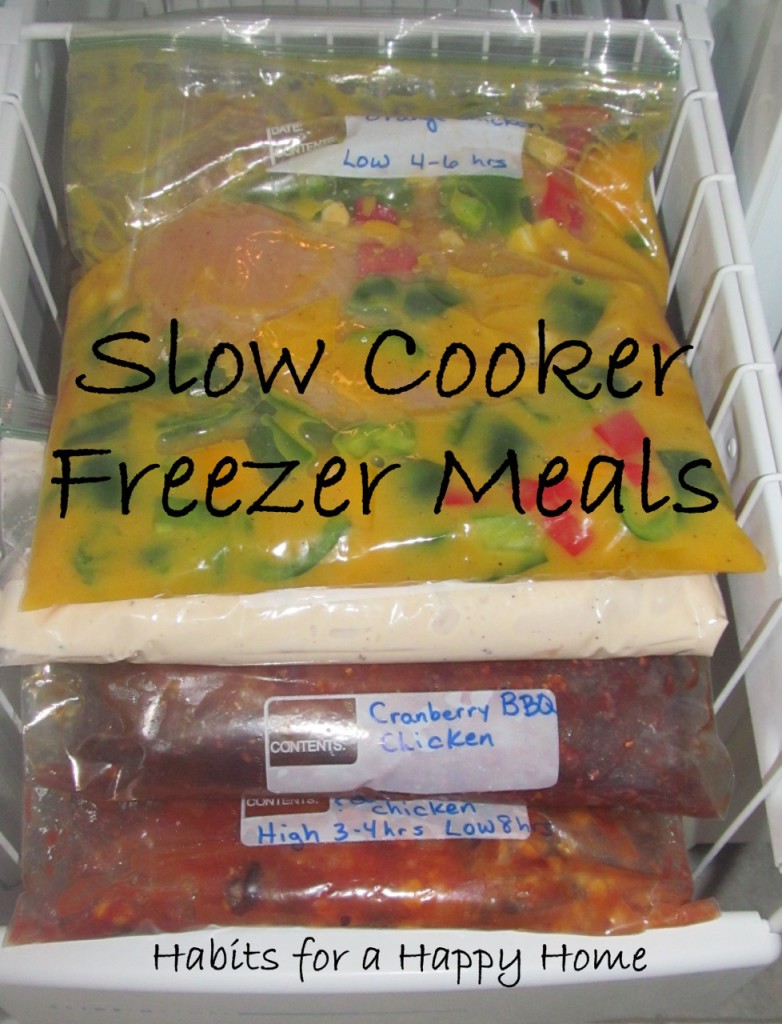 I spent a few hours on the weekend preparing freezer meals.  The first thing I did was check out some of the different websites with slow cooker freezer meals, just search 'freezer meals' and there is an abundance of recipes. There are also many recipes posted on Pinterest.
Freezer Meals for Your Slow Cooker
Here are some of my family's favorite recipes:
I then prepared a shopping list of all of the necessary ingredients for the recipes I had chosen. I already had many of the ingredients on hand. Make sure you pick up enough gallon size freezer bags to store your individual meals.

Once I got home, I began preparing the meals. I first prepared my vegetables and herbs…chop, dice, slice, grate, whatever your recipe calls for. Set these aside until you are ready to add them to the bags.
Then, to avoid cross contamination issues and just because it was easier to work with, I prepared the meat in the following order: beef, pork, then chicken. As you prepare the meat, go ahead and add it to your freezer bags and place them in the refrigerator, then all you have to do is add the remaining ingredients on top of the meat.
The results…delicious meals that are ready when you are! Having these meals available has been an enormous blessing for my family.  The few hours spent that afternoon was definitely worth knowing I have a quick and easy home cooked meal waiting at home.  Another wonderful benefit of preparing multiple meals is the savings on your grocery bill.
This frugal mama was very pleased to have prepared 12 meals for my family of five for less than $100!  I will continue to make and have freezer meals on hand for my family in the future…a habit I am sure to hang on to.
For more time-saving, make ahead ideas…
~by Heidi