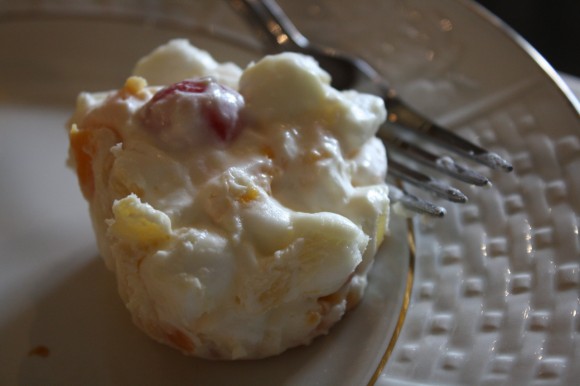 There once was a very magical retail store in Atlanta named Rich's.  I grew up looking forward to the twice-a-year visits to the store for school clothes and Easter dresses…but the best part of the visit was lunch at the store's famous Tea Room.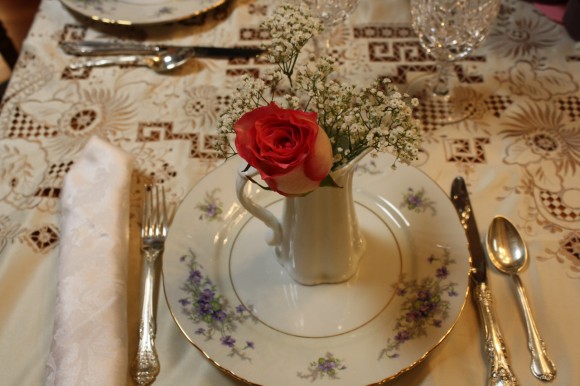 White gloves and Sunday dresses were a requirement.  Sometimes there were fashion shows, with willowy models gliding through the tables where appreciative customers could see what the latest styles were.  The food was quintessential Southern: chicken salads, cheese straws, rich pound cakes and pecan pies.  To this young girl, it was heaven.
Photo from last Friday's Bridesmaids Luncheon
Rich's department store and the Tea Room are no more, but this past weekend I decided to bring this Southern heritage home by recreating the wonderful frozen individual salads that were served at the Rich's Tea Room for my beloved niece's bridesmaid's luncheon.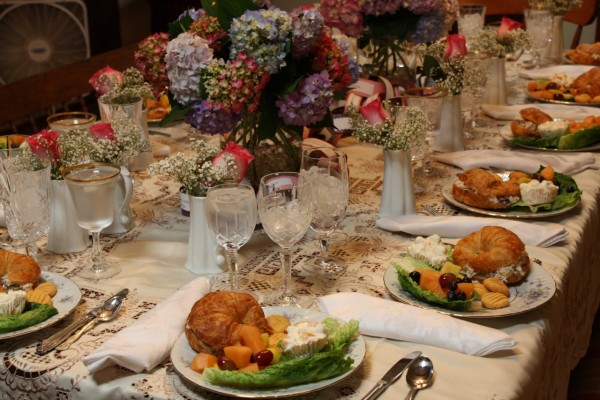 8 oz. cream cheese
½ cup confectioners' sugar
1/3 cup mayonnaise
2 tsp. vanilla extract
1 (8 ¾ ounce) can sliced peaches, well drained
½ cup maraschino cherry halves, well drained
1 (30 ounce) can of fruit cocktail, well drained
1 (6 ½ ounce) can crushed pineapple, well drained
2 cups miniature marshmallows
½ cup whipping cream, whipped
A few drops of red food coloring (to tint the salad pink!)
Put cream cheese in mixer.  Add confectioners' sugar and blend in mayonnaise.  Add vanilla extract.  Fold in fruit and marshmallows.  Whip cream and gently fold into fruit mixture.  Add food coloring, if desired.  Ladle into large paper muffin liners.  Freeze immediately.  Defrost 15 minutes before serving.  Do not allow to get soft.  Remove muffin liners before serving.
More Spring and Easter recipes in our top ten favorites.